Kuldeep four-for on debut outshines Smith ton

Wisden India
25-03-2017
After the Pune Test, which now seems almost a lifetime ago, the general consensus was that the Indian think tank had included the wrong spinning Yadav in the playing XI. On a dry, powdery surface, India had gone with the offspin of Jayant to complement R Ashwin and Ravindra Jadeja, keeping the left-arm wrist spin of Kuldeep, which would most likely have thrived on the dustbowl, on the bench.
Full scorecard: India vs Australia, 4th Test
Kuldeep, however, was the last name on anyone's mind outside of the team management's going into the final Test at the HPCA Stadium in Dharamsala. This was, after all, the deciding game of a four-match series level at 1-1, and India would be without their regular skipper, what with Virat Kohli nursing a shoulder injury. Why would Ajinkya Rahane, in his first Test as captain, and Anil Kumble, in his last Test as coach before his initial one-year term ends in June, consider a 22-year-old rookie? Why would they forsake the extra batsman?
In a statement of intent and positivity, India reverted to the five-bowler theory by doing precisely that – Kuldeep came in for Kohli. It was a huge gamble, but it was also a gamble that paid off hugely as Kuldeep made an immediate mark on Saturday (March 25), his first day in Test cricket.
Steven Smith's luck with the coin held for the third time this series and, despite the second-over dismissal of Matt Renshaw, Australia were turning the heat on. David Warner, dropped by Karun Nair to his left at third slip off the first delivery of the game off Bhuvneshwar Kumar – preferred to Ishant Sharma – and Smith took the attack to India. They made the most of pace off the surface and the quickness of the outfield to score in excess of five an over.
As the overs ticked by and the score board rattled along, Rahane turned to Kuldeep as the fifth bowler, after 28 overs and with some ten minutes to lunch. Kuldeep (4 for 68) didn't disappoint, taking only 19 deliveries to make an impact with the scalp of Warner and turning in a wonderful display of guile, craft and control to herald the arrival of the chinaman bowler in Indian Test history.
An absorbing first day in a series full of riveting days was dominated by Kuldeep as much as it was by Indophile Smith, whose seventh hundred in his last eight Tests against by far his most beloved opponent was the bedrock around which Australia posted 300, a fair few short of par given the nature of the surface, as much as anything else.
Photos: 25 cricket facts you won't believe ever existed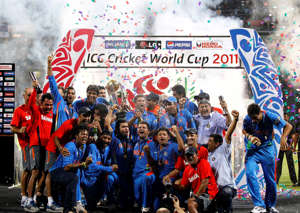 India had one tricky Josh Hazlewood over to negotiate before close, and they did so without any alarms as KL Rahul was happy to leave more balls than he had to play at. The maiden was a fairly satisfying end to a day that began with the setback of being without Kohli for the first time in 55 Tests.
In his first Test, Kuldeep's was a stunning exhibition of not just skill but also intelligence. There was no outward show of nerves, even though he walked straight into Australia's two most accomplished batsmen, and on the odd occasion when he did cop punishment, his head never dropped. Nor did his length at any stage. He was a little full to start with, but once he found his bearings, he slipped into a wonderful rhythm to do the bulk of the bowling despite the presence in the side of the two senior spinners, ranking No. 1 and No. 2 among Test bowlers in the world.
Warner, nervily, and Smith with an aggression that was in keeping with what the best batting surface of the series called for, had repaired the early damage caused by Renshaw's dismissal. After setting the left-hand opening batsman up with three short deliveries, Umesh extended the length and elicited an expansive drive down the wrong line; the ball straightened on pitching after shaping away, and stuck pad on its way to the furniture. Strike one.
---
---
Strike two would take a while coming – 126 minutes, to be precise. During that period, the shuffling Smith picked India off by repeatedly walking across his stumps and working to leg, or seizing on shortness of length from Ashwin by putting him away through the covers. Warner, in sharp contrast to the fluency of his skipper, struggled for timing despite the true bounce, but soldiered on manfully, happy to forsake his inbuilt aggression and play second fiddle to Smith who was chugging along quite beautifully. 

India looked a little subdued and while the temptation to attribute that to Kohli's absence must be overwhelming, it was more the situation that had taken some of the spirit away. Kuldeep, exuberant and emotional, returned that spirit in the fourth over after lunch, forcing Warner to stay back to a full ball, extracting extra bounce and seeing Rahane hold onto an excellent catch to his right at slip. Warner's first half-century of the series was anything but convincing, but he had hung around long enough to help his skipper add 126 for the second wicket. Kuldeep sank into his skipper's embrace, his eyes bright and shiny with tears of delight.
With Warner's dismissal, the fun and games began. Umesh, back for a spell after lunch, had Shaun Marsh strangled down the leg side, and Smith eschewed his attacking mien in deference to the situation. By now, Kuldeep was controlling the ball on a string, getting it to drift away from the right-hand batsman, dip and then turn in on pitching. Peter Handscomb, an excellent player of spin, was lured to his doom by one such delivery that defeated his drive and snuck back in through bat and pad while Glenn Maxwell was reminded of the levelling nature of Test cricket. Coming off a century in Ranchi, he was foxed by a beautiful wrong 'un that he just couldn't read, which squared him up and smashed into his stumps via his pad.
From the heights of 144 for 1, Australia had slumped to 178 for 5, Kuldeep on a roll with 3 for 32. Smith, 83 off 112 when Warner was dismissed, went completely on the defensive, taking a further 38 deliveries for the next 17 runs as survival became paramount. Having conceded 131 runs in 31 overs in the first session, India had surged back through Kuldeep's incisiveness in the second, and an already good passage became excellent when Ashwin foxed Smith with a straighter one that caught the outside edge – the Australian captain's bat does have an edge, we can confirm – and was expertly snaffled at slip, again by Rahane who looked at home in the leadership role too.
Australia weren't going down without a fight, though. There were runs to be had on what was a good surface, even though there was turn for wrist and finger spinners and the bounce became variable as the day wore on. Matthew Wade masterminded the lower-order revival with his first fifty of the series, an intelligent compilation as he played the percentages and used the sweep liberally, piecing together handy stands with Cummins, Steve O'Keefe and Nathan Lyon. India needed the second new ball to finish things off, but will gladly have taken 300 all out had it been offered to them in the morning.