Kumble's notes, Kohli's yells, and Dhawan's basics

Wisden India
02-07-2016
Anil Kumble was armed with a notebook and a pen when he strode out at the National Cricket Academy on Friday (July 1) morning. It was an unusual sight in this day and age, when the act of 'jotting down' is actually done with fingertips on mobile phones and iPads. Even as video analysts documented more or less everything that took place at the NCA on Day 3 of India's preparatory camp ahead of the tour of the West Indies, Kumble, the new head coach, penned down his thoughts, which he is sure to dip into in the future.
He was busy scribbling as a lot happened over the two sessions on the day. He didn't roll his arm over like he did on Thursday, but there were conversations with his premier spinners, R Ashwin and Amit Mishra, and captain, Virat Kohli, all of which would have helped him "observe and try and see how the team is shaping up", as he had said in his first media interaction after his appointment as India head coach.

There were other interesting goings-on too, some of which would doubtless have made it into Kumble's notebook.
Dhawan back to "learning basics"
Shikhar Dhawan's problems outside the off stump have been clear over the last two years. Especially in England in 2014, when he was caught behind the wickets twice in Southampton and once each at Lord's and Trent Bridge. As he played more overseas, however, it became obvious that the problem was restricted to swing-friendly conditions. But he struggled later that year in Australia as well, and in India's most recent Test series against South Africa, he fell in that manner twice in Mohali.
Photos: India's greatest Twenty20 wins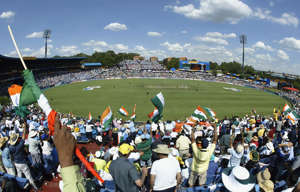 It was an "obvious technical flaw", Sunil Gavaskar had told Wisden India after the series against Australia. "The problem is that he doesn't move his feet towards the pitch of the ball. When I say move the feet, I don't mean commit to the front foot, but just be in a good position to present the full face of the bat to the ball," he had said.

Sanjay Bangar, the batting coach for the duration of the upcoming tour of West Indies, spent a huge chunk of his time with the opener on the day, and rather curiously placed a solitary stump just within the popping crease on a fifth-stump line. He then sent in throwdowns to Dhawan, who left alone everything that pitched outside the line of that stray stump, and it became evident that it was a visual cue for the opener to steer clear of that line, the idea being that after sufficient practice, muscle memory would kick in during matches and he would instinctively stop himself from reaching out.
At one point, Bangar beckoned Dhawan and they seemed to speak of his grip, and the bat swing. Dhawan then walked back to the crease, saw our small group of journalists gazing intently, and grinned, saying, "Learning basics".
With KL Rahul knocking on the door, Dhawan's position in the starting XI will be one of the talking points during the upcoming series. He has struggled to replicate his form in the subcontinent elsewhere in the world, but with the Caribbean pitches these days not too pace-friendly, this is Dhawan's chance to respond to his doubters.
To that end, fine-tuning the basics, as Dhawan is being made to do, is a fine idea.
Kohli – first in, last out
When Kumble was asked what was unique about this Indian team compared to the one he was last part of, he had laughed, "The fielding, of course". The reason for that was exemplified by his captain today. Having taken part throughout the first session, Kohli was the first to step out in the afternoon, which was solely dedicated to fielding. It wasn't particularly intense, what with the afternoon sun – admittedly not too harsh – and presumably a nap-inducing lunch, but typically, Kohli was fully committed. There were self-admonishing yells at times for errors he thought shouldn't have happened, and he was seemingly the only player to take part in all three separate fielding drills – high catches, slip catching and direct hits.
Photos: Virat Kohli - On and off the cricket field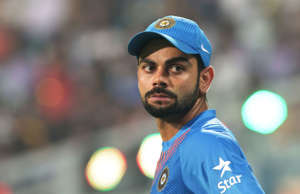 Again, he was the subject of another interesting drill from Bangar. He was made to stand with his back to the coach, and would be given the cue to pivot around just before the ball was sent towards him – he had to catch it, and it was seemingly to sharpen his reflexes.
He fared quite well, but he isn't likely to be satisfied with that.
And the downright bizarre
At the end of the afternoon session when players were walking back, Dhawan was once again in focus, but for something rather bemusing. A stranger holding a coconut broke through the almost non-existent barricades and stopped the player just before he could enter the indoor chambers of the NCA. He went on to de-shell the coconut with his bare teeth, with Dhawan all the while unable to stop himself from having a laugh.
It was all over in a matter of seconds, the fan had his handshake with the celebrity, and it was all in good jest. But it is perhaps in everyone's best interests if proximity to players was slightly tougher than this.