Kumble and Kohli, and the emotional connect

Wisden India
04-07-2016
Given that it was Virat Kohli's first official press conference since Anil Kumble took over as the head coach of the national side, it was inevitable that India's Test captain would have to field several questions, and variants thereof, of what it means for the team to have the crack leggie in charge, and what inputs Kumble has already supplied.

Articulate and patient to a fault, Kohli spoke from his heart at the M Chinnaswamy Stadium on Monday (July 4), his respect for Kumble the bowler and the person all too obvious during a 25-minute-long session with the captain and the coach seated side by side on the head table.
Kohli is no stranger to the Kumble work ethic model. It was at Royal Challengers Bangalore, in 2008, that the brash teenager first ran into the bulwark of hard work and commitment. The two spent four seasons together at the Bangalore franchise – first as teammates, then with Kumble as the skipper and finally with the former India captain taking over as the mentor. Those early days firmed up a relationship that is clearly based on mutual respect and admiration.

There is much that Kumble must have seen in Kohli that must remind him of himself – unwavering focus and determination, almost an obsession for the hard yards, single-minded pursuit of excellence if not perfection, and the belief that no situation is beyond him. Kohli obviously sees a lot more in the elder statesman; there is precious little that Anil Kumble hasn't done in international cricket, so in that sense he is always speaking from a position of strength and authority even if that is not how the 45-year-old himself will view it.
Photos: India's all-time greatest cricketers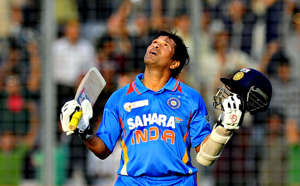 Coaching is not a nine-to-five, check-out-the-wrist-position, focus-on-the-followthrough, cut-out-the-no-balls kind of role. At the highest level in particular, it is less technique and more approach, less style and more substance, less cuteness and more efficiency. Every cricketer who has spoken to the media during this ongoing preparatory camp that ended on Monday has stressed at length on the focus Kumble has played on mindset more than technique. Kohli elaborated on that theme, even as he made it clear that there was no way there could be no emotional connect between the players and the coach.

"A 100%, there is an emotional connect, there is no doubt about that," said Kohli as he was asked about the Indian coach v foreign coach debate. "For me, it doesn't matter where the coach is from. What matters is how he treats the players, how he makes them feel comfortable and how much he can provide to the players. These are the three factors that you look for if you are assigning a head coach. That's what I believe in. And Anil bhai obviously has all three in abundance.
"He understands all the players. Obviously there is huge respect for him because of what he has done for the country and because of him being Test captain for the nation," continued Kohli earnestly, even as a dead-panning Kumble looked straight ahead. "We have all looked up to him, so there's always that respect. He understands that, and he makes everyone feel comfortable. I think there, the combination has settled in beautifully. The players are feeling very comfortable and the kind of activity he organised yesterday, that was a side of Anil bhai that we never explored because we never worked with him at a close distance. That was a revelation for the guys as well and that brings the team together. I think the emotional connect is very, very important because you can't do skill work professionally in a practice session and in a game, and then you don't see the players at all. Things don't work like that. He is always involved with the players in some way or the other and that is his biggest quality."
Photos: 26 cricket world records you must know about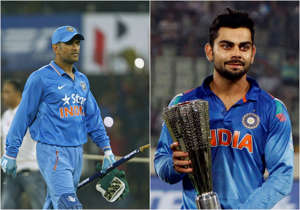 The 'kind of activity he organised yesterday' that Kohli was referring too was a team-building exercise that engaged the players in a Drum Circle session as the entire team as well as Mahendra Singh Dhoni, the limited-overs captain, played the African drum for about 30 minutes at their hotel. The session was led by Vasundhara Das, the famous singer/actress, and her DrumJam team. Drum Circle is a rhythm-based activity which is considered a great way to communicate, build a team, transcend barriers, improve group communication and harmony, instil a sense of belonging, relieve stress, discover creativity, energise participants and improve focus. Pretty much win-win, as they say.

"We were surprised by Anil bhai," added Kohli, a smile playing on his lips and his eyes twinkling even as Kumble continued to remain unaffected. "We thought it would be a serious session, but it turned out to be a fun session." This brought a fleeting smile to the coach's face, but make no mistake, Kumble isn't in the Duncan Fletcher mould – he did smile enough times during the press conference to ensure there was not even a outside chance of a comparison with the former coach to whom smiling, it seemed, was the most impossible exercise.
"This is very important for the team," went on Kohli of the Drum Circle session. "Sometimes, when we are focussed on our individual game, we forget the importance of team bonding. We wanted to improve our camaraderie and understanding. This is important because the performance on the field can be better if everyone understands each other better. Everyone enjoyed it a lot, and we had fun. It is going to be a long season, and these sorts of activities are required."
The first preparatory camp under Kumble's tutelage was an expected beehive of activity at the National Cricket Academy and, for a day on Sunday, in Alur. The weather Gods were kind enough to allow uninterrupted sessions, allowing for Kohli to throw light on what the team had gained from the camp, though, understandably, he wasn't in a position to say how different this camp had been from previous other camps.
"I can't tell you the difference because we haven't had that many training camps. I can tell you the positives and the things that we already feel are benefiting us," the skipper pointed out. "I have always felt that if you have yourself been in that situation and if you have executed that, you can explain it better. To teach the skill factor is a different thing, it is a very mechanical thing, it can become technical. But to teach and explain mindset is an entirely different skill altogether. Your mindset will only be created when in that situation, you have already done that and only then will you be able to communicate exactly what you want to say.
"I think that's a big difference – the person has achieved so much on his own and executed for the team, has won so many matches for the team, that exact mindset you can explain to the rest and can portray it. I think that has been the biggest advantage from Anil bhai coming in as coach and that was our singular motive to have him here – this is the man who has won so many matches for the Indian team, not just home but away too, more importantly. The more information we can get from him on what skills are needed, what mental setup is needed to win Test matches, that's the biggest help for us. He has been more than willing to speak to everyone – batsmen, fast bowlers, spinners. He has spent equal time with everyone, he has explained equally to everyone. It has been very good so far and going ahead, we are all very excited with the association."
Like he had done last Wednesday when he said his team would play to win, Kumble said pretty much the same on Monday, something that obviously resonates well with Kohli's way of thinking as well. "Like Anil bhai said, whenever you go into a Test match or a one-day match or a T20 match, your first intention is to win. Our intention will always be to go for a win. There have been situations in between where we have also lost but we know that we must play positive cricket so that we can get into a position where we can win and we can also lose. We lost because of our mistakes. We must realise that we have got into that position playing good cricket 80% of the time. We must focus on the mistakes we made in that 20% and not change the remaining 80%.
"To have that mindset is very important and Anil bhai's arrival has given that a bigger boost because his mindset was also the same – that we can win a match from any situation. And the number of times he has done it for the team – when you are wondering where a wicket is going to come from, he comes in and takes four-five wickets in a single spell. The mindset creates a big difference, how you think about a situation. And obviously unless you try it out, you won't know what your ability is to win from any situation. If you are afraid and hesitant about losing, you won't be able to try things out and you won't know how much your ability is. Our motive will be to explore how good you are because when you repeat things, you will understand how I can win a Test match for the team or what we need to do as a team to win the Test match. That will only happen when you do it and execute it. If you don't do it, then you won't understand that. Our motive as a team is to play in such a way that we must win the series, not be satisfied by winning a one-odd Test here and there. As a team, we must win series and only then to celebrate that series victory."
That's settled then. On the same page, same wavelength, the captain and the coach. And yes, it is Anil bhai now, not Anil sir anymore.