Kumble, and removing the 'I' from 'team'

Wisden India
28-10-2016
Eight years back to the day, Anil Kumble strode briskly to the dais, slid his chair back, settled in, adjusted the mikes in front of him, made eye-contact with familiar faces in the audience, a gentle smile playing on his lips. It was a routine Tuesday, was October 28, 2008. Except in hindsight, of course.

A chain of unforeseen events ensured that October 28, 2008 would be the last time Kumble would address a press conference on the eve of a Test match. That it would be his last pre-match do as the Indian captain. That he would no longer have to field questions on the composition of the Test XI, on the availability of players, on his own fitness status, on the pitch and the toss and what he thought of the opposition. None of us crammed into the press conference hall at the Feroze Shah Kotla knew that. How would we, when the man himself didn't?
Over the course of the next five days, on a slow, low surface that looked a lot more bowler-friendly than it actually was, the third of four Tests against Australia played out into a dull, dreary draw. The on-field highlights until the final day were double-centuries by Gautam Gambhir and VVS Laxman, and a five-wicket haul for Virender Sehwag, stepping in as the principal offspinner in the absence of Harbhajan Singh, out with a right toe injury. Less of a highlight was the Gambhir shoulder-charge on Shane Watson that attracted a one-Test ban and fast-tracked M Vijay into the side for the final game in Nagpur. Never mind, not relevant to this narrative.
Kumble had missed the previous Test in Mohali with a right shoulder problem, the second home Test in three – split by six months – that he had been ruled out of. The vicissitudes of time, the wear and tear from upwards of 86,000 balls sent down in competitive cricket and several times that number in practice, and a rebelling body had left him on his last legs. It was the classic case of the mind and the spirit willing, the body not so. It is more than likely that Kumble would have bid adieu in Nagpur, after the final Test. The finger fracture sustained on day three of the Kotla game that would have kept him out the following week in Nagpur merely hastened the end, even if it didn't prevent him either from sending down 47.3 overs across two innings, or holding on to a skied return catch off Mitchell Johnson, the last of his 619 Test wickets.
Slideshow: 27 cricket world records you must know about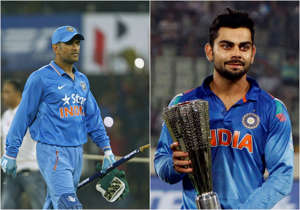 At that October 28 press conference, Kumble had to field inevitable questions about the rise and rise of Mahendra Singh Dhoni as Test captain. Dhoni had overseen India's series-levelling win against South Africa in Kanpur in April when Kumble was out with a groin injury; he had also led the team to victory in the Mohali Test against Australia the previous week. "People have opinions, I respect that," Kumble had said, with a matter-of-factness that is inimitable. "If you start thinking about all that and ensure you play according to that, you will go nowhere. I believe in myself, the team has confidence in me and I have confidence in my team to go out there and do the job."

Of all the words he uttered during that 12-minute interaction, the ones that have stayed with me are 'the team has confidence in me and I have confidence in my team to go out there and do the job'. On the face of it, it is a cliché like most press conferences involving top sportspersons across disciplines are riddled with. Of course, the team will have confidence in the leader, won't it? And of course the skipper will have confidence in his team, right? What's so great about that, isn't it a given?
And therein lies the nub of the matter.
One of the other clichés in motivational talks and team-bonding exercises is 'There is no I in a team'. Basic English, agreed. Two vowels in 'team', but no 'i'. In reality, though, a team – any team – is a collection of 'I's, some of them inevitably more equal than others, some others believing themselves to more equal than others even if they aren't.
© AFP Photo

A great team is not necessarily one with no differences of opinion, but one that is mature enough and driven enough to put those differences aside in working towards a common goal. You can't but have diverse points of view when there are 11 individuals from different backgrounds – social, economic, educational – brought together into an unforgiving, pressure-cooker atmosphere. There will be a clash of egos, especially when self-styled prima donnas unfurl their feathers and bring on board a sense of entitlement. There will be angst – sometimes obvious, most times scarcely couched – at a justified or misplaced feeling of being denied one's due. There will be awe initially, and envy as time passes by, at one or two people receiving greater attention and adulation and adoration than one or two others. It is how you work around these obstacles, some real and many imaginary, that shapes the legacy of a team in its truest sense.

No cricket team in particular is more varied and diverse than the Indian national team. The vastness of the country, the profusion of languages, the wide chasm between the haves and the have-nots, the exposure or otherwise to the ways of the world – these are all factors that are bound to rear their heads from time to time. A Rahul Dravid, for example, and a Munaf Patel thrown in together. A Sachin Tendulkar and an S Sreesanth. Or, even contemporaries like Yuvraj Singh and Mohammad Kaif, who graduated together from the junior ranks. These are different personalities, with different strengths and attendant weaknesses. It becomes incumbent upon every individual to draw from one another's strengths and to work on weaknesses so that everyone is pulling together in the same direction, everyone is united in a common cause.
Watch: When Kumble's bowling won Hero Cup
After all, the truest test of character comes in adversity – when all is not going swimmingly well as opposed to when all is hunky-dory. For a team that prides itself on being a unit and not a collection of individuals, it is imperative to close ranks behind an embattled, beleaguered colleague. Like Sri Lanka did behind Muttiah Muralitharan in and after December 1995, when he was called during international action for chucking. Like India did behind Harbhajan Singh in January 2008 when Monkeygate exploded in our faces. And unlike Australia in the immediacy of Homeworkgate in early 2013.

Sometimes, the easiest practices are the hardest to follow, the most obvious option the least embraced. Having graduated from India player to captain to now coach, Kumble has first-hand experienced, and played a not insignificant part in, the welcome transformation from little groups and hush-hush subplots to a primarily harmonious coming together of musketeers — Unus pro omnibus, omnes pro uno (one for all, all for one). Long may that continue.