Kumble, Dravid see something in Hardik that we missed

Wisden India
08-11-2016
Hardik Pandya might yet play a lot more international cricket than some of us expected – Test cricket as well, as it turns out.

Numbers never tell the whole story, no, but they should reveal some of it, surely? Not, it appears, in Pandya's case. 

With four wickets from four One-Day Internationals, 15 wickets from 16 Twenty20 Internationals and 22 first-class wickets from 16 games, he doesn't seem like a world-beating bowler. And a best of 90 in first-class cricket (36 in ODIs and 31 in T20Is) won't cause top-drawer bowlers to quake in their boots either.
So Pandya the cricketer is not in the numbers. The talent he appears to possess, the options he could give the team management as an allrounder, and that the men who matter are pleased with what they have seen of his best – those are the things that will shape his career (if there is one).
Spiked hair, Ed Hardy tees, a new hairstyle every month – these are the things that define Pandya's image. I'll admit these things make me feel a little iffy, but that's neither here nor there. Those things don't a cricketer make – nor unmake. Besides, at the moment, all that matters is what Anil Kumble and Virat Kohli, and Rahul Dravid from the outside, think. And what they think is clear: Pandya is one for the future, exactly the sort of player who could provide the much-required balance in the Indian line-up, in all the Indian line-ups, with his 140kph-plus bowling and his hitting ability lower down. He has the skills the team needs and has been searching high and low for so long.
---
MORE ON MSN INDIA
YOU MAY ALSO LIKE
---
Pandya seems like a limited-overs cricketer. Indeed, he first made a name for himself in the Indian Premier League 2015, after which he did even better in the Syed Mushtaq Ali Trophy 2016. That was enough for the selectors to take him to Australia earlier this year. He did all right in the T20Is, and stayed with the team for the World T20. But the performances didn't always add up. And, at IPL 2016, they certainly didn't add up for Mumbai Indians, who axed him in favour of, ironically, his brother Krunal. It seemed like Hardik Pandya's brush with stardom was going to die a premature death.

But Kumble, Dravid and Kohli appear to have seen something many of us missed. While Kohli and Dravid haven't spoken about Pandya since the Test squad was named, Kumble has.

"I think Hardik is an extremely talented player." "I think the potential that Hardik has, all of us have seen that." "We could see that he is a quality player and that's why we have backed him in this series." "If someone can bowl 140kph and give you the option of batting really well lower down the order, that's a great option to have." All that's Kumble.
Photos: 30 greatest pace bowlers of all time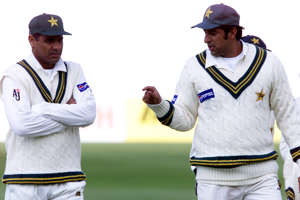 His selection in the 15 for the first two Tests against England came as a shock to me, as I'm pretty sure it did for many. In another era, in different, non-IPL circumstances, we might well have heard Kohli go, "Hardik Pandya, who?" But here's the thing: I'd go with Kumble and Dravid and Kohli for all matters cricketing. Those are three men with an unusually high trust rating, right? Kohli, he is one of the best batsmen in the world, across formats, and the Test captain who is making Indian fans dream big again. And the older men: When you talk about cricketing sense – that intangible X-factor – Kumble and Dravid rank right up there among the best. Yes, in and around the cricket field, I'd trust them with my finances and, if it came to that, my life.

The thing that worries me about Pandya is his flamboyance, his live-life-kingsize ways, his head, really.
A Mumbai Indians insider, who must remain unnamed, confirmed a suspicion many had of Pandya during the 2016 IPL (soon after he had been dropped from the playing XI): "He is already a star. All the bad things you expect stardom to do to a young man from a humble background, Hardik has them all. His run is over."
That last bit is not happening. Not in a hurry.
What Pandya himself told the BCCI website the other day was revealing. "I have become more disciplined. I believe in one year itself I have seen my rise and fall. After the T20 World Cup, I had a reality check in those three months when I was out of the team. That gave me a boost and motivation to get back to basics and improve my game," he said.

Acknowledging the rise and the fall … that's the Dravid effect for sure – the older man's work with the youngster during their time together as part of the 'A' team.
As for the England Test series – where I suspect (or hope, maybe, because it would be odd to see him get into the XI ahead of a specialist batsman in Karun Nair) he might not spend too much time on the field but, instead, gain in experience – Pandya said, "I want to become a better cricketer after this series. At the end of the series, I want to look back and tell myself that this series was a huge learning curve."
Pandya has been selected above the likes of Stuart Binny and Rishi Dhawan, both men with much better first-class credentials than him, and both entitled to feel a little hard done by. No doubt it pinched them to hear MSK Prasad, the chief selector, say, "We have three allrounders – Stuart Binny, Hardik Pandya, Rishi Dhawan. In this particular series, he scores ahead of Binny. Much quicker and better bowler than Stuart. With form and fitness, Hardik is a better option."
But, again, Kumble, Kohli, Dravid are India's men on the ground, the ones who are responsible, in different capacities, for putting together the best possible Test team. If, at the end of this, India gets an allrounder it can bank on, we can all thank these gentlemen whose collective judgement we are rather baffled by at the moment.
Watch: When Shoaib Akhtar bowled Sachin for a golden duck