Local flavour: The fine art of 'Gaaji' and a theory about Chennai chuck-kings

The Indian Express
10-02-2017
'Gaaji'. It's the sweetest word in Tamil lexicon that is connected with cricket. 'Enne Machi, seme gaaji ya?' is a question often asked from gully cricket to college grounds, to a batsman who has spent hours batting. Most times at lower-level cricket, gaaji is an end in itself —unaffected, unrelated to match situation, an indulgence that is raved and hunted after. M Vijay has had some gaaji this season with three hundreds in last six games. The difference in his run-gluttony is at this level it has obviously links with match situation, and is a means to an end – of helping the team win. Still, one couldn't but throw the word at him at the end of the day where he set up India's march towards a potentially massive total.
Full scorecard: India vs Bangladesh, one-off Test
He just laughed. He did the same but added a "may be" when a pet theory about Chennai openers were presented to him. Over the years, there have been Kris Srikkanth, VB Chandrasekhar, S Ramesh, and now Vijay, who have all been pretty good against pace. The eye-hand (why is it hand-eye by the way?) coordination of all these men have been top-notch. Srikkanth's personality almost overpowered his game but the previous generation would remember how adeptly he would tackle the pace of Malcolm Marshall to Andy Roberts at their prime.
Photos: Virat Kohli's amazing records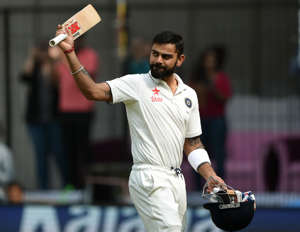 Ditto S Ramesh, who was at his best against the likes of Shoaib Akthar and the story as told by Ramesh in a Tamil television channel, goes something like this. Before a Pakistan game, Sachin Tendulkar asked him, "Do you know who you will have problem against?" Ramesh offered tamely, "Akhtar?" And Tendulkar said 'no, you will handle pace, it's the swing bowlers that are going to trouble you'. Or words to that effect.
Without further digression, though, here is the pet theory, presented without an iota of evidence. It's not known whether it's still the norm in the city, but in the decades gone by, "Chuck cricket" was the rage. In most other parts in the country, little kids would run in and bowl over-arm – with proper bowling action. Not so in Chennai. Just not in the narrow street lanes in neighbourhood, but even in grounds, the bowlers would take a step or two and chuck the ball furiously. There was no attempt at any over-arm pretence. Some would even run in and chuck. It wasn't 22-yards obviously but those real shorter-length pitches. Furious whir of the arm, and the ball would whoosh across real quickly and there was not much time for the batsmen to really adapt.
It didn't do much help to the footwork as you didn't really have the time to ease into any fancy footwork. You just stood there and let the eye-hand work itself out. S Ramesh was a classic example of it, as Tendulkar's words suggest. Vijay laughed before saying that he did play chuck-bowling a lot before adding a "maybe" about the theory but why let fact-checkers spoil the romance?
---
---
Vijay isn't like the other openers in the list; his footwork is the best among them but the time he has when playing pace, and the balance he maintains that allows him to bring his bat down as if it were an extension of the arm all suggests as evidence to this fanciful theory. 

One can even push this theory a bit more – and tread on real flimsy lines here – that these Chennai guys who are good against chuck-bowling also don't hold the bat as tightly nor lower down the handle. Those who have played the violent chucking would get perhaps get this: a firm bottom-handed grip wasn't ideal; you had to hold it a touch loose and sort of let the bat flow from the arms as opposed to punching with arms. You can see that in Vijay's batting.
In his teenage days, Vijay's back-foot batting with its cuts and pulls used to be the stand-out feature. The then Tamil Nadu selectors like K Srinath was scratching his head to see how some of those shots disappeared from the arsenal as he shifted into Indian team. The final straw that broke the back came against England when he fell to bouncers couple of times, pushing his bat out at deliveries when the best response would have been to sway away. On Thursday, not only did he evade the bouncers off the new ball but once he got his eye in, he started to pull and cut.
Somehow, he manages to strip the pull shot of its inherent violence. It isn't a smack or a slap, but an almost gentle lap around the corner. The bottom-hand doesn't come in as much as it would in batsmen who pull explosively. Vijay's more a waft – the arms make an elegant arc. The same top-hand usage also comes through in the moments when he picks a full delivery from around off stump and whips it across. With Azhar and Laxman, the bottom-hand would kick in a lot more, but Vijay retains that easy flow of the hands. It's been written before but worth reiterating again that of all the current-day batsmen who make bat look as an extension of the arm, it's Vijay's art that best captures it.
He can look a touch absent-minded on the field, sometimes even while batting so much so that the Indian team's theory of having the non-striker stand close to the stumps and look out for where the ball pitched or is heading to help the striker with DRS isn't going to cut much ice with Vijay. As seen in the England series, he can be often seen standing wider, far away from the stumps, to be of much help. But not many are going to complain as long as he continues to bat like this. Never underestimate the joy and effectiveness of Gaaji.