Lokesh Rahul happy to prove coaches and team-mates wrong

India Today
17-06-2016
Lokesh Rahul drew a lot of flak after his Test debut in Adelaide, where he let his team down at crucial junctures by throwing his wickets away. Rahul managed only four runs in the Adelaide Test, in which 1487 runs were scored over five days on a flat batting track.
The Karnataka batsman though buckled up and scored a century in the next Test at Sydney. He followed it up with a ton against Sri Lanka in Colombo. Since then, Rahul has been part of India's Test plans.

However, the elegant right-hander was never considered for limited-overs tours, until he stole the show in the recently concluded Indian Premier League season with Royal Challengers Bangalore. While Virat Kohli and AB de Villiers were going berserk, Rahul, the wicketkeeper batsman, quietly went about his job and piled up 397 runs in 14 matches at an average of 44.11 and earned himself a ticket to Zimbabwe with the MS Dhoni-led ODI team.
Rahul did not take long to make an impact in the 50-over format as the right-handed opener scored a century on ODI debut, thereby becoming the first Indian batsman to do so. Rahul showed tremendous composure on tricky Harare wickets and went on to be named the Man-of-the-Tournament for playing a crucial role in India's successful campaign.
'NEVER THOUGHT THEY WERE RIGHT'
Having proven his mettle, Rahul has now has hit back at coaches and team-mates who had branded him a 'Test-only' material. He also has a word of advice to youngsters who are facing a similair situation.
"To all the guys who have been branded Test players, your coaches or teammates in the dressing room can tell you you're not good enough. I never thought they were right," Rahul told bcci.tv.
Just like his namesake, Rahul Dravid, the 24-year-old had to work on his game to suit the shorter formats of the game. Quite a few critics had said Dravid wasn't made for limited-overs cricket. However, the master batsman went on to make 10,889 runs in ODIs.
'PROVE THEM WRONG'
The junior Rahul added that he had worked hard to prove his critics wrong. He said he always believed that he would be able to excel across the formats of the game.
"I knew I was blessed with certain skills. I worked hard on my game, made sure that my strengths became so strong that everytime the ball was there it went for a boundary. You need to be quick and fit for ODIs and T20s. If you are a good fielder, it gives you an edge. the captain always likes a good fielders," he added.
Not just Rahul, but quite a few cricketers have rubbished what they have been told over the years by their coaches. Ravichandran Ashwin, in an interview to BCCI, had told he wanted to go back and laugh at coaches, who had warned him against rigorous gym sessions.
Rahul added it was always an individual's call to follow whatever his coach said. "You don't have to do what your coaches and elders say all the time. My advice would be not to listen to people. You know best about your game. If someone says, you can't do something, prove them wrong."
Slideshow: 25 cricket world records you must know about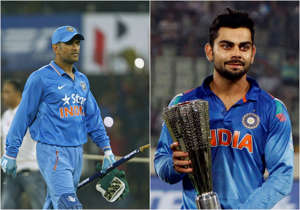 Cricket world records you must know about

More from India Today

India Today