Love, death and Virat Kohli

Livemint
19-09-2016
Virat Kohli has seven million followers on Instagram. Many of his 240 posts on the app are selfies, but there are also pictures of him next to a canary-yellow Audi, at various holiday destinations and in the company of friends. At first glance, this is the visual diary of a young man who thinks very highly of himself. A bit of a peacock. Dig a little deeper, though, and a very different picture emerges.
"My father gave me the greatest gift anyone could give another person, he believed in me," says one of the posts, quoting Jim Valvano, a US college basketball coach who died of bone cancer in 1993. Another, smudged black on white background, says: "I don't need my name in lights, I'm famous in my father's eyes." Next to it is a note that reads: "The strength you give me from above can never be understood by the negative people down here. Life wasn't, isn't and will never be easy. Making most of yours is your own choice. And am most certain you are proud up there. #walkyourownpath#lovethosewhomatter".
But the most poignant image by far was posted last December. Taken in the mid-1990s, its colours have faded with time. In it, Kohli must be seven or eight years old, standing at the kitchen table, next to his father, Prem Kohli. Kohli Senior is sitting down, holding a glass of water. He's still wearing a turquoise-coloured helmet, presumably having just come home. The note next to it is heartbreaking. "9 years. Each year each day each minute i wish you weren't gone," it says.
That photograph was taken a year or so before Prem took his two sons to Rajkumar Sharma's West Delhi Cricket Academy. The cricket bug had long since entered the system, especially with young Kohli. "When playing cricket as kids, we all pretend to be a particular player," he told me four years ago, when I spoke to him about the experience of batting alongside Sachin Tendulkar in the master's final One Day International (March 2012). "I always wanted to be Sachin. I wanted to bat like him, so I tried to copy the shots he played and hit sixes the way he used to. He was the one player that always made me think: I want to bat like him."
Photos: 26 things you should know about Virat Kohli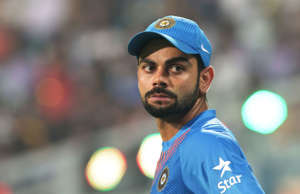 The two men are connected by more than just the ability to make a five-and-a-half-ounce leather orb do their bidding. Tendulkar was 26 when he lost his father, midway through the 1999 World Cup. The picture of him tearfully glancing up at the heavens after a century against Kenya remains one of the enduring images of an otherwise forgettable competition for India.
Virat had just turned 18 when Prem died. He "manned up" and got on with his life, scoring 90 to help Delhi draw a Ranji Trophy match (December 2006) against Karnataka before heading home for the cremation. In the months that followed, he would tour New Zealand with the Under-19s, cement his place in the side and act like a crude Jack The Lad, if some of his utterances on social-networking sites were to be believed. Inside, though, he was a broken young man.
There are some losses you never quite get over. In July 2004, five years after his father, Ramesh Tendulkar, had died, I spoke to Sachin for nearly an hour. The Sunday Times, the largest-selling weekend broadsheet in the UK, had decided to make him the first Asian to be featured in the two-page Big Interview slot in its sports section. We wanted to cover as much ground as possible, and after a lengthy list of questions was done with, I chose to close with: What message would you give to a young cricketer looking to make it big?

At that stage, neither of us had heard of Kohli. Ambati Rayudu was thought of as the next big thing. "I would just tell him not to find short cuts," said Tendulkar. "He's got where he is because of talent, hard work, discipline, dedication and all the other qualities you need.
"The more hours you spend in the middle, the more you discover new things about your game, no matter how experienced you might be. Just be sincere and honest, and don't forget what got you there in the first place. This was actually my father's advice to me, and I would like to pass it on to those who care to listen."
His eyes had welled up by the time he finished. Nearly a decade later, in November 2013, as Tendulkar wound down his career with a Test in front of his home crowd at the Wankhede Stadium in Mumbai, Kohli went to him in the dressing room and presented him with auspicious wrist threads given to him by his father. Both men were in tears.
It has always been amusing to hear expert and novice alike talk of how well Kohli handles pressure. This is a young man who walked out to bat 8 hours after his father's death. When someone has lost that which he holds most dear, do you really think a sporting contest would faze him? What's losing a cricket match compared to real loss?

Another death seems to have left an equally deep impression on Kohli and had a profound influence on him becoming a thoughtful and eloquent ambassador for the sport. He and Phillip Hughes had first crossed paths as Under-19s. Like Kohli, Hughes was identified as a potential future great by the time he was old enough to shave. He made his first thrilling Test hundred in early 2009, when Kohli was still struggling to find his niche in the Indian side.
When Hughes died in November 2014, after being struck on the back of the head by a bouncer from Sean Abbott, Kohli and Ravi Shastri, the team director, were the Indian team's representatives at the funeral in Macksville in Australia. Peter Lalor of The Australian, who would go on to co-author a biography of Hughes, was so impressed by the way Kohli conducted himself during India's 2014-15 tour of Australia, especially at press conferences, that he messaged Shastri after the final Test—India's first after M.S. Dhoni's retirement from the format—to tell him.
"A little while later, Shastri rang and said 'tell him' before passing the phone over (to Kohli)," says Lalor. "We had a chat; he was very gracious. I felt even more confident then that the new captain represented generational change. He is great for Indian cricket. A little crazy, but smart, articulate and such a ferocious competitor."
It's a sentiment echoed across Australia, where acknowledgement doesn't come easily for visiting cricketers. Gideon Haigh, cricket historian and possibly the finest writer on the game today, wrote: "Tendulkar was first among equals in his gifted batting order; take Kohli out of this Indian team, and it's a hit-and-miss affair at best.
"Not a stroke, by the way, would have looked out of place in a Test match. Much as the marketers would like to take the cricket out of T20, Kohli keeps putting it back." 
In Australia, against whom Kohli averages 60.76 in Tests, 55.66 in ODIs and 66.83 in T20 Internationals, there's both appreciation and an awareness that they may have to contend with him a while yet. "Kohli is the kind of cricketer Australians would love to call their own," says Alex Brown, managing editor of Fox Sports News. "He can turn a game single-handedly. He talks back. He fears no one.
"Crowds roar their displeasure and social media is filled with anti-social sentiments. In other words, he has gotten under Australia's skin. Curiously, that may well be the highest honour a touring cricketer can attain on these shores. If you can't beat them, bleat about them.
"Many cricketers wither when confronted by a hostile Australian team and audience. Kohli appears to thrive on it," says Brown.
To understand why, you only have to look at that long-ago picture, of the son who still wishes his father would come home.