Mahendra Singh Dhoni best captain in the world: Lokesh Rahul to India Today

India Today
01-07-2016
India opener Lokesh Rahul is one of the most talented young cricketers in the country. After taking gentle strides over the years in domestic circuit, Rahul finally earned the Test cap during India's tour of Australia in 2014. Rahul, who made his debut during the Boxing Day Test against Australia in Melbourne back in 2014, has two Test hundreds against the Australia and Sri Lanka.
Photo: Know your captain - MS Dhoni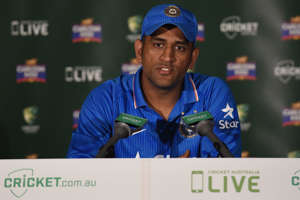 However, critics thought his copybook technique is perfectly suited for the longer version. But he proved them wrong and piled up 397 runs from 14 matches at an average of 44.11 in IPL and earned himself a ticket to Zimbabwe with the MS Dhoni-led ODI team.

The wicketkeeper batsman had a dream debut as he created history by becoming the first Indian to score a hundred on ODI debut. Overall, he became the 11th player to achieve the feat. Rahul finished the series as the highest run-getter with 196 runs. With a long international season ahead, Rahul will certainly look to carry on in same vein.
Here's what Rahul told India Today in an exclusive interview.
'HAPPY TO DO WELL IN ZIMBABWE'
"I haven't really thought so far ahead. I am just really very happy that I did really well in the Zimbabwe series and my form is good in the last three-four months. I am just hoping to continue in the same form whenever given an opportunity to do well for the team and make sure that I give good starts to the team... that is my responsibility as an opening batsman and at the moment I am enjoying my cricket, I am enjoying how I am batting and that's more important to me than if I will get chances or what this series will mean to me in the future. I have just enjoyed my cricket and I want to keep it that way and I am sure that opportunities will follow."
'ZIMBABWE WAS NOT EASY'

"People might consider this an easy series but I can guarantee you that the Zimbabwean bowlers and the wickets and the condition didn't make it really easy for us. At least I had to work for every run, nothing came easy and nothing came free. I guess that's how international cricket is. When you are playing at a higher level, you will have to earn every run and play really hard to win games. For a young team like us, it was a great opportunity, great exposure, got the opportunity to represent our country and we enjoyed playing there. I think we were tested. All the boys stood up and made themselves counted. Whenever given an opportunity, they did well for themselves. We are actually very happy and proud of ourselves the way we played in Zimbabwe and to win the ODI and the T20 series gives us great joy as a young team."
'DHONI - THE BEST CAPTAIN'
"Ofcourse it does help having the best captain in the world to lead a young side and for all of us, it was more or less the first or second interaction with him and to play under him is a dream for most of us growing up from our age group. To have him lead the side and to go and interact with him and to see how he carried himself and what he expected out of us and how he wanted us to perform in different situations was a great leering for all of us and I think all the boys benefitted from him... different situations we would go up to him and ask him questions and we got the best answers. All the boys have learnt a lot from him and to have somebody like him leading your side is wonderful and all of us were very happy that he came to Zimbabwe and made us all feel very comfortable. He gave us lot of feedback about what we can expect from international cricket and what is expected of us. We enjoyed the couple of weeks in Zimbabwe with him and with everybody else. It was a great tour."
'ENJOYING THE COMPETITION'
"I don't think the competition in Indian cricket is ever going to go down. It's only going to get higher and higher and I am sure with the kind of talent we have in our country, there will be good players coming up every year. It's part of the game and I certainly enjoy the competition. Like I said earlier, I am enjoying my game, enjoying my cricket. I am only looking to perform whenever given the opportunity, go out there and enjoy myself and enjoy my cricket."
More from India Today

India Today