Mahendra Singh Dhoni flexes his muscles after crushing Zimbabwe

India Today
15-06-2016
It has been a while since Mahendra Singh Dhoni retired from Test cricket and shifted his focus entirely on to the limited-overs formats. But following dismal performances against Bangladesh and South Africa last year and Australia earlier in 2016, Dhoni has been forced to pull up his socks. With voices to replace him with Virat Kohli as leader of India's ODI and T20 teams, Dhoni is undoubtedly feeling the heat.
Kohli of course is among the fittest athletes in the world. Dhoni, who has looked leaner and sharper this year, left no stone unturned at the gym in Harare, where India are busy demolishing a hapless Zimbabwe.
Dhoni, on Monday, sealed his first ODI series triumph in 20 months. However, his decorated cabinet includes a World Twenty20 trophy, an ODI World Cup, Champions Trophy and two Asia Cups.
However, of late, Dhoni has been at the receiving end of criticisms regarding his captaincy skills after failing to win a single ODI series last year.
After a 2-1 victory against West Indies in 2014, Dhoni tasted defeat in a tri-series involving Australia and England in 2015, failed to take India past the semi-final stage in the ODI World Cup in 2015. Thereafter, he suffered a humiliating ODI series defeat at the hands of Bangladesh before ending the year with another series loss against South Africa at home.
Dhoni's luck continued to head southward in 2016 as India were crushed 4-1 by Australia in the five-match ODI series.
However, Dhoni has bounced back in a way by putting it across the minnows in their own den. It is another matter that he has not done anything with the bat. But he made that up by slugging it out in the gym - giving the world an insight to his vigorous fitness regimen.
Slideshow: 26 cricket world records you must know about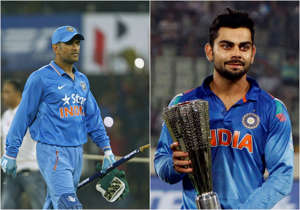 Cricket world records you must know about