Mahendra Singh Dhoni's reluctance to give up India captaincy costing him cult status

India Today
22-06-2016
Zimbabwe's complete lack of challenge has allowed India the opportunity to do as they please on the short limited-overs tour. They fielded three debuants in the first ODI, then handed Faiz Fazal his first India cap in the third before drafting in five new faces for the first T20 International.

India swept the ODI series but were given a shock in the first of three T20 matches. A two-run defeat created a bit of a ruffle in the Indian camp, which promptly included Barinder Sran and Dhawal Kulkarni for the second match as the visitors rediscovered their winning ways with an emphatic 10-wicket triumph.
Several young batsmen and bowlers have excelled over the last two weeks. KL Rahul became the first Indian to slam a hundred on ODI debut, Fazal smashed a stylish half-century in his first ODI, Sran picked 4/10 and the man-of-the-match award in his first T20I while Mandeep Singh, ignored throughout the ODI series, blasted a fifty in only his second T20 for India.
WHAT DID DHONI DO IN ZIMBABWE?
In between all these sterling performances, skipper Mahendra Singh Dhoni has had a whale of a time. The captain has posed for selfies with the team at dinner, spent time bonding with the junior players over Playstation and even checked out a local police bike. He of course did not get a chance to bat in the one-dayers; Rahul and Ambati Rayudu cleaned up the targets each time.
But once Dhoni was needed in the middle in Harare on Saturday, he failed.
India's inexperienced bowling attack for the first T20 meant Zimbabwe had the opportunity to have some fun and they posted a daunting 170 in their 20 overs. Rahul, who had a golden run in the ODIs, fell for a golden duck on debut. Mandeep and Rayudu were unable to keep their feet on the gas while Manish Pandey's stylish 48 just wasn't enough.
The game got close but there was a general sense of assurance within the Indian camp - Dhoni was slotted in at No.6. Isn't he the best finisher in the game? The skipper, as he is wont to these days, remained unbeaten on 19 off 17 balls, having hit a solitary boundary.
Around Dhoni, two other men at least tried valiantly. Kedhar Jadhav and Axar Patel played some lusty shots but their efforts were never going to be enough. Dhoni remained stuck at the crease and the big hits, which he has dished out so often in the past, never really came.
DHONI NO MORE A FORCE WITH THE BAT

India needed eight off the last over but Dhoni came a cropper. That's no real slight on him though. He has won India several matches in the past from far more complicated situations and against far better opponents.
But here's the thing. Dhoni's achievements have all been in the past. His instincts as a leader, that served him so well for so long, have deserted him. Dhoni is no more the batsman he was. The flambyoant wicketkeeper-batsman, in fairness, has tried hard to fight back - he returned to domestic cricket after nearly a decade and toured Zimbabwe for the first time in 11 years, when other top players, were rested after an exhausting international season and the IPL.
Dhoni, if reports are to be believed, was given the option of staying back home. But he toured Zimbabwe, maybe because he wanted to prove his critics wrong. Those critics, mind you, are growing in number every day. He was even slammed for not letting Pandey bat for more than two deliveries in the ODI series and that insipid innings this weekend proved that the 34-year-old is well past his prime.
Then why is Dhoni holding on for dear life? Yes, he is too young to call it quits and his predecessors carried on for far longer. But then Dhoni has never been like the others. It was always felt that he would bow out the moment he realised he was not needed. He did that in Australia in 2014. He could have been a better bet than Wriddhiman Saha in Test cricket but once he gave up the captaincy, he would not have wanted to play under Virat Kohli.
WHAT IF NEW COACH DOESN'T WANT DHONI TO LEAD?
Former team director Ravi Shastri, who is also a candidate for the India coach, said Dhoni should make way for Kohli as captain in limited-overs cricket. What if Shastri comes back as coach? What would Dhoni's position be then? What else has he to achieve? Why is India's most successful captain ever putting himself in such an unenviable position?
The questions are haunting and the answers missing. Nobody knows the ways of MS Dhoni and nobody knows what he does or why. Is he really serious about playing on till the 2019 World Cup? Forget the burning captaincy issue, is he even the best wicketkeeper-batsman in the country at the moment?
Would Dhoni want to be part of the team if Kohli is named captain of the limited-overs sides? Perhaps not. Maybe the selectors are wary of giving Dhoni an ultimatum. He has won the World T20, lifted the World Cup and the Champions Trophy and seen India through to the top of the rankings in Test cricket.
A leader par excellence and a true legend in one-dayers, Dhoni should not have let people ask why not now? He should have gone out when his adoring fans would have wondered - why now?
Slideshow: Know your captain - MS Dhoni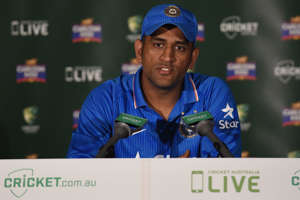 More from India Today

India Today