Masterful Ashwin ends South Africa's streak

Wisden India
27-11-2015
R Ashwin picked up a seven-wicket haul and Amit Mishra took the rest as India sealed the series against South Africa with a 124-run victory on Friday (November 27), the third day of the third Test in Nagpur. It was South Africa's first away series loss since 2006.
Hashim Amla and Faf du Plessis fought with a valiant 72-run stand that spanned 46.2 overs but South Africa, despite a much improved performance from their 79 all out in their first innings, folded for 185 in 89.5 overs after tea.
Their willingness to dig in resulted in the longest partnership for South Africa in the series, but it was maybe a case of too little too late, as India's spinners remained in control and put their team on top.
It was clear that South Africa, who resumed the day at 32 for 2, would face another trial by spin. Dean Elgar started confidently with a slog-swept six over deep midwicket off R Ashwin, but two balls later, the bowler had his revenge, inducing a bat-pad catch to silly point.
AB de Villiers walked in, but looked more jittery than positive in his brief stay. Perhaps not trusting his defence enough, he moved around in and out of his crease and seemed largely uncomfortable before Ashwin put him out of his misery with a brilliant carrom ball that trapped him leg before. It wasn't just the delivery that outwitted de Villiers – the set up prior to that played its part too. After bowling a few ripping offspinners that turned sharply, Ashwin slipped in the carrom ball that turned just about enough past de Villiers's clueless defence to hit him right in front.

That would be the last success for India for a while.
Unlike de Villiers, Amla and du Plessis trusted their defence even though they hadn't been among the runs recently. Despite the pitch playing a number of tricks and a number of fielders surrounding the bat, the pair countered the spinners, defending relentlessly with soft hands.
The pitch, fairly or otherwise, has been in focus throughout the Test but Amla and du Plessis showed that it was perhaps not impossible to bat on. They showed the requisite patience and application needed on the track, and remained calm even through a number of balls went past the bat, or given the odd occasion of an outside edge not carrying to the close-in fielders.
Amid all the defence, they also played some nice strokes. Amla hit a typically classy cover drive off Ashwin and whipped Mishra to the deep midwicket fence, while du Plessis lofted Jadeja straight into the sightscreen.
Run-scoring wasn't too easy, but India's frustration and impatience seemed directly proportional to the length of the partnership. The spinners seemed unhappy with the shape of the ball, there was the odd misfield and innumerable appeals for leg before and bat-pad catches in vain.
They, however, managed to keep things tight and kept the pressure as South Africa went through a 25-over period without a boundary. South Africa realised the hard way that it was impossible to keep defending throughout the day and the pressure eventually resulted in two vital wickets towards the end of the second session. Mishra first had Amla edging to gully and followed it up with a skidder that went through du Plessis' attempted pull shot. Ashwin then trapped JP Duminy, who offered no shot, on the other side of the break before completing the formalities.
Amla and du Plessis did well to delay the inevitable, but their efforts couldn't deny India a win.
Slideshow: Cricketers and their kids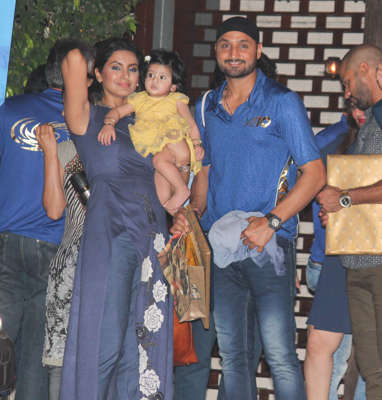 Cricketers and their kids
Cricketers and their kids