Masters of their trade

Sky Sports
01-08-2016
Novak Djokovic claimed his 30th Masters 1000 title in Toronto while Rafa Nadal took his total to 28 with a ninth win in Monte Carlo earlier this year – we take a look at the numbers and the rivals they have left trailing. 
There are nine Masters events across the ATP season, played indoor and out on both clay and hard courts. Each is worth 1000 ranking points and they sit just below the Grand Slams and World Tour Finals in terms of prestige.
With victory in the Florida sunshine of Miami following an all-too-familiar success at Indian Wells, the formidable Djokovic took over at the head of the most successful Masters performers for the first time.
It is an elite club featuring some of the biggest names in the men's game, but Nadal showed he has the stomach for the fight by drawing level with his win over Gael Monfils in Monte Carlo.
Djokovic seized the advantage again with victory number 29 in Madrid and after losing in Rome he returned to winning ways with a straight sets victory over Kei Nishikori to become the first man to 30 Masters series titles.
We look at the battle and the stellar names who have been left behind.
Novak Djokovic (Serbia)
Along with 12 Grand Slam titles, Djokovic's Masters record is frightening. The world No 1, who stands untouched at the top of the game, has won four of the first six 1000 events in 2016 (Indian Wells, Miami, Madrid and Toronto) and has 30 titles from 43 finals at a win rate of a whopping 70 per cent.

A win over Andy Murray gave him a second Madrid title and a first since 2011 whilst victory over third-seeded Nishikori in Miami sealed the Serb's sixth title in Florida, level with Andre Agassi.
His Indian Wells victory in March took him to five in the Californian desert, whilst another win over Nishikori saw him claim a fourth title in Toronto.
For good measure, Djokovic holds the record of most titles in a year - six in 2015. With three more still to play for this year another record could be in sight while another is that he has never won in Cincinnati.
Rafa Nadal (Spain)
The Spaniard returned to winning Masters ways in April when he claimed a ninth Monte Carlo success - his first 1000 title since 2014 when he was victorious over Nishikori in Madrid.

It ended a four-year wait for a win in the principality - mind you, before those four years, he won eight successive Monte Carlo titles. A total of nine MC wins, eight in succession, are both unsurprisingly Masters records.
2015 was the first year since 2004 that Nadal did not pick up a Masters title, but semi-finals at Indian Wells and Madrid to go with his Monte Carlo win suggest he will be looking to stay on the tail of Djokovic.
Some 21 of the world No 5's Masters victories have come on clay - his first title at 1000 Series level was on the red dirt of Monte Carlo in 2005.
As recently as 2013, the 14-time Grand Slam winner claimed five Masters titles in one year, a record only surpassed by Djokovic's six in 2015.
Roger Federer (Switzerland)
Roger Federer recently announced that not only will he miss the Rio Olympics, he will also be the notable absentee from the rest of the ATP season because of injury. 

Given his advancing years, Federer has rightly built his seasons around peaking at the Grand Slams. As a result, Masters events have taken a backseat.
However, his current injury woes surely put Djokovic in the prime position to edge closer to Federer's 17 career grand slams. 
As recently as Cincinnati in 2012, the Swiss was tied with Nadal on 21 Masters titles. The Spaniard then put his foot down to win five in 2013 to go clear of the Swiss great, who has won only three since.
The hard courts of the mid-season have yielded nine of Federer's titles, including a seventh Cincinnati crown last year. At his peak, he twice claimed the Indian Wells-Miami opening double (2005 and 2006).
Two records are within reach for the 34-year-old. A Masters triumph this year would see him become the oldest Masters winner, beating Andre Agassi, who won in Cincinnati in 2004 (34 yrs, 101 days).
He could also beat Agassi's record (1990-2004) for the longest span between first and last Masters title wins. Federer claimed his first Masters title in Hamburg in 2002 so has every chance of surpassing that mark this year.
Andre Agassi (United States)
Until Rafa and Roger found their way to 17 titles in 2010, the greatest showman of them all sat atop the Masters list.

Now surpassed by Djokovic, too, Agassi will have to be content with fourth place on the last, five clear of Andy Murray.
The swaggering Las Vegan won his first crown in Miami in 1990, the first of six titles in Florida  - a record he held on his own until Djokovic's success earlier this year.
And his last came in Cincinnati in 2004 to give him the record for the biggest span between Masters titles.
Andy Murray (Great Britain)
The British No 1 and three-time Grand Slam champion sits fifth in the list thanks to a multiple victories at six different events - adding a brilliant win over Djokovic in Rome this year to his list of achievements.

Canada has provided the most success for Murray, his victory over Djokovic in Montreal last year giving him a third crown and a second of the year having beaten Nadal on clay in Madrid.
The Scot reached four finals in 2015, his best return to date. His victory in Madrid ended a two-year wait for a Masters crown. It was his first 1000 Series title since Miami in 2013.
With his 12 wins coming from 18 finals, Murray has an impressive win ratio although all six defeats have come at the hands of Djokovic - before dismissing the Serb in Rome in May.
Pete Sampras (United States)
Second only to Roger Federer on the all-time list of Grand Slam titles, Pistol Pete finds himself down in sixth spot on the Masters list.

Eight of his 11 titles came on home soil with Miami the last in 2000, some eight years after his first in Cincinnati.
His Masters record of 11 wins from 19 is impressive and Sampras still holds the record for the most year-end No 1 rankings (six) and remains widely regarded as one of the greatest of all time.
Photos: The most beautiful Olympic couples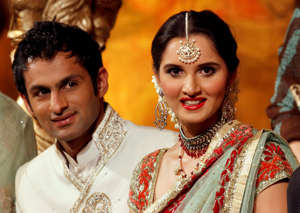 The most beautiful Olympic couples