Maxwell reignites 'selfish Indian' debate

Wisden India
22-01-2016
Glenn Maxwell is no stranger to stirring up a storm when he has the bat in hand. It's not often he does so with mic in hand. And there's fewer times still when he does both in one night. After his match-winning 96 off 83 balls in the third One-Day International against India in Melbourne, Maxwell was asked if he thought the Indian batsmen were playing more 'selfishly' while nearing their centuries – slowing down to ensure the landmark was achieved to the detriment of the team.
"They were probably just making sure they got to a milestone," he had said blandly. "Some people are milestone driven, some people aren't. If it means that much to you, you go for it. But it's not something that drives me too much. Each to their own."
When MS Dhoni was asked his opinion about it, he simply said he didn't think his batsmen were selfish. Ravi Shastri argued that if Indian batsmen were selfish, Rohit Sharma wouldn't have got two ODI double-hundreds, and Virat Kohli wouldn't have been the fastest to 7000 ODI runs.
At the time, Maxwell's comments seemed more of a response to a leading question than anything else. However, on Thursday (January 21), he reiterated his stance, and even offered the example of Kohli in the fourth ODI in Canberra to buttress the point.
Asked if he was aware that the comment had caused a fair bit of blow-up in the Indian media about the selfishness, or otherwise, of the batsmen, Maxwell replied with a nonchalant, "Yeah."
Elaborating on what he had meant then, he left no room for doubt. "I knew it was going to blow up. It didn't really bother me. I was sent a photo the other day, it said Virat was 84 off 63, and then 100 off 89 or something like that. He got his last 11 runs off 22 balls to get his hundred," said Maxwell, referring to the Canberra ODI on Wednesday that Australia came from behind to win spectacularly and go 4-0 up in the series.
"I thought about that and I was like, 'Jeez he did it so easily all the way up until then, and then you just lose a bit of momentum'. I have been thinking about that," he went on. "Then you look on the other hand, when you watch David Warner get into the 90s and he tries to hit Ishant Sharma for a slog-sweep for six. It's just, to me, that's two complete different ends of the spectrum. And then you look at the scoreline and you see 4-0. And to me, I'd much rather be 4-0 basically."
Maxwell's stats weren't far off the mark. In the fourth ODI, Kohli was on 84 off 61 balls and reached 100 off 84 balls, the pace undeniably slower. In Kohli's defence, he hadn't really tried to nudge and block his way to three figures, with a few forcing shots finding fielders.
India have failed to win a single game in this series, despite having five centuries in four matches. Interestingly enough, whenever Indian batsmen have got to hundreds, there has been another set batsman at the crease, which makes a comparison with their partner's run-scoring a good indicator of any slowing down, or otherwise.
In the first ODI in Perth, Rohit had reached 90 off 106 balls, with India 163 for 1 in 32 overs. For the 10 runs needed to get to a century, Rohit took a further 16 balls, getting there in the 37th over. In that five-over period, India scored only 28 runs. From overs 33 to 37, Kohli made 16 off 12, while Rohit made only 12 off 18 balls.
In the second ODI in Brisbane, Rohit was on 94 off 98 balls, with India 180 for 2 in 32 overs. He took 14 more balls for the six runs needed for a ton, again getting there in the 37th over. In that five-over period, India added only 24 runs. From overs 33 to 37, Ajinkya Rahane made 17 off 15 balls, while Rohit made just 7 off 15.
In the third ODI in Melbourne, Kohli was on 84 off 90 balls at the end of the 36th over. He took only 16 more balls to get the 16 runs needed for his century, getting there in the 43rd over. That seven-over period from 37 to 43 proved more fruitful for India, with Kohli hitting 17 off 16 while Rahane made 26 off 26 as India added 46 runs.
There were two centuries in the fourth ODI in Canberra, so two blocks of overs should be looked at, some of which overlap. India moved from 204 for 1 in 26 overs to 238 for 1 in 31, getting 34 runs in five overs. In that time Shikhar Dhawan, who had started on 84 off 78, needed only 14 more balls in which he hit 18 runs to get to his century. From overs 27 to 31, Dhawan made 19 off 15 balls, while Kohli made 15 off 15.
At the end of the 28th over, India were 218 for 1, and the next eight overs brought 47 runs, during which Kohli also completed his century. He had begun, as mentioned on 84 off 61, but needed 23 balls to score the 16 runs that took him to a ton. From overs 29 to 36, Dhawan made 27 off 23 balls while Kohli had 20 off 25.
The bare numbers make it clear that when approaching a hundred, Rohit in the first two ODIs and Kohli in the fourth scored at a pace far less than what their partners were going at. To the naked eye, it wasn't always visible, because the batsmen always looked good, but the numbers are stark.
Maxwell contended that the way the Australian team functioned was different. "The way Boof (Darren Lehmann, the coach) has talked to us always has been: 'Take the game on, take the game on, take the game on. I don't care if you're on 90, I don't care if you're on zero, take the game on'.
"If you face an offspinner first ball and you're on zero and you've just lost three wickets, try and hit him for six. Don't do yourself in, just try and hit him for six. You've got everyone's backing, try and hit him for six. The other night (in Canberra, where Australia made 348 for 8), he was upset after the game. He thought we'd left 40 or 50 runs short out on the ground. That's how much he has been pushing us. And when you've got a coach like that, it just drives everyone to be better, and that's a great thing for Australian cricket."
It may not make for pleasant hearing, and there are several factors to consider than just runs and balls when analysing this, but the Indian team might do well to heed Maxwell's words, uncomfortable as they are.
Watch: Harsh steps needed to overhaul team — Gavaskar
Slideshow: Sport stars — Then and now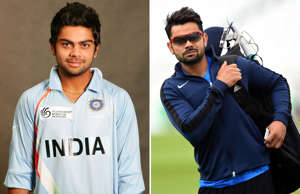 Sport stars: Then and now