Meet the India U-19s: Dravid's colts ready for World Cup challenge

Wisden India
31-01-2016
The Ishan Kishan-led 15-man Indian team for the 2016 Under-19 World Cup in Bangladesh in January-February has eight frontline batsmen, two spinning allrounders, one spinner and four seamers. The team coached by Rahul Dravid has maintained an unbeaten record of ten matches, winning two tri-nation tournaments along the way, using 20 players. Wisden India looks at the track record of the 15 players who made the cut.
Ishan Kishan
Date of Birth: July 18, 1998, Patna
The Jharkhand wicketkeeper-batsman took over the team's captaincy from Ricky Bhui only in the middle of the triangular series in Sri Lanka and impressed enough to be named skipper for the Bangladesh trip.
While he did not make any big score in the two U-19 series, his 87 for Jharkhand against Saurashtra in a Ranji Trophy match in October on a rank turner in Rajkot caught attention. Jharkhand lost the match within two days, but Kishan's 69-ball effort at the top of the order against an attack consisting of Ravindra Jadeja and Jaydev Unadkat was spoken of highly.
He followed that up with his maiden first-class century against Jammu and Kashmir. Kishan has so far represented Jharkhand in 30 matches across three formats, and averages 40.88 in first-class cricket.
He averaged more than 50 in two domestic U-19 tournaments in 2014-15.
Rishabh Pant
DoB: October 4, 1997, Haridwar
The Adam Gilchrist fan is the team's vice-captain. Pant made a half-century for Delhi against Bengal on his Ranji Trophy debut recently and has been on a run-making spree since.
An aggressive left-handed opener, he averaged 54 across two triangular series wins, making three fifties and a century in eight innings. His 118 against Afghanistan was a 98-ball affair. What has stood out in his brief India U-19 career is his penchant to strike big partnerships at the top of the order, a big gap in India's 2014 World Cup campaign in the United Arab Emirates.
Pant first played for Rajasthan Under-16, but failed to make it to the U-19 team and moved to Delhi. There, Tarak Sinha groomed him at the famous Sonnet Club. He made 360 runs in four matches at 90 in the 2015-16 Under-19 Vinoo Mankad Trophy, taking Delhi to the top of the North Zone points table.
Pant, like Kishan, is a wicketkeeper.
Washington Sundar
DoB: October 5, 1999, Chennai
The name came along because Sundar Sr, a cricketer himself, wanted to pay gratitude to his mentor PD Washington, who died a few months before his son was born. M Senthilnathan, the Globe Trotters coach, first spotted Washington at the age of 13 while he was batting at the MRF Pace Foundation nets and was immediately keen on playing him in the Tamil Nadu Cricket Association's first-division league.
Washington made his first big statement when he helped National Cricket Academy beat Haryana XI in Karnataka State Cricket Association's pre-season Dr (Capt) K Thimmappiah Memorial Cricket Tournament with a 162 in the 2014-15 final.
Although he is an opener, Washington has batted at different positions for India U-19 so far and has delivered successfully, making four half-centuries in eight innings, including a 56 in the final against Sri Lanka. He was the only batsman across three teams to cross the 200-run mark in Sri Lanka.
Washington, who was the second-highest run-getter in the Challenger Series, is also a handy off-spinner.
Washington's sister, MS Shailaja, plays for Tamil Nadu Women.
Sarfaraz Khan
DoB: October 27, 1997, Mumbai
A mercurial talent, Sarfaraz was India's find at the 2014 U-19 World Cup where his counter-attacking knock against Pakistan gave a glimpse of his temperament. His stock has only risen since then, and his cameos for Royal Challengers Bangalore in the Indian Premier League were another highlight of his short career.
Not happy with the way he was handled at Mumbai, Sarfaraz moved to Uttar Pradesh at the start of the 2015-16 season and marked the shift with his maiden first-class century against Madhya Pradesh. Although he has managed just two half-centuries for India this season – not consistent by his standards – his sharp thinking and handy offspin, with his clean hitting abilities and experience will be crucial to India's aspirations to regain the title.
Ricky Bhui
DoB: September 19, 1996, Bhopal
Bhui's poor form was one of the reasons for India's quarterfinal loss in the 2014 U-19 World Cup, but he has made rapid progress since then to make three centuries for Andhra at the first-class and List A level.
Much leaner now after cutting down on a Bengali's fondness for sweets, Bhui made a splash in the 2014-15 U-19 Vinoo Mankad Trophy when he made 384 runs at 96. He ended as this season's highest run-getter in the Challenger Series where he led India Blue to the title.
His 117-ball 142 in the final was the stand-out innings of the tournament, and propelled his status to lead India U-19. He captained the team till the middle of the tri-nation series in Sri Lanka before Kishan took over. Bhui has managed just one half-century in his last eight innings, but would be at the forefront of India's batting department in Bangladesh.
Amandeep Khare
DoB: August 5, 1997, Durg
Khare, a right-hand middle-order batsman, is the first cricketer from Chhattisgarh to represent India at any level, and has earned the right by being a prolific scorer in domestic age-group tournaments.
Khare had made two hundreds and two half-centuries for Chhattisgarh U-19 last season, and started 2015-16 on a big note. His unbeaten 139, 142, 61 not out and 62 in Central Zone's big wins over West Zone, East Zone, North Zone and South Zone respectively was the talk of the Vinoo Mankad Inter-Zonal U-19 Trophy.
He impressed in the subsequent Challenger Series with a 93 in India Blue's win over India Green. He sealed his spot with a 98-ball 102 in a four-run win over Sri Lanka.
Anmolpreet Singh
DoB: March 28, 1998, Patiala
Anmolpreet has been a prolific run-getter at the age-group level for Punjab. He helped his state win the U-19 Vinoo Mankad Trophy after two seasons in 2013-14, and then topped the 2014-15 Cooch Behar Trophy batting charts.
Anmolpreet made 1154 runs in nine matches at 144.25 in Punjab's journey to the final, where they lost to Mumbai. He hit five centuries, including a highest of 322 against Jammu and Kashmir, and became the first batsman, since Vijay Zol in 2011-12, to touch the 1000-run mark.
He made two half-centuries in the Challenger Series and has chipped in with handy contributions in the middle-order for India.
Anmolpreet, who is from Patiala's Black Elephant Cricket Academy, has already represented Punjab in two Syed Mushtaq Ali Twenty20 games last season, and looks up to Virat Kohli. His father, Satwinderpreet Singh, is a former international handball player.
Armaan Jaffer
DoB: October 25, 1998, Sangli
Nephew of Wasim Jaffer, Armaan, a lanky right-hand batsman, is the story of this team selection. Not considered for the triangular series after failing to make any impact in the Challenger Series, Armaan, who looks up to Sachin Tendulkar and is coached by his father Kalim Jaffer, went back to the state set-up and made three consecutive double-centuries in the Cooch Behar Trophy to barge into national reckoning.
His sequence of scores in the Cooch Behar Trophy reads: 56 (against Baroda), 174 (against Tripura), 224 (against Madhya Pradesh), 223 (against Odisha), 218 not out (against Karnataka), and 83 and 40 (against Vidarbha). With that effort, he has now become the second batsman, after Anmolpreet, to score 1000 or more runs in the last two seasons of the competition. His current aggregate in six innings stands at 1018 runs at 169.66.
Armaan's sister, Fatima, was recently picked up for Mumbai U-19 Women's team.
Mayank Dagar
DoB: November 11, 1996, Delhi
A left-arm spinner from Himachal Pradesh, Dagar played a key role in India winning the home tri-nation series against Bangladesh and Afghanistan. He returned figures of 3 for 32 in nine overs in the final as Bangladesh were bundled out for 116.
He carried his good form into Colombo where he finished with seven wickets in three matches, and was at his best against England U-19 in the last league game with returns of 3 for 27.
In the domestic circuit, Dagar had made an impact in the U-19 Inter-Zonal competition with two five-wicket and one four-wicket haul for North Zone.
Dagar, who played representative cricket first in November 2010 when he represented Himachal Pradesh U-16 in the Vijay Merchant Trophy, held his own in the 2015-16 pre-season KSCA tournament with 11 wickets for NCA. His best of 4 for 29 came against Andhra Cricket Association XI.
Mahipal Lomror
DoB: November 16, 1999, Nagaur
Apart from Dagar, Lomror is the other allrounder in the team. Lomror started out his career as a specialist batsman and took up spin quite late. He has not made any significant contribution this season barring one good bowling performance against England U-19 where he took 4 for 10.
In that game, he came to bowl as the sixth bowler and needed just five overs to wrap up things as India, defending 254, won by 86 runs in a rain-affected game.
Zeeshan Ansari
DoB: December 16, 1999, Lucknow
Ansari, son of a tailor in Aliganj, took up cricket after seeing Shane Warne in action on television. Groomed by Gopal Sharma, Ansari graduated from his local club to Uttar Pradesh Cricket Association's academy, to NCA.
He is a late entrant to the sport, playing his first match for Uttar Pradesh U-19 in the Vinoo Mankad Trophy last season. He picked up 40 wickets at 13.32, including a best of 8 for 39, in the Cooch Behar Trophy and was immediately drafted into the U-23 team for the CK Nayudu Trophy. There he picked up 18 wickets at 13.44 as his team lifted the title. His best of 6 for 81 was in a first-innings lead over Kerala in the semifinal.
The legspinner was at his best for India against Afghanistan in a league game in the first tri-nation tournament this season when he took 5 for 37 to dismiss the opposition for 162.
At 16, Ansari is the youngest member of this team.
Avesh Khan
DoB: December 13, 1996, Indore
The leader of India's bowling unit for having played the previous World Cup, Avesh already has 15 wickets in five first-class matches for Madhya Pradesh under his belt.
His pace was one of the highlights of the 2014 World Cup when he clocked 139.8kph against Pakistan despite bowling with a bruised ankle.
His father motivated him to take up cricket and he joined Indore Colts Cricket Club before graduating to Madhya Pradesh Cricket Association's academy where Amay Khurasiya, the former India batsman, coached him.
Avesh has been in top form at the U-19 level this season. He was the best bowler in the Challenger Series and then proved his mettle in the opening game of the first tri-series against Bangladesh when he took 4 for 4 in six overs as India successfully defended 158. He has so far picked up eight wickets in six games, and will open the attack in the World Cup.
Rahul Batham
DoB: August 21, 1998, Gwalior
Another cricketer groomed by Khurasiya, Batham hails from a middle-class family. His father is a godown supervisor with a gas agency.
Batham's mettle came to the fore in the final of the Challenger Series where he took five wickets to help India Blue beat India Red by 25 runs. More than the wickets, it was his ability to strike in the late overs of India Red's chase that made his effort noticeable.
He picked up six wickets in three matches in Colombo, but, more importantly, provided the rest of the attack the support they needed by being economical.
Like Khare and Ansari, Batham too played a key role in helping Central Zone top the Vinoo Mankad Trophy points table.
Shubham Mavi
DoB: December 12, 1997, Bulandshahr
Mavi dismissed Vishad Randika, Sri Lanka's highest scorer, in the triangular series final in Colombo. Although he had not taken many wickets in the previous games, his 3 for 41 for India Blue in a two-wicket win over India Green showed his abilities.
His best performance so far has come in the 2014-15 Cooch Behar Trophy where he picked up 17 wickets for Uttar Pradesh U-19.
Khaleel Ahmed
DoB: December 5, 1997, Tonk
A left-arm seamer, Ahmed is the son of a nurse in Rajasthan. He was India's most consistent wicket-taker in their last two assignments.
He started with figures of 4 for 41 against Afghanistan in the first tournament, and finished things off with seven wickets in the last two games against Sri Lanka including 3 for 29 in the final of the second competition.
Watch: I love Virat Kohli's batting — Shane Watson
Slideshow: Cricketers and their superstitions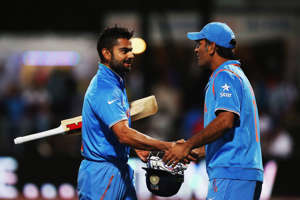 Good luck charms of cricketers