Michael Vaughan slams 'naive' James Anderson over Virat Kohli comments

India Today
14-12-2016
Former England captain Michael Vaughan has criticised James Anderson for his uncharitable comments on Virat Kohli that has irked the past and present cricketers, especially the Indian dressing room.
Anderson had said that the India captain's technical flaws were not visible because of the helpful Indian tracks which lack pace and movement.
Following this, Anderson was greeted with a barrage of angry words when the England No. 11 walked in to bat on the fifth day of the Mumbai Test, with the umpires forced to intervene to prevent the incident from escalating further.
Kohli has been in supreme form this year aggregating 2,580 runs in international cricket. He has already amassed 640 runs in the ongoing five-Test series against England with one more match to be played in Chennai from December 16.
"Jimmy came out last night and showed no experience with the Indian press. You know what you're getting with the Indian press – they'll make one small comment into a huge headline," Vaughan told BBC.
"For him to say Virat's technique's not changed and it's just the conditions here that suit his style of play it's so naive."
SMITH, INZAMAM NOT TOO IMPRESSED
Former South Africa captain Graeme Smith and Pakistan chief selector Inzamam-ul-Haq were also not too impressed with Anderson's handling of Indian media.
"It is surprising to me that Anderson should question Kohli's runs and ability because I haven't seen him take too many wickets in India," Inzamam told Geo Super sports channel.
Photos: 'Unique' world records held by Indian cricketers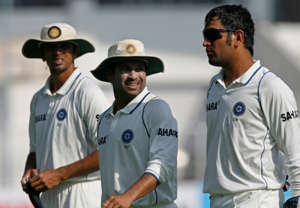 "Does Anderson mean to say that if you get runs in England you get some sort of certificate that makes you a quality batsman. Don't the English and Australian players struggle when they play in the sub-continent? Does that mean they are bad players or weak teams. To me it does not matter where you get runs because in Test matches runs are runs," the former Pakistan skipper added.
'ASHWIN NOT PLEASED'
However, Kohli said he had not clue about what Anderson had said until Ashwin told him.
"Ashwin wasn't pleased with whatever Anderson had said in the press conference. Ashwin told me on the ground, obviously I had no clue about it. I didn't know what to make of it, I was laughing about it but Ashwin wasn't too impressed. He let him know, not using any bad words, honestly," Kohli said at the post match press conference after India registered an innings and 36-run win over England in Mumbai.
---
---
"He told me he was pretty disappointed with what he had said and it's important to accept defeat. You know how Ashwin is. He's to the point, he can really strike you well and he doesn't need to say bad words, that's exactly what happened and later on I told James (Anderson) that it's fine and these things happen..so let's move on with it," Kohli said. 

Anderson dismissed Kohli four times during India's Test series in England in 2014 but has struggled big time in the ongoing series. Anderson, who is England's leading Test wicket-taker at 467 scalps, has managed to get only four in three matches so far at a poor average of 53.50 as compared to his career average of 28.50.
More from India Today

India Today