Moeen ton leads England to strong position

Wisden India
16-12-2016
December 16 is a special date in Indian cricket's annals. It was on that day in 2003 that Rahul Dravid's unbeaten 72 – following on from a mere 233 in the first dig – piloted them to a four-wicket victory over Steve Waugh's Australia in Adelaide. It was all the more remarkable because India had conceded 556 in the first innings, including 400 for 5 on the opening day.
Anil Kumble, now India's coach, was the man who hauled India back into contention on the second day in Adelaide. Here, as Chepauk hosted its first Test in nearly four years, he watched his wards struggle much as he and his teammates had in the early stages in Adelaide. Miserly bowling from Ishant Sharma and the accurate left-arm spin of Ravindra Jadeja kept India in the hunt, even as a watchful unbeaten 120 from Moeen Ali, and a delightful 88 from Joe Root allowed England to dictate terms after the loss of two early wickets. At stumps, they were 284 for 4.
Full scorecard: India vs England, 5th Test
Moeen started extremely hesitantly, and could have been dismissed when he had made just one – an airy waft in the direction of midwicket burst through KL Rahul's hands. But after eking out just six from the first 37 balls he faced, he cut and drove beautifully at times, adding 146 with Root and another 86 with Jonny Bairstow, whose stroke-filled 49 was ended by a miscue to cover.
England had drafted in Stuart Broad and Liam Dawson, the Hampshire left-arm spinner making his debut, in place of Jimmy Anderson and Chris Woakes, while India left out Jayant Yadav (hamstring niggle) and Bhuvneshwar Kumar to accommodate Ishant and Amit Mishra.
Photos: 'Unique' world records held by Indian cricketers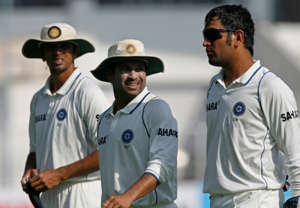 After he won the toss, Alastair Cook played the first ball through the covers, off the leading edge, to become the youngest to 11,000 Test runs.
But with Ishant giving the openers nothing to hit – Keaton Jennings took 15 balls to get off the mark – and Umesh Yadav bowling at lively pace, runs came only in a trickle, just 13 from the first ten overs. And the pressure finally told as Jennings edged a wide delivery from Ishant behind to depart for one.
Root, whose determination to end the tour on a high included throwdowns in the street on the eve of the game, got going with an edge to third man, but when Jadeja was introduced, Cook flirted at one outside his off stump, Virat Kohli took a good low catch, and England were 21 for 2.
Then came the reprieve for Moeen, and after a period of watchfulness, the batsmen began to assert themselves. R Ashwin was introduced only in the 18th over, and troubled Moeen early on, but Root started to plunder runs as Mishra started his spell with long hops and overpitched deliveries.
Ashwin switched to the Pavilion End, and there was a bonus for England as a fortuitous Root single to fine leg resulted in five penalty runs after Kohli's errant throw struck the helmet behind Parthiv Patel.
At lunch, England had just 68 on the board, but the runs came much more freely thereafter with both batsmen employing the sweep and the leg-side heave to great effect. India lost one of their reviews after Jadeja and Kohli decided to go to the third umpire after a leg-before appeal against Moeen had been turned down.
---
---
Root played the sweep at every opportunity, and one such took him to 50 off 91 balls. With confidence growing, he then stepped out and dispatched Ashwin over mid-on for four more. The 100 of the partnership came up in 181 balls, and both batsmen continued to target the leg side as the spinners struggled on a placid surface. 

Moeen played a gorgeous cover drive off Mishra as he eased to 50 off 111 balls, and then lofted him over mid-off for four more. With tea time approaching, England were in complete control, and India badly in need of a breakthrough. Jadeja provided it, tempting Root into a sweep that went behind off the bottom edge of the bat. The original decision was not out, but when India reviewed, the replays showed a spike on Ultra Edge as the ball went under the bat. Root's 88, an innings as accomplished as the 77 in Mumbai, spanned 144 deliveries.
Bairstow began by smashing Jadeja over long-on for six, and had made only 10 when India thought they had him caught at midwicket. Replays clearly indicated, though, that it had been played into the ground and taken on the bounce. By tea, England had progressed to 182 for 3, adding 114 in the session despite the loss of Root.
There was no let-up after the interval, with Moeen lofting Ashwin to long-on for four, before seeing an edge fall just short of slip. Bairstow clubbed both Ashwin and Jadeja for sixes over midwicket, and was then reprieved as Parthiv missed a difficult stumping off Jadeja's bowling when he had 38.
Moeen, who played some pleasing drives as the afternoon wore on, then survived an Indian review, with 'umpire's call' going against the leg-before appeal from Mishra. But Bairstow couldn't capitalise on his good fortune, and a shot that left him whacking his pads in frustration saw England slide to 253 for 4.
Moeen eased to 99 with a fluent off drive off Mishra, and a single to the off side took him to three figures in 203 balls. India took the new ball after 85.3 overs, but Moeen and Ben Stokes were equal to the task, as England went to stumps clearly the happier of the two teams. They kept Ashwin, their Mumbai tormentor, wicketless, as India, who had taken the last six England wickets for 15 in Mumbai, endured a testing day in the Chennai heat.