Mohammad Kaif's reply to Virender Sehwag's birthday wish is winning the Internet

The Indian Express
03-12-2016
It's no secret that Virender Sehwag is hands down the most witty personality on Indian Twitter. His humour is unmatched and his one-liners are possibly one of the best one can find on the Internet; 'memeworthy' as they call it. And believe it or not, his birthday wishes are epic. People who know Sehwag personally must wait for his brilliant tweets on their birthdays.

Exhibiting his skills, he wished fellow cricketer Mohammad Kaif on his birthday on December 1 with lyrics of Sunny Deol's song and asked him if he was a man or kite! You can expect that from Sehwag. "Udja Kale Kawan Tere Moowich Khandpaanwa", @MohammadKaif tuk dis song seriously&kept flying kahin bhi. #HappyBirthdayKaif ,R u Man or Kite?" he wrote.
But unlike the usual 'Thank you, Viru paaji' that most replies read, Kaif responded in Sehwag's language and conveyed his gratitude in the most hilarious way possible. "Hahaha, thanks Viru ! And you took the movie "De Dana Dan"title seriously ,even before it released. Keep entertaining like always !" he wrote.
It's not the first Kaif is winning hearts on social media. Remember his message to people for all the soldiers right after the Uri attacks in September. He tweeted a heartwarming message for our jawans which touched a chord with many. "Leave of all Jawans have been cancelled. If in train or bus, you see a Jawan without a seat, do offer them a seat," he wrote.
Read the conversation between the two here.
"Udja Kale Kawan Tere Moowich Khandpaanwa", @MohammadKaif tuk dis song seriously&kept flying kahin bhi.#HappyBirthdayKaif ,R u Man or Kite? pic.twitter.com/pShtPvAsHS

— Virender Sehwag (@virendersehwag) 1 December 2016
Hahaha, thanks Viru ! And you took the movie "De Dana Dan"title seriously ,even before it released. Keep entertaining like always ! https://t.co/2QSFT8T5As

— Mohammad Kaif (@MohammadKaif) 1 December 2016
Hahaha, thanks Viru ! And you took the movie "De Dana Dan"title seriously ,even before it released. Keep entertaining like always ! https://t.co/2QSFT8T5As

— Mohammad Kaif (@MohammadKaif) 1 December 2016
Hahaha, thanks Viru ! And you took the movie "De Dana Dan"title seriously ,even before it released. Keep entertaining like always ! https://t.co/2QSFT8T5As

— Mohammad Kaif (@MohammadKaif) 1 December 2016
Slideshow: 27 cricket world records you must know about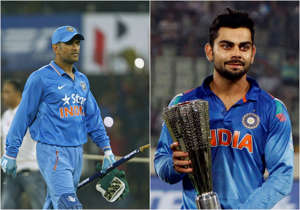 Watch: Virat urges people to never drink and drive