Mohammad Kaif answers critics trolling him for doing 'Surya Namskar'

The Indian Express
02-01-2017
Mohammad Kaif has found himself in a controversy after uploading photos of him doing 'Surya Namaskar' on his social media accounts.
Kaif, who has played 13 Tests and 125 ODIs , posted four photos of his workout which inlcuded 'Surya Namaskar'. The photographs invited snide remarks from twitter trolls with some accusing him of viloating his religious beliefs.
"Surya Namaskar is a complete workout for the physical system, a comprehensive exercise form without any need fr equipment. #KaifKeFitnessFunde," Kaif had tweeted.
However the right-handed batsman hit back at the trolls saying that physical exercise has got nothing to do with religion.
"In all 4 pics, I had Allah in my heart. Cant understand what doing any exercise, Surya Namaskar or Gym has to do with religion. It benefits ALL," Kaif tweeted.
Kaif, who played represented Chattisgarh in the season of Ranji Trophy, had earlier supported Mohammed Shami who was attacked by trolls after they found his wife's dress as wrong. "
The comments are really really Shameful. Support Mohammed Shami fully. There are much bigger issues in our country. Hope better sense prevails." said Kaif in Shami's support.
Kaif made his Indian Premier league debut for Rajasthan Royals in the inaugural season, but was axed after his performance. Then, he was bought by Kings XI Punjab in the third season of the tournament. 

Later, Kaif joined Royal Challengers Bangalore in 2011. After being with Bangalore for two seasons, he bid adieu to the shortest format.
Photos: 'Unique' world records held by Indian cricketers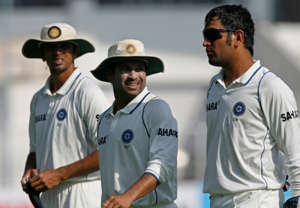 Watch: Best helicopter shots in cricket history
---
---