Morgan's England look to sustain momentum

Wisden India
29-01-2017
The ongoing Twenty20 International series between India and England may lack context, but for a youngster like Yuzvendra Chahal, who stood out during the home team's seven-wicket loss in the first game in Kanpur, it is an opportunity of a lifetime to soak in the demands of representing the country in front of a packed house.
He has been a key figure for Royal Challengers Bangalore in the high-octane Indian Premier League, but, as Virat Kohli recently said, the pressures of international cricket are different. Chahal will get another chance to experience what it is to play with more than 40,000 people rooting for you when the teams face off in the second T20I at the Vidarbha Cricket Association Stadium in Jamtha, Nagpur, on Sunday (January 29).
"This was my first series after the tour of Zimbabwe, and that too at home. I was a bit nervous at the start. After bowling the first over, I gained confidence that I bowled well," he said. "Playing in India, the ground is always full and there is pressure of the home crowd."
Full coverage: India vs England Series
That he gave a good account of himself, dismissing Jason Roy and Sam Billings in his first international over at home, also had to do with the amount of cricket he played in the build-up. With Amit Mishra and Jayant Yadav busy with the national team, Chahal represented Haryana in seven Ranji Trophy matches in one season for the first time, and picked up 33 wickets. He carried that good form to help Reliance 1 win the DY Patil T20 Cup in Navi Mumbai and then joined the Indian team.
"Ranji Trophy is an important tournament. I had never played so many matches in the past, but this time Mishy bhaiya and Jayant were playing for India. So, I had a chance to grab," he added. "I had a good performance in seven matches. After Zimbabwe, I played for India A, and then DY Patil and I came here. So, I was playing regularly."
Photos: Virat Kohli's amazing records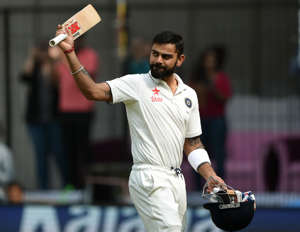 Like Chahal, other spinners in both the camps would be waiting to get started in Nagpur. The surface looks bare and the ground is among the biggest in India. When India last played here against New Zealand in the World T20 2016, 12 of the 17 wickets in a low-scoring game went to the spinners.
"A big ground makes a difference as you can flight the ball. When the ground is big, the batsman needs to choose which ball to hit. In a small ground, batsman can try hitting every ball," said Chahal. "The way they batted in the previous game gives a plus to the bowlers as they were trying to hit all balls. I got hit for a six in my first ball and then I got a wicket. You have got six balls, while the batsman has just one ball."
That India could not capitalise on Chahal's twin-wicket over after England had raced to 42 in 3.2 overs was because they had only 105 runs to defend from thereon. Indian batsmen were foxed by England's ploy of slower deliveries and wide yorkers, managing only 13 fours and one six through the innings. After Virat Kohli fell to Moeen Ali against the run of play in the eighth over, the innings lost momentum. Kohli admitted that they were 30 to 35 runs short, and to address that gap it would not be a bad idea to try out Rishabh Pant, who has already built a reputation around him for his hitting abilities.
Pant, Mandeep Singh, KL Rahul and Kohli, who just took throwdowns, were the first to bat at the nets on Saturday. If Pant is slotted in then it could be either at the cost of Rahul or Manish Pandey.
Eoin Morgan, the England captain, termed the win in Kanpur as a "complete performance". They now have a chance to wrap up the series by continuing their aggressive brand of cricket.
Watch: Virat Kohli is an inspiration for the team — Pujara
"Obviously we have had a tough time on the tour, losing the Test series and ODIs initially. The last ODI win (in Kolkata) and now the first T20I has given us a little bit of momentum," said Chris Jordan. "We are taking it one game at a time at the minute. If we do win tomorrow, we do wrap up the series. It will be great to do that in India."
Morgan deserves a lot of credit for putting his team on the brink of a memorable series win and end a hard tour, which started way back with the first Test in Rajkot in early November. He spoke about how hurt he was after India were allowed to come back from 63 for 4 to chase down 351 in the first ODI in Pune. England, then, reduced India to 25 for 3 in the second ODI in Cuttack before Yuvraj Singh and Mahendra Singh Dhoni put on that epic stand. Morgan's run-out in the penultimate over after a valiant 81-ball 102 played a role in them falling 15 short in their chase of 382. The tide turned in Kolkata, where England won by five runs and then Morgan made a brisk 51 in the T20I win in Kanpur.
"Morgy, for a start, is our leader. We follow him in everything he does. He tries to lead from the front in his body language, his language and the way he plays his cricket. We try to follow suit," said Jordan. "You can see in our personnel and the way we play our cricket is very aggressive. That stems from the captain. He always encourages us to be on the front foot and take the positive option. He believes that in the long run, the more games we play the more experienced we get. That is the way we should play, and that is the way we will get the best positive results."
At least one win in the remaining games in Nagpur and Bangalore will only enhance Morgan's credentials as a leader.
Teams (from):
India: KL Rahul, Mandeep Singh, Virat Kohli (capt), Yuvraj Singh, MS Dhoni (wk), Suresh Raina, Hardik Pandya, Yuzvendra Chahal, Jasprit Bumrah, Bhuvneshwar Kumar, Ashish Nehra, Manish Pandey, Rishabh Pant (wk), Parveez Rasool, Amit Mishra.
England: Sam Billings, Jason Roy, Joe Root, Eoin Morgan (capt), Ben Stokes, Moeen Ali, Jos Buttler (wk), Jonny Bairstow, Jake Ball, Chris Jordan, Liam Dawson, Liam Plunkett, Tymal Mills, Adil Rashid, David Willey.