MS Dhoni and Virat Kohli understand the art of chasing: Brendon McCullum

India Today
29-10-2016
He may have failed to lead the team to victory in front of his home crowd in Ranchi, but for Brendon McCullum, India's limited-overs captain Mahendra Sindh Dhoni remains one of the most influential and dangerous players in world cricket.
Just a game earlier in Mohali, Dhoni reminded the world of his genius with a match-winning knock. This was his first half century in over a year and it came from an unusually high batting position of 4.
"I am definitely not surprised (with Dhoni doing well at No.4). He is a terrific leader of men as well. Now that he does not play Test cricket his focus is squarely on the limited overs games. It means he can have more impact on matches which is why I think he has pushed himself up the order and he has delivered and that is what world class players do," McCullum told India Today.
Having played under Dhoni's leadership in the Indian Premier League, McCullum knows all about his qualities both as a captain and as a finisher.
Dhoni crafted a match-winning partnership of 151 runs with his deputy Virat Kohli in the third ODI and while failures are part of the game, McCullum said this pair understands the art of chasing totals better than most.
"You have got two very experienced cricketers who are very calm under pressure and know how to win games. Chasing scores is not easy and these two understand the art of it. For the sake of all other teams in the world I hope they do not bat together very often but I am sure for India's sake you guys are enjoying two of your leaders standing up and performing in pressure situations", the former Black Caps skipper said.
© AP Photo

Over the years Dhoni has earned the reputation of being the best finisher in world cricket, but now Kohli is threatening to take that title away from him. Kohli remained unbeaten on 154 in Mohali and such is the standard he has set for himself that his 45 runs in a run chase in Ranchi may be considered a rare blip.

"Definitely Virat has been one of the best batsmen in the world for a number of years. He does it in Test cricket, ODIs and he also had a wonderful last season in the IPL. His ability to be consistent in what is an inconsistent game is a mark of how world class he is. At just 27 years of age I think we should all just enjoy the fact that we have got one of the geniuses at work over the next few years" said the 35-year-old.
Slideshow: Virat Kohli - On and off the cricket field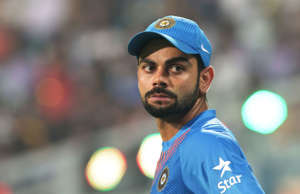 While Kohli has matched Sachin Tendulkar's record (14) for most tons in successful ODI run chases, McCullum believes one should not compare India's Test skipper with the Master Blaster just yet.

"Let us just enjoy a guy who is on top of his game and he is entertaining crowds all over the world and performing day in and day out. I think comparisons are so difficult in this game, you know there are different conditions, different eras, different circumstances, but we should not fail to realise we have got an incredibly good player who is operating at the world sage at the moment," explained McCullum.
Having failed to take India to the top 3 spot, onus is now on Dhoni and Kohli to win the final ODI and the series in Visakhapatnam tomorrow. Fans in India will certainly be glued to their TV screens, hoping for a Diwali dhamaka from the premier batting duo.
Watch: When Kohli hit 3 consecutive fours off Malinga
More from India Today

India Today