MS Dhoni defies logic by choosing Ambati Rayudu over Manish Pandey at No. 3 in Harare

India Today
14-06-2016
Ambati Rayudu has scores of 62 not out and 41 not out in the two innings on the tour so far. His ODI batting average has nudged past the 50-mark, usually reserved for batting greats - records say only Virat Kohli and MS Dhoni currently live that side of the wall. Effectively, Rayudu must be bordering on the verge of 'Greatness', but is he?
Cut to the other man: Manish Pandey. A precocious talent they told us many summers ago and it needed the tight-game environ of Sydney Cricket Ground and against the toughest side in the world, Australia, he stamped his coming. What a beautiful, hard-hitting and match-winning hundred he scored. That was on January 23rd, exactly 141 days to this Monday. Yes, that's the period he has had to wait to play his next international delivery since the century that gave India their only ODI win in the series Down Under. Small mercy then that the delivery was dispatched with utter disdain by Pandey to win India the second ODI in Harare.
DHONI'S TACTICS NOT MAKING SENSE
If you were to choose one from amongst the two, Rayudu and Pandey, to fight and turn a losing battle into a victory against a top side who would it be? God forbid if ever the regular No. 3 Virat has to sit out from a must-win game, would Dhoni dare then Rayudu instead of Pandey at that slot? I would go for Pandey; young, attacking and someone who perhaps oozes the same kind of X-factor as a Virat Kohli and a Yuvraj Singh did when young. In that sense, we have wasted a couple of opportunities to (a) allow Pandey runs and confidence for bigger battles ahead and (b) test his batsmanship in England-type swing-seam-slowish pitches. Rayudu, out of favour with selectors between the Australia tour, World T20, was sent by Dhoni at No. 3 while Pandey waited with his pads on.
Former India captain Mohammad Azharuddin votes in favour of Pandey. "Yes, I would have sent Pandey at No. 3 and not Rayudu," he said, adding, "you have to look at the larger picture. In such series, more than the runs and the wickets you need to be on the lookout for champions. I think Pandey can be a wonderful player for India in the future and he would have gained a lot batting in Zimbabwe and getting a chance to play big knocks in those conditions."
Azhar underlines the word CHAMPION.
Maybe Pandey gets to bat for more time in the third ODI, and/or the three T-20s next week. Remember though, he doesn't yet fit into the Test scheme of things so the only opportunities available to him after this series will be the five ODIs against New Zealand, three ODIs and T-20s against England and not much before next summer's Champions Trophy in England. Dhoni has to allow him greater role and more teeth because the Indian captain has always been known as the one having an eye for real talent. And while Pandey-vs-Rayudu isn't the David-vs-Goliath kinds, it still is a no brainer while picking out the winner.
India needs Pandey. Tested and okayed in all conditions.
Slideshow: 26 cricket world records you must know about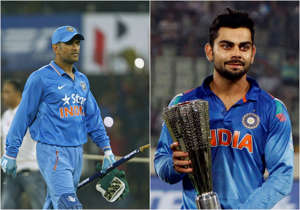 Cricket world records you must know about
More from India Today

India Today