MS Dhoni ready for life after captaincy

The Indian Express
15-01-2017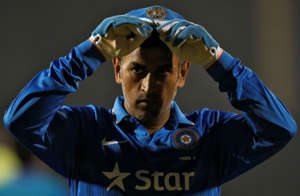 On Sunday, if MS Dhoni waves his hand and tries to move a fielder, he might have to check himself. It might seem like the most instinctive thing to do, considering he's done it for nearly a decade. But come Sunday, he'll have to first look towards Virat Kohli for approval. There's a new sheriff in town after all.
If anything, it used to be one of the trademark sights during his decade-long captaincy reign – Dhoni directing traffic on the field like a drill sergeant with that one wicket-keeping glove stuck out from behind the stumps. And it's not like we'll not see it ever again. Perhaps Dhoni himself put it best while gesticulating with his hands this time without the gloves.
"I can't just say 'you go left, you go right'. I will have to consult him (Kohli) and tell him because if it (the fielder) is strategically positioned in a particular place I can become a bit of a problem if I start moving around."
He then admitted that it might even take a "couple" of games before he gets used to not having the final say, if only in terms of setting the field. So while the three-match series against England might be seen as the official change of guard in Indian cricket, for Dhoni it'll be a case of unwinding and getting acquainted with the latest chapter of his career, where he'll be the experienced wicket-keeper playing mentor to his young successor. In his own opinion that is.
"I think the wicket-keeper is always a vice-captain of the side irrespective of whether he is announced vice-captain or not. One thing is the field setting is usually given to the vice-captain or the wicket-keeper. In this scenario, I will have to keep a close eye as to what the skipper really wants," he said.
Slideshow: MS Dhoni - Life in pictures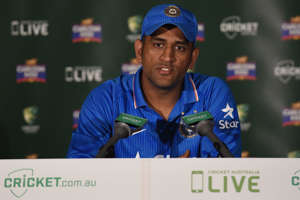 This was Dhoni's first interaction with the media following his resignation as captain of the ODI and T20 teams. Some feel there won't be too many of these he'll be indulging in hereafter. And while expectedly it was dominated by reflections about his time at the helm, including him ironically picking out 'press conferences' as having been the least memorable feature of captaincy, the former Indian captain also ended up giving a little sneak peek into the Kohli era, and his role in it.

It's a role that he already seems to have adopted even before Kohli walks out for his first game in-charge at Pune on Sunday. Dhoni revealed to have already had a chat with Kohli regarding his "fielding preferences" and how he's already thinking about making the most of his vantage point behind the stumps. He also spoke about how it would be prudent that the information that comes from him is "simple" and doesn't confuse the skipper.
When you've held the reins for as long as Dhoni did it's only understandable that the more cynical will wonder about his equation with the man replacing him. But Dhoni not only spoke about "having been very close" to Kohli "from the very start". He also said that the two never shied away from agreeing to disagree, hinting that their relationship could never be influenced by any ego clashes. "I think the kind of relation we have got – what's brilliant is if I go up with 100 ideas to him, he is comfortable saying no to all of them because that's what his responsibility is – to pick and choose what he's really convinced about. I think that kind of relationship is very important because I shouldn't feel okay, if I am saying something, that should happen and he shouldn't feel as if whatever is coming from my side, has to be implemented," said Dhoni.
There's been no shortage of speculation regarding his apparently sudden decision to pull the plug on his captaincy career. But Dhoni cleared the air on Friday, and admitted to have based his decision on his opinion that Kohli was ready. In fact, he feels Kohli had been ready even earlier, and that there was no point for Dhoni to continue till the Champions Trophy, which many thought he would. If anything, he was simply waiting for Kohli to get more leadership experience under the belt, even if it was in another format.

"To cut the long story short, in my mind my last series was the South African series in India (which India lost 3-2 in October 2015). After that it has been pretty easy to judge why I went to Zimbabwe and all of that. Virat took over the Test captainship and I wanted him to have some time over there and get into the full captainship role, so he was always ready. You know, limited-overs format is not a big challenge. And, that's why I finally decided to move on and give Virat the full captainship," he said.
Watch: Virat Kohli's special message to Captain Cool Dhoni
The two had split the captaincy between the three formats for just over two years, ever since Dhoni hung up his whites abruptly following the Boxing Day Test in 2014. And Dhoni took this opportunity to express his opposition to split-captaincy in the Indian context and how he never thought it could work here. He also finally divulged the real reasons for his seemingly impromptu departure from Test cricket. It turns out, he had done so keeping the bigger picture of Indian cricket in mind.

"A lot of people were like why did I quit mid-series in Australia, but you have to look at the bigger picture, what is more beneficial. One more game into my numbers? My Test count may have gone up to 91, 92? It doesn't make a lot of difference. But, since (Wriddhiman) Saha was there, he gets a chance to play one more game in Australia. And if everything goes well, he will be the person to be going on foreign tours, so he has that exposure. And Virat also has the same kind of exposure (as captain)," he explained.
No other Indian captain led in or won more ODIs than Dhoni since he took over in 2007. Kohli has commenced his reign as Test captain in rather sensational fashion-under him India are presently in an 18-match unbeaten streak-and he's already created a niche separating his style from that of his predecessor in the longest format. But as will be the case for anyone in his position, Kohli's task is cut out when it comes to following up on Dhoni's achievements in the shorter formats.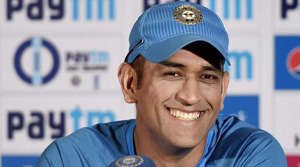 'Kohli will be more successful'
But Dhoni doesn't just feel that the man filling the gaping void he has just left is ready for the challenge. He ended up sticking his neck out and predicted that Kohli's team will be the "most successful Indian cricket team ever". It didn't come across as some hyperbolic prophecy coming from him though, especially after he laid out the reasons behind his claim.
"That's the kind of potential they have, that's the kind of experience they have. Though they're young, they've played a lot of cricket, both in India and outside, and in pressure situations. They have played in knockout tournaments and they've played under pressure. We've played a lot of Tests in India but they were not easy Test matches – we played on a lot of turning wickets where a lot of contribution was very important. At the end of the game you may see it as 'okay we won by so many runs' but actually it was much closer than what the scorecard really depicts. It has the recipe to do everything and I firmly believe this will be the team that will rewrite history, if you want to say it. I think they will do something very special in the coming years."