MS Dhoni, the smalltown boy whose India team transformed world cricket

The Guardian
04-08-2016
KR Banerjee took a break from coaching some wonderfully wristy young batsmen and spinners in the two concrete nets behind the stand at the Mecon Stadium in the relatively quiet educational district of Ranchi and pointed towards a dusty football pitch at the other end of the ground.
If he had not spotted a 12-year-old goalkeeper playing there a couple of decades ago, and wondered if his diving and catching ability might translate to cricket, Mahendra Singh Dhoni may never have become India's most successful captain.
As Ushinor Majumdar, a journalist, reflects: "Small town boys from places like this just don't get to be captain of India [Ranchi has a population in excess of a million, but is still regarded as being out in the sticks]. And it is mostly because of Dhoni that there is so much attention. In many ways it is an under-developed, backward place. But it is known in cricket thanks to Dhoni."
Photos: 26 cricket world records you must know about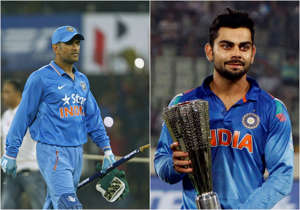 And also that recognition comes thanks to Banerjee, a West Bengali who has been coaching at the Jawahar Vidya Mandir (JVD) school in the Shyamali suburb for 26 years. "I needed a wicketkeeper," he says amiably, dressed in jumper, shirt and vest to counter the "chill" of a winter's day in Ranchi (about 26C). "At the beginning he was not that talented, he had an odd style of catching the ball – sometimes with a clap, you know? But then when he came to standard eight [about 14], he started hitting the ball. He already had the helicopter shot, that round of the bat, and the paddle sweep – he had learned these things playing tennis ball and tapeball cricket on the rough grounds. I never tried to change him – one thing I believe is in not renovating the natural talent."
But did Banarjee honestly believe he had discovered a future captain of India? "Of course not. But he was always a confident boy. Not many words – if you asked him his name, he would say his name, and nothing else. In the classes he was quiet."
These days he may well be the most popular man in the land, and certainly in Ranchi.
"I first met him when he was young, about the age of 12," says PC Jha of the Hindustan Times. "In fact I coached him a little. As his career developed with Bihar, he would come back to tell us of his hundreds. I have lots of photographs of him in my house."
As well as his school team, Dhoni played for the Commandos club, then for various Bihar junior representative teams – Jharkhand was part of Bihar, one of India's poorest states, until it was granted its statehood in October 2000, when Dhoni was 19. Shortly after that he moved across the West Bengal border to Kharagpur where he worked as a ticket collector at the train station, and played cricket for Railways. A group of West Bengal scouts spotted his ability one day as he smashed a century, but he refused an approach from Sourav Ganguly to move to Kolkata, insisting that he wanted to play only for Jharkhand.

Within three years he was making his India debut on a one-day tour of Bangladesh, and less than three years later the quiet Ranchi boy was captaining the team to the World Twenty20 triumph in South Africa which was to transform his life, and cricket as a whole. He led India's Test team to the top of the world rankings, won the World Cup on home soil, and consecutive Indian Premier League titles with Chennai Super Kings.
"When India won the World T20 I was living in Mecon colony, and I came to congratulate his mother," says Banarjee. "There was such a crowd of people and media around the house, so I had to do so quietly. She had been worried when he started with cricket – she is an introvert – but I told her he won't fail." He smiles at the understatement. "We are all so proud of what he has done."