MS Dhoni: The Untold Stories

Wisden India
05-01-2017
Caravan magazine had commissioned Dileep Premachandran and me to do the cover story on MS Dhoni for their January 2015 issue to celebrate his first decade in international cricket.
We had spoken to around 50 people, and everyone had something interesting to share about India's most successful captain. With the release of MS Dhoni: The Untold Story on Friday (September 30), we revisit Dhoni's life in Ranchi and Kharagpur before his tryst with stardom through the eyes of those who were a part of the journey.
Arun Pandey
Dhoni's team-mate in Bihar, and his manager since 2010. He is one of the producers of the biopic.
I met Mahi first when I shifted from Uttar Pradesh to Bihar. His room was always filled with people, just like my room in Delhi. Once Mahi had come to my room during a Duleep Trophy game while I was not there. He and another friend went on a bike to McDonald's in South Extension for lunch. When they returned, Mahi had carried a milkshake and a burger for me, remembering that I am a vegetarian. I had lived in Delhi for seven years by then and my room was open for all, but no one had ever done anything for me. That day, I told myself that whatever happens, I will protect him. I lost my father early and had a troubled childhood; Mahi was my first real friend in life.
Keshab Ranjan Banerjee
Dhoni's sports teacher at Jawahar Vidya Mandir (formerly known as DAV School, Shyamli).
After I saw him make a good stop as a goalkeeper in a school football match in 1991, I asked him, "Keeping karoge (Will you be a wicketkeeper)?" He said, "Chance milega to hum karenge (I will if I get a chance)". He practiced for 18 months, and then played his first game. He always used to bat from No. 7 downwards, but always scored more than run a ball and never got out. Then came that famous game against Kendriya Vidayala (Hinoo) when he came up to me and said I want to open the innings. I told him that I would allow him to go first on the condition that no one else will be padded up. As he and Shabir Hussain went out, I kept the third batsman ready and hid him in the tent so that they are not able to see. It was not needed, as they put on an unbroken opening stand of 378 and Dhoni made 214 in a 40-over match. It became a record. That caught the attention of Central Coal Limited (CCL), and both of them were picked up as stipend players.
Shabir Hussain
With whom he put on 378 runs. They both lived in MECON Colony.
Everyone talks about that game, but the previous year we had lost to the same opponents in the final. The match started an hour later because of rain. We were asked to bat first, and they dismissed us for 76. As the chief guest was going to come two hours later, the organisers stopped the match and with good sunshine the pitch became good to bat on. We took six to seven wickets, but they won easily. It was an insult because we were winning all the matches till then, and some of our teachers humiliated us. Mahi took it personally. The next year was his last year in school, and we decided we will make this game one-sided. God's grace, that's how it panned out. Then, Deval (Sahay of CCL) da told my father that he wanted Dhoni and me in his team. Back then, getting into CCL meant everything to us.
Then, in a match in the Sheesh Mahal Trophy, Santosh Lal – one of our closest friends who is often attributed for the helicopter shot and passed away in 2013 – was continuously trying to cut a left-arm spinner, but was not able to connect and played two or three maiden overs. We managed to win the game, but Mahi, who was my room-mate, was furious. He had got a tea set as Man of the Match, and he got angry and broke it. He felt we could have won the game more convincingly.
Sarmistha Kumar
Dhoni's accountancy and business studies teacher in Class XI and XII.
Once I was scolding Dhoni because he had missed so many classes and I was concerned because exams were nearing. He kept quiet. Gautam, his friend, told me, "ma'am don't scold, he has scored a century". That day I stopped scolding him. A few years back he had come to school, and offered to drop me home. I said that I wanted to invite the boys home for dinner. He had a naughty smile and said, "ma'am, why only boys?"
Adil Hussain
Former Bihar captain and Dhoni's first captain at CCL in 1997-98.
Mahender, that's what I call him, played five years under me at CCL as a stipend player and his commitment was commendable. While others got a stipend of Rs 2000, he was given extra Rs 200. He told The Telegraph in 2006 that CCL taught him the 'importance of discipline'. Soon word spread that Adil likes Dhoni. Once we were in Kolkata for an inter-company match, and 8am was the reporting time as the game was at 9am. Everyone was late by 15 minutes, and when I asked the reason everyone said Dhoni wanted to see a statue. Immediately everyone was excused. 
Then, in the Sheesh Mahal Trophy in Lucknow just before his Ranji debut, a local team needed 15 in the last six overs. I asked Mahender to remove his gloves and bowl, and for three overs he not only restricted the batsmen but also picked up a few wickets to win us the game. In the same tournament, the way he hit Thiru Kumaran and Debasish Mohanty – who were current India players – made him a popular figure.
He was so shy off the field, that even now when he visits my house, he says, "I can't talk with Adil bhai".
Chanchal Bhattacharya
Dhoni's childhood coach at Commando Cricket Club.
Once my wife had gone to buy vegetables when Dhoni came home. The security stopped my wife from entering our lane, saying Dhoni is there. Only after Dhoni's brother-in-law spotted her, the police allowed her entry. Even now he tells my wife, "bhabhi, chowmein banaiye (please prepare chowmein)". He makes my maid feel so special, taking photographs with her and enquiring about her family. I had taken my daughter to the stadium for one of the Champions League matches in Ranchi. When I asked Mahi if he recognised her, he said, "bhabhi jaisa dikh rahi hai. (She looks like bhabhi)". My son once asked him at a party why don't you come home, and Mahi said, "aapka papa abhi bhi maarta hai, hum kyon aaye (your father still hits me, why will I come home)?"
When he was a brand ambassador for Reebok, he once took a few of us out for shopping. He had 40% discount coupons, and after we picked up whatever we wanted to, he paid the remaining bill.
Umakanta Jena
Curator at MECON Ground where Dhoni played his early cricket.
Mahi used to live in the quarter opposite the ground, and used to sneak into to the ground through the side gate with his plastic ball and bat. I used to shoo him away. He calls me Jena da and touches my feet even now. In 2013, we had a national junior football tournament at this ground and he came and sat with me. We were having a good chat over coffee when the crowd swelled up. He jumped from the railing, got into his car and went off. He has given my son bat and wicketkeeping gloves, and said if he does well then he will give him the full kit.
Paramjit Singh
Dhoni's friend, who got him his first kit contract. He owns a sports goods shop
I used to go to Jalandhar to get stock of BAS bats. After repeated requests to the owners to sponsor Mahi, they sent a kit directly to his house a day before his Ranji debut. Mahi broke at least eight bats during those days, and in Jalandhar they kept me asking why so many bats for one guy. I told them, just keep giving bats and the day he plays for India you will get your money's value. They supply him even today.
One day I had returned from Jalandhar and got to know from a friend's father about Mahi's selection in the East Zone team for the Duleep Trophy. The Bihar Cricket Association said they had not received any letter, and were not supportive at all. So, that night I booked a Tata Sumo and three of us including Gautam Gupta, Mahi's future brother-in-law, left by road. Near Tamad, the car broke down. We spent around two hours to repair the car and then started again. Finally, we reached Kolkata at 6am, but Mahi could not get the first flight to be in time in Agartala. But he joined the team and travelled with them to Pune where Sachin (Tendulkar) was playing.
Gautam Upadhyaya
Dhoni's school friend, who now has a construction business.
We had a senior called Rohit Kashyap in the school team. He had a RD 350 (motorbike), and that used to attract us a lot. The first bike Mahi purchased was an RD 350. Soon after his Ranji debut, he bought a Yamaha RX 135. Now he has more than 20 bikes, some of them real high-end. He doesn't allow me to touch his bikes, though I have ridden his Fat Boy.
In December 2006, we had gone to Jamshedpur by road in his R6. A few people chased us on the highway, as no one else had an R6 in Ranchi back then. We stopped at a place and put the bike inside and stayed there before resuming our trip. The bike gave trouble at least twice, and we had to push it. We had not noticed that the engine oil was very little.
He wanted to either play with or against Sachin at least once. There was a big Tendulkar poster above the bed in the room in which he used to sleep in the MECON quarters. In school, a few of us were exempted from the first class because of practice, and sometimes we used to take advantage of it to bunk preparatory tests.
Dogs were his favourites right from childhood. As a kid he had also petted a parrot that he had got from a mela. He also had a stray cat. Aunty used to give Mahi milk and bread, and Mahi used to share a bit with the cat.
Shubra Ganguly
Wife of late Animesh Ganguly, who was division railway manager in Kharagpur and recruited Dhoni. The family is now settled in Kolkata.
© Getty Images

Mr Ganguly was building Kharagpur's team, and he first hired C Satyaprakash, who used to play for Bihar. It was Satya who got Mahi from Ranchi. Mr Ganguly, who was a medium pacer, asked Mahi to pad up and was impressed by what he saw and offered him a Group C job. When Mahi was going for an India A tour in 2004, he asked Mr Ganguly what he could get for him. Mr Ganguly said, "please get only centuries for me".
Before Mr Ganguly passed away in 2006, we had once gone to see Dhoni at Taj Bengal. I had earlier asked Mahi what he wanted, and all he wanted was noodles.
Ashish Kumar Dhal
Dhoni's gym instructor in Kharagpur.
Mahi used to come at 6pm after practice, and work out listening to Kishore Kumar songs on his tape recorder. We used to focus on stomach and wrist exercises. After everything, we used to go to the lassi shop. In the rainy season, he used to take a football and run in the ground when nobody was there. Sitting in the gallery, I used to tell him, "Dum badhaiye (increase your stamina)". We also worked on strengthening his thighs. He used to call me his guru.
Som Rao
One of Dhoni's closest friends in Kharagpur, who has a catering business now.
We used to call Mahi and Deepak (his room-mate) to play for our Durga Sporting Club six-a-side six-overs tennis ball night tournaments. The prize money for those tournaments back then was big, sometimes Rs 1 lakh. We nearly lost in the semifinal in one tournament because of bad umpiring. The opponents needed two runs in one over and we thought of quitting. But, Mahi said we will play and lose. He bowled and the batsman could not touch a single ball. Other clubs started hiring him, but for them he used to charge Rs 2000.
One day he got really angry with me because I had hit him hard with a football. The way he hit me back, I saw stars that day. His legs have so much strength, if he hits you, your breath stops.
He used to come and suddenly make plans to go to Digha (beach), and all of us had to change our plans to follow him. When India made it to the World Cup final in 2011, we had a big yajna and next day I was on television. Because of Dhoni, I came on national channels!
C Satyaprakash
Dhoni's team-mate, who brought him to Kharagpur.
During an inter-railways tournament in Nagpur, we were staying at the MLA hostel. Before a match day, some of the boys were playing with a tennis ball in the lawn. Mahi was watching from upstairs. I asked Santosh Saxena, of Western Railways who played Ranji Trophy, to bowl me out. He was quick those days, and I wanted to face him once. Santosh said he will bowl only if I bet Rs 500. Mahi asked me to go ahead with the bet, and I hit Santosh out of his sight. Immediately, Santosh said, "let's not play anymore". Mahi, from upstairs, said, "leave it, he is scared". Santosh abused Mahi in chaste Hindi and said he will deal with him on the field. Next day we batted first and Mahi hit Santosh out of the park. Even today, Santosh speaks about that game.
At work, he never used to fine anyone. He used to say, 'Bhai humko sirf ghadi dikh raha hai. Kab do bajega, kab hum practice keliye jayenge (I can only see the watch. When will it be 2pm and I will go for practice)"
I have an RX 135, and even today he says sell it to me whenever you have to.
Subroto Banerjee (Bagha da)
Dhoni's coach at SERSA.
Mahi joined us in 2001, the year I was made the coach by Mr Ganguly. In an all-India tournament in Jharkhand, Mahi was angry because I didn't allow him to open. When he went out at No. 3, only ten to 12 overs were left. He reached his fifty with 4.3 overs left, and made a century with two balls left in the innings.
Then in 2001-02, we had a selection match before going for an inter-railways match in Nagpur. Dhoni was captaining one side, and they had to chase 186 runs in 30 overs. During the lunch break, Dhoni went to his room, which is now the Dhoni museum, and slept. He told the boys to get two toasts for him. Since he had to open, he didn't eat rice. The play was supposed to resume at 1pm, and he was ready by 12.55pm. Others came at 1.15pm. Mahi scored 163 in 62 balls and chased down the target in 16.5 overs. Dhoni hit Jayesh Shukla for 26 in the first over, and Prasanta Singha Roy for 24 in the next over.
In that tournament in Nagpur, we lost two matches badly. Mahi made seven and 11, and then mingled with his friends from Hajipur railways, against whom we had a match the next day. I was angry. He said our team doesn't have the talent to win. I shouted at him and asked him why he didn't do something instead of complaining about others. He just listened to me, and the next three games he made two centuries and a 97 not out as we went on to top the table and win the league.
Photos: Rare Images of MS Dhoni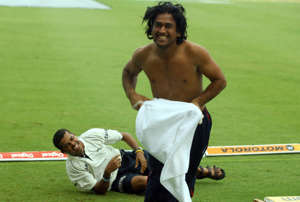 Watch: Best helicopter shots in cricket history
---
---