MS Dhoni would have been under pressure had India lost series: Sourav Ganguly

India Today
31-10-2016
MS Dhoni clinched his first home series in two years as India humbled New Zealand by 190 runs in the fifth and final ODI at Vizag to win the series 3-2. Chasing a stiff 270 for a win, New Zealand were bundled out for a paltry 79 in only 23.1 overs thanks to Amit Mishra's second five-wicket haul.
Rohit Sharma also found his rhythm as scored 70 off just 65 balls while Virat Kohli's love-affair with Vizag ground continued before he fell on 65.
It was an important series win for Dhoni, who last won in India against West Indies 2-1 in a truncated five-match series. Dhoni then lost the only home series played in India in 2015 to South Africa 3-2.
Former captain Sourav Ganguly said it was an important series win for under-fire Dhoni and he deserved it.
"He'll be happy with this win in Vizag. Had India lost this series, Dhoni would have been under enormous pressure to retain his spot as captain. He's fought hard and he's fought hard with the bat today as well. He deserves this win," Ganguly told India Today.
ON ROHIT SHARMA

"Whenever Rohit plays well, India win. It was great to see him play well. He's a big match player. When they played Australia couple of years ago, they were 2-all in the series and he scored a double hundred in the final game. It was once again an important game for India."
"Virat Kohli was outstanding. He adapted to the conditions really well. Dhoni was good, Kedar Jadhav was good at the end. So, it was a good performance by India under pressure. A good performance when it required the most."
"Virat has been the best batsman in the world and best batsman for our country for quite a while now. I hope he continues this form for a few more years because this team depends on him. He is the backbone of this side. He's in good form."
ON MISHRA
"Amit Mishra was the right choice for the Man of the Series award. It was an ideal wicket to pick wickets."
ON JADHAV
"Kedar Jadhav played an outstanding knock today. It's the partnership which sealed the game for India. Because it was not easy coming and taking off on this surface against the spin. Even the fast bowlers were coming and turning the fingers over. It was a good knock from the young man. He wsas under presusre this series. he deserves to be continued."
ON ENGLAND
It's never easy playing in India when the ball spins and spinners are at the best. Teams in the past have struggled and teams in the future will be. England are coming next month and life's not going to be easy for them."
Slideshow: Sourav Ganguly - The Prince of Calcutta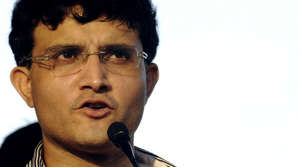 Watch: 'Win over NZ will boost Dhoni's confidence'
More from India Today

India Today