MS Dhoni's World No. 1 vs Virat Kohli's World No. 1: A comparison

India Today
14-10-2016
Seven years after Mahendra Singh Dhoni led India to top of the International Cricket Council's Test rankings, India are No. 1 again. This time, under a new captain and with a team vastly different from the one Dhoni led.
India were number one in Tests twice before this year but this one is more significant. This has probably come to mean something. When Dhoni called time on his Test career mi-way during the tour of Australia, India were listless in the five-day format - they lost everywhere they travelled and even lost a home series two years back.
Then team director Ravi Shastri had promised a resurgence and said that the young team, handed over to Virat Kohli, would reclaim the top spot before long. Successive series victories against New Zealand, South Africa, West Indies and New Zealand, paved the way for Kohli's men to climb back to the top of the ladder. India still have 10 home Tests to play this year and in all likelihood, they will continue their rein at the top for a while now.
DHONI AND KOHLI CHARTED DIFFERENT PATHS
Dhoni and Kohli have had very different experiences leading the country in Test cricket. The man from Ranchi took over as Test captain from the current coach Anil Kumble. His debut match as captain was against South Africa in 2007 08 when Kumble withdrew due to an injury. He led India to a eight wickets victory in the first match and a win by 320 runs, again in Kumble's absence, in his next against Australia.
The 35 year-year old Dhoni officially took over in 2008 with a comprehensive 172-run win against Australia in Nagpur. It was an uphill for India's most successful captain in terms of wins since then, as he won series against England, Sri Lanka, Australia, New Zealand and West Indies from 2008 to 2013. He became the first Indian captain to take the country to the top position in ICC Test rankings in 2009 for the first time and he achieved that in just one year of taking over.
Photos: 25 world records held by Indians in Test cricket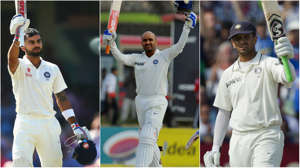 Kohli on the other hand, took over in 2014 when he led his first Test match against Australia in MS Dhoni's absence, scoring twin tons ( 115 and 141) as India nearly pulled off a sensational victory over the hosts at the Adelaide Oval.
He was then named full-time Test captain after Dhoni's unexpected retirement before the final match of the four-Test series against the Aussies. In just his 18th innings after taking charge, he reached 1000 runs as Test captain.
He has led India to nine victories in 17 Tests as captain and has scored five hundreds, including his two double tons (against the West Indies). The only Indian Test captain to have scored two double tons, Kohli helped India return to the top of the ICC Test rankings from seventh in 2015. In little over a year under Kohli's shrewd leadership, India have bounced back to the top of the world.
DHONI HAD THE LEGENDS, KOHLI MAKING HIS OWN
However, Dhoni did have the advantage of inheriting a team of high class players. From Sachin Tendulkar to VVS Laxman, it did make things easier for Dhoni to perform their best and reach the top. With Virendra Sehwag and Gautam Gambhir at the bowling front and Rahul Dravid attacking with the bat, Dhoni seemed to have it easy and took advantage of the team's experience.
Meanwhile Kohli got an inexperienced yet young team to start with. Having already set high standards of cricket, it was a tough challenge for the then aggressive Kohli to attack with the class that Dhoni's team could. Ravichandran Ashwin, Ravindra Jadeja and Cheteshwar Pujara are shining as Dhoni leads from the front.
Dhoni's brigade: Sachin Tendulkar, Virendra Sehwag, Yuvraj Singh, Harbhajan Singh, Aashish Nehra 

Kohli's brigade: Ravichandran Ashwin, Ravindra Jadeja, Cheteshwar Pujara, Rohit Sharma, Ajinkya Rahane
If the maturing Kohli, who lacks experience of Dhoni and has a long road ahead of him to prove his captaincy skills further, continues performing and breaking records while leading the country, he is soon going to take over as India's best Test captain ever. Unlike Kapil Dev put it last year, 'Baap baap hota hain aur beta beta hota hain,' the same does not hold true now, considering Kohli has led the team to the top thrice since he took over.
Watch: Virat Kohli's debut ODI innings
More from India Today

India Today