Murray v Federer classics

Sky Sports
10-07-2015
As Roger Federer and Andy Murray prepare to meet for the 24th time in the Wimbledon semi-finals, we take a look at five of their best encounters. 
Cincinnati, 2006, L32 (outdoor hard) - Murray 7-5 6-4
Murray's first win over Federer came in the summer of 2006 on his favourite North American hardcourts and at the peak of the then world No 1's powers. Federer won 92 of his 97 matches in 2006 but this was one of his defeats. He simply had no answer to Murray from the back of the court and went down in straight sets.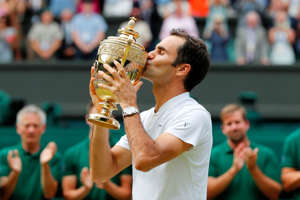 Masters Cup, 2008, RR (indoor hard) - Murray 4-6 7-6 7-5
A gripping contest at the ATP's season-ending event in Shanghai, this was a true classic. After more than three hours of tennis, Murray edged it after some highly-entertaining points in the decider – but only after missing no fewer than seven match points on the Federer serve at 5-4. The win took its toll though – Murray was well beaten by Nikolay Davydenko in the semi-finals the following day.
Wimbledon, 2012, F (outdoor/indoor grass) - Federer 4-6 7-5 6-3 6-4
Murray's first Wimbledon final began so well as he nicked the first set. He was on top in the second too, but failed to take his break-point opportunities and was made to pay. Rain interrupted play at the start of the third – and with it went Murray's chances.
With the roof overhead – as it had been for Federer's semi-final win over Djokovic – the Swiss played some of his best tennis and Murray was powerless to stop him. Victory took Federer back to world No 1, assuring him of breaking Pete Sampras' all-time record for weeks at the top spot.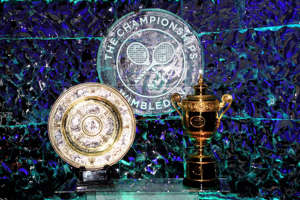 Olympics, 2012, F (outdoor grass) - Murray 6-2 6-1 6-4
© Provided by BSkyB Getty
The Wimbledon defeat was avenged by Murray just a few weeks later – and in spectacular style. The pair again met in a final at the All England Club but this time it was an Olympic gold medal at stake. In front of a raucous home crowd, Murray claimed it thanks to a dominant display which left Federer, weary after an epic semi-final, looking ordinary. It took Murray under two hours to complete a routine win with Federer losing nine games in a row early in the contest. Victory was sealed with an ace and paved the way for Grand Slam glory just a month later at the US Open.
Australian Open, 2013, SF (outdoor hard) - Murray 6-4 6-7 6-3 6-7 6-2
© Provided by BSkyB Getty
Murray posted his first and only Grand Slam victory over Federer in this Melbourne encounter. The battle went the distance but few could question that Murray was a deserved winner. The Briton was two points from victory in the fourth set but failed to serve out at 6-5. However, any fears that he had missed his chance were soon quelled as he raced 3-0 ahead in the decider and from there pushed on to secure his place in the final.