Nadal, Djokovic cruise into quarterfinals at French Open

The Sports Xchange
04-06-2017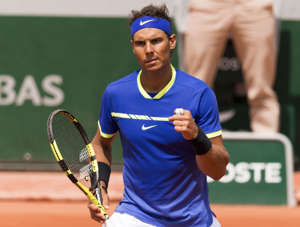 Nine-time French Open winner Rafael Nadal rolled into the quarterfinals with a 6-1, 6-2, 6-2 victory against fellow Spaniard Roberto Bautista Agut at Roland Garros on Sunday.
The fourth-seeded Nadal marched into the quarterfinals for the 11th time with another commanding clay-court performance in Paris. He joins Roger Federer at the top of the chart for most Roland Garros quarterfinal showings in the Open Era (since April 1968).
Novak Djokovic create a three-way tie just hours later when he defeated Spain's Albert Ramos-Vinolas 7-6 (5), 6-1, 6-3. Djokovic has reached the quarterfinals eight consecutive times.
Nadal, who turned 31 on Saturday, has dropped only 20 games during his first four matches, one game short of his best start at a Grand Slam. At the 2012 French Open, which Nadal eventually captured, the left-hander lost only 19 games through his first four matches.
"I'm very happy, he's a great player," Nadal said of Bautista Agut afterwards. "It was an important victory for me. I'm very happy to be in the quarters of the French once again.
"I'm happy about these four matches. I think I've played at a very good level, which is good for my confidence and positive news for me."
Nadal is seeking his 10th French Open title and 15th Grand Slam title -- his last major coming at Roland Garros in 2014. He would become the first player in the Open era to win 10 titles at a major after having to withdraw last year ahead of his third-round match because of a wrist injury.
Nadal lost the Australian Open final to Federer in a five-set thriller and then twice more to Federer on hard courts earlier in the year but has been in top form on clay, winning titles at Monte Carlo, Barcelona and Madrid.
"Nadal is at his best," the 17th-seeded Bautista Agut said. "He plays every point with great intensity and yields nothing. You try to take a few risks, and then of course you make more mistakes than usual."
Nadal responded when asked about the London terrorist attack that left seven people dead and dozens more injured.
"It's terrible to hear these kind of things all around," Nadal said. "It is very bad news, and with these kind of things, you cannot feel 100 percent safe in the one place. That's the real thing. That's very bad news for everybody.
"Sorry for all the families that are suffering. It's tough to accept these kind of things, but it's happening very often today and is difficult to change that for the moment."
Nadal will next face No. 20 seed and fellow Spaniard Pablo Carreno Busta, who beat fifth-seeded Milos Raonic of Canada 4-6, 7-6 (2), 6-7 (6), 6-4, 8-6 in the fourth round after 4 hours, 17 minutes.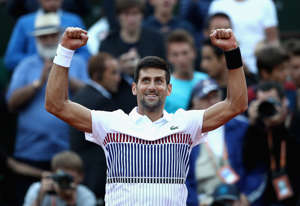 Djokovic was strong in his sweep of Ramos-Vinolas and needed two hours, 27 minutes to win the match. He was pushed hard in the 75-minute opening set before prevailing in the tiebreak. Djokovic faced little resistance after that while cruising through the final two sets.

"He started very solid, not making errors and just spinning the ball well, getting a lot of balls back," Djokovic said. "There were a lot of breaks and rebreaks in the first set. But it was very close. It could have gone either way and I'm just glad that I managed to win that tiebreak, because after that, obviously I started playing with more freedom and more confidence.
"The second and third went really well. I thought especially in the second I did things very well from the back of the court. I mixed it up and didn't give him any comfort zone on the court. I always made him guess, which was one of the keys."
Djokovic will next face sixth-seeded Dominic Thiem of Austria. Thiem swept Argentina's Horacio Zeballos 6-1, 6-3, 6-1.
Thiem, who hasn't dropped a set in the tournament, finished off Zeballos in one hour, 39 minutes.
Thiem is winless in five career matches against Djokovic.
The rain delay from Saturday helped Japan's Kei Nishikori as he recovered from a wrist injury and back treatment to beat Hyeon Chung 7-5, 6-4, 6-7 (4), 0-6, 6-4 of South Korea when their third-round match resumed Sunday. The eighth-seeded Nishikori was leading 7-5, 6-4, 6-7 (4), 0-3 when rain stopped play as the 21-year-old Chung rallied.
"I think the rain helped me a lot, because I was really down in the fourth set and mentally I wasn't ready," Nishikori said. "I knew I had to change something to beat him, so I think I made some adjustments to make it a little better than yesterday."
Unseeded Russian Karen Khachanov, two weeks past his 21st birthday, became the youngest man to reach the French Open's fourth round since 2009, beating 21st-seeded American John Isner 7-6 (1), 6-3, 6-7 (5), 7-6 (3). The match also was suspended a night earlier after the first set because of rain.
Isner was the last U.S. man in the draw of 11 who entered the tournament.
Richard Gasquet retired from his all-French third-round match against Gael Monfils after getting treatment on his right thigh.
The 15th-seeded Monfils was leading No. 24 seed Gasquet 7-6 (5), 5-7, 4-3 when play stopped. Before the start of the third, Gasquet had a trainer work on his upper right leg and then his thigh was taped up.