Narine, Lynn decimate Bangalore

Wisden India
07-05-2017
It was an ideal Sunday afternoon in Bangalore. The roads weren't as clogged, the sun was harsh for a while before ducking behind dark clouds and the pubs were open for business. Which is why it came as a surprise when the fans turned up in large numbers and crammed the M Chinnaswamy Stadium to watch Kolkata Knight Riders take on Royal Challengers Bangalore.
They braved stringent security checks at the turnstiles, grappled for space in the stands and even managed to hold up placards reiterating their undying support for Bangalore. All this and more, battling through uncomfortable humidity.
Their efforts to inspire the home side to a win didn't bear fruit this Sunday (May 7). But that didn't stop them from singing and dancing into the evening as Kolkata restricted Bangalore to 158 for 6 from 20 overs before bludgeoning the home side into submission while giving the crowd a whole lot to cheer about, no matter which side they were rooting for.
Sunil Narine and Chris Lynn turned into the most devastating opening combination in IPL history to help Kolkata to 159 for 4 from 15.1 overs, completing the chase with six wickets and 29 balls to spare.
Photos: Biggest IPL controversies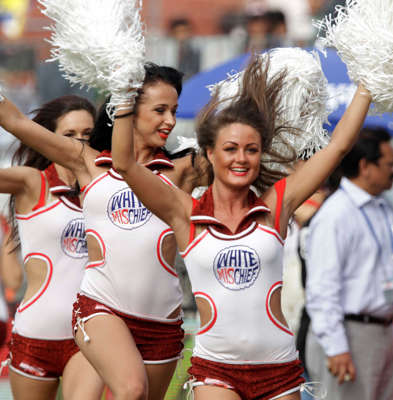 Narine, who equalled Yusuf Pathan's 2014 record for the fastest 50 in IPL history with a half-century from 15 balls, finished on 54 from 17 balls with six fours and four sixes. Lynn, who missed nine games with a shoulder injury, returned only to feast on Bangalore's apathetic bowling effort en route to 50 from 22 balls (five fours and four sixes).
The duo scored 105 in the Power Play to leapfrog a record held by Chennai Super Kings since 2014. Chennai had scored 100 for 2 from 36 balls against Punjab. Kolkata's tally was also the highest number of runs scored in the Power Play in all T20 cricket.
As an outcome of the massacre, Kolkata moved to second on the table with 16 points from 12 games, virtually cementing their spot in the playoffs. Bangalore, meanwhile, ended their home campaign with their sixth consecutive defeat, and 10 losses in all from 13 games.
If stretched to look for positives, at least this wasn't Bangalore's worst performance with the bat this season. That honour goes to the last time they faced Kolkata and spiralled out for 49 in pursuit of 131 on April 23, but this game was shaping up identically.
Losing the toss on this surface, especially when the clouds hung heavy overhead, was never a good sign.
Bangalore's batting unit, still living in the memory of how the pitch played before the outfield was relaid, hasn't adapted to the pace of the track. Stepping out to bat with that on the back of their minds was never going to yield positive results. Sure enough, Chris Gayle, Virat Kohli and AB de Villiers walked back with just 34 runs on board.
Watch: RCB lose again as Narine, Lynn have a party
The crowd has seen so much of the top three falling cheaply this season that it doesn't even instigate a groan any more. But when all hope seemed to have gone up in smoke, Mandeep Singh (52 from 43 balls) and Travis Head (75 not out from 47 balls) stepped up to the plate.
The duo showed the sensibility which has evaded Bangalore's batting for some time now. With Kolkata's bowling department - led by Umesh Yadav's canniness - keeping it tight, they couldn't go after them without taking a huge risk, something they couldn't afford at that juncture. Rotating strike was the only option and they did that with some success.
The fourth-wicket alliance gauged the strip well and added 71 runs. Head, the more aggressive of the two, wasn't middling the ball as well as Mandeep, but his streaky stay was extended by some luck.
Mandeep, on the other hand, wasn't quite as lucky after crossing the 50-run mark. He looked to heave Narine over deep backward square in the 16th over and ended up hitting it down Umesh's throat. The dismissal came not long after the players returned from a 38-minute stoppage due to rain.
After Mandeep's dismissal with the scoreboard reading 105, Head, replacing Shane Watson in the XI, showed the positive intent needed to score on this deck. He judged the pace well enough by the end to play through the line and take Bangalore to a total which, given the conditions, seemed a good one.
That feeling only lasted a few minutes into the Kolkata chase. Lynn smacked Aniket Choudhary for 14 runs in the opening over. The third over - bowled by Yuzvendra Chahal - yielded another 14, but until Narine took apart Samuel Badree, Bangalore would've still fancied their chances.
In Badree's second over, Narine put that golf swing to good use and smacked three successive sixes and followed it up with a four. 25 runs from the fourth over meant Kolkata now needed 100 from 16 overs.
Kohli went to S Arvind in the fifth over in hope that the left-arm seamer's knowledge of his home strip could halt the charge. Sadly, he was no match for Narine's Caribbean flair either. The left-hand batsman, who has been a revelation for Kolkata at the opening slot this season, belted 26 runs in the over and left Bangalore for broke.
Narine fell not long after the carnage and Lynn followed suit in the next over after celebrating his comeback from injury with a bruising half-century of his own. But with 52 needed from 75 balls, the result was a formality. It took a bit longer than expected, but it didn't make it any less one-sided.