Narsingh Yadav, Rio Olympics-Bound Wrestler, Fails Dope Test: Sources

NDTV
24-07-2016
Narsingh Yadav, India's contender in wrestling (74kg) at the 2016 Rio Olympics, has failed a dope test, sources told NDTV.
His accreditation has also been withheld, according to sources.
The National Anti-Doping Agency (NADA) conducted a random dope test on Yadav on July 5 at the Sports Authority of India's (SAI) regional centre in Sonepat.
The report of his 'A' sample test came out positive, according to sources.
Photos: India's greatest sportspersons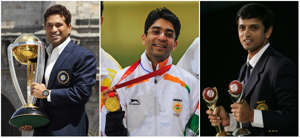 Later, he was called for his 'B' sample test, which also returned positive.
Narsingh Yadav won a bronze medal at the 2015 World Championships to win the Olympics quota place in the 74 kg category.
Later, he had to fight a lengthy legal battle with two-time Olympics medallist Sushil Kumar, also in the same category, to get the chance to compete for India at the Olympics.
Watch: Wrestler Narsingh Yadav fails dope test