New Zealand Rugby under fire over 'pathetic' sex abuse investigation

The Guardian
09-09-2016
Dozens of prominent women in New Zealand have joined the country's Human Rights Commission in calling for systematic cultural change in men's rugby after an investigation into allegations of sexual abuse by players found no case to answer. 
The commission has published an open letter called "Love Rugby. Respect Women" in response to claims by an erotic dancer that some members of the Chiefs rugby club groped, licked and threw gravel at her when she was hired for their end-of-season party.
New Zealand Rugby conducted an internal investigation, led by an in-house lawyer, that concluded the alleged sexual assault did not take place, and that the entire Chiefs playing group, including individuals who were not there on the night, had been issued a formal warning.
"The investigation was never about the women at the centre of these allegations. Our microscope was very much on the players, their conduct and that of the management structure behind them," the New Zealand Rugby chief executive, Steve Tew, said in a statement.
"The whole incident has been incredibly disturbing and it is clear that poor decision making on a number of fronts has led to these players and Chiefs' management putting themselves in a position of vulnerability."

On Friday, the dancer, known as Scarlette, gave further interviews and said one of the players grabbed her vagina and several of them tried to "get their penises out".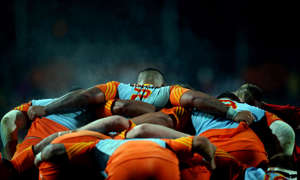 © Getty Images A file picture of the Chiefs. An erotic dancer says some members of the Chiefs rugby club groped, licked and threw gravel at her when she was hired for their end-of-season party. The Chiefs have previously issued an apology on behalf of the playing group, according to reports.
Women's advocates in New Zealand have criticised the response by New Zealand Rugby, saying it lacked independence and vigour, and was "weak".

"Right now, thousands of New Zealanders are questioning the culture of our country's favourite sport and those in charge of it," the letter read.

"Rugby is like a religion in New Zealand, with players worshipped by young Kiwis throughout the country. NZ Rugby could not operate without thousands of women volunteers and players in clubs and towns across the country: we must address the culture that exists from the top down and set the right example, particularly for our young New Zealanders."
The letter was signed by Race Relations commissioner Dame Susan Devoy, Sue Kedgley of UN Women, the National Council of Women, the Maori Women's Welfare League, the Council of Trade Unions and dozens of other female leaders in New Zealand, including MPs and women's rights advocates.
Since it was published on Thursday evening, it has attracted 5,000 signatures.
The Equal Employment Opportunities commissioner, Jackie Blue, said many women's rights advocates had offered to work with the Chief's rugby players – including herself – but none of their offers were accepted.
"The inappropriate thing was that the woman felt so unsafe, when she should have felt safe, she had every right to feel safe," Blue told Radio New Zealand.
"They have to accept there's an issue, and they should see it not as a failure, but to see it as being courageous and they would be applauded if they came forward and said 'we need help'."
However it is not just New Zealand women calling for change within the rugby culture.
The former Samoan rugby international Eliota Fuimaono-Sapolu expressed his anger on Twitter.
You can still love rugby, love the chiefs, and not be a sexist pig.

— fuimaono-sapolu (@Eliota_Sapolu) September 8, 2016
"Without women there is no humanity, and it is time men supported the female voice," Fuimaono-Sapolu told Radio New Zealand.
"These guys call themselves the Chiefs ... where is the chief? A chief stands up for someone in a weak position. A chief is wise. A chief stands up for someone who is going through injustice."
Blue said last night that Tew rang her and they had begun a conversation about working together.
"These are courageous conversations that all New Zealanders need to have about what kind of country we want New Zealand to be," she said.