MS Dhoni is the best judge as far as his retirement is concerned: Sachin Tendulkar

India Today
07-12-2016
Former India captain Sachin Tendulkar has been keeping himself busy ever since he retired from international cricket in 2013. From adopting a village in Andhra Pradesh to working for the betterment of under privileged children, Tendulkar has his hands full at the moment.
Tendulkar however, recently took some time out from his busy schedule to speak on a range of topics from his views on India's run-machine Virat Kohli to Ravichandran Ashwin's phenomenal run in 2016 and the retirement questions which Mahendra Singh Dhoni has to deal with these days.
Kohli, who has been in tremendous form this year, is constantly compared with Tendulkar for his batting style and technique. Tendulkar however, doesn't see any similarities between him and Kohli's playing style.
"I don't see similarities in the playing style. He has his own style. He likes to flick the bat in hand, before every ball. It's part of his preparation. I never did that. Each batsman does things differently," Tendulkar told Times of India in an exclusive chat.
Tendulkar is also impressed with Kohli's hunger for runs and passion for victories.
"He's always been hungry, and a good student of the game, his commitment has been very good. He's surely taken the 'fitness factor' to a different level. It'll have a good effect on the team," he added.
Photos: 25 world records held by Indians in Test cricket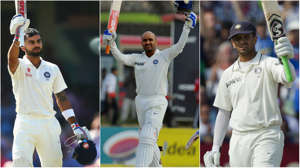 On his first impressions about Kohli, Tendulkar said, "He was a very open-hearted guy, and was hungry to learn, and was passionate. When you play for India, you need to be passionate. That's what he embodies. He has discipline, dedication and concentration."
Like Kohli, India off-spinner Ravichandran Ashwin has also been on a record-breaking spree this year. The Tamil Nadu cricketer has picked up 59 wickets in 10 Tests this year at an average of 22.83 with 6 five-wicket hauls. He is leading the list of bowler's with most wickets in 2016 with a comfortable margin and has two more matches to go this year.
When it comes to his batting, Ashwin is averaging over 45 and has scored 545 runs with two hundreds and three half-centuries. Tendulkar feels any team in the world be lucky to have an all-rounder like Ashwin.
"He's been a terrific all-rounder, which any team would want to have. He's scored runs in crisis. He's an improved bowler in the last two years.
---
---
"He has skills. As an Indian, we'd want all our cricketers to succeed everywhere. Ashwin is a much better bowler today. He's a good student of the game. You can see that when he bowls in Tests these days, he's thinking differently."

Kohli's success as India's Test captain has put a lot of pressure on limited-overs skipper Mahendra Singh Dhoni, who has been dodging questions on his retirement ever since he decided to step away from the longest format.
(Dhoni likely to play first international game in over two months without match practice) At 35, Dhoni is in the final stages of his international career but Tendulkar feels the decision to retire should be left up to India's most successful captain.
"His performances shouldn't be related to age. I still remember there were articles that T20 cricket is meant for youngsters, which is all wrong. I mean, Brad Hogg is playing at 44. It's wrong to say that I scored a double hundred in ODIs at 38. Fitness is all that matters.
"If a player is physically fit, mentally in a state of mind to play for India, let that be his choice. He knows his mind and body better than anyone else. He's the best judge. Leave the maters to him," Tendulkar concluded.
Watch: When Virat Kohli made his ODI debut