O'Keefe, Smith leave India down for the count

Wisden India
24-02-2017
The holiday crowd was still streaming into Maharashtra Cricket Association Stadium when R Ashwin had Mitchell Starc caught at deep midwicket with the fifth ball of the morning. Starc had made 61 from just 63 balls, and the value of those runs would become evident in a manic passage of play after lunch on Day 2 that saw India lose 7 for 11 in just 38 minutes to be bowled out for 105.
Steve O'Keefe, with more than a decade of sterling first-class performances behind him, did most of the damage with 6 for 35 after Starc had ripped the heart out of the Indian batting in the space of three balls in the first session. Ahead by 155, Australia then batted with positive intent to reach 143 for 4 by stumps, a lead of 298. Steve Smith showed the way with a belligerent 59, and there was another sprightly cameo from Matt Renshaw.
Full scorecard: India vs Australia, 1st Test
But the story of Friday (February 24) was the Starc spell that left India reeling. First, one reared up at Cheteshwar Pujara from short of a length. As he tried to evade it, the ball brushed the glove on its way to Matthew Wade. With applause still ringing in his ears, Virat Kohli left the first ball he faced well alone. The next was fast, full and very wide. Kohli went for it, but could only manage a top edge that Peter Handscomb pouched at first slip. From a position of comfort, despite the loss of M Vijay – who had nicked behind off the relentlessly accurate Josh Hazlewood – India were suddenly in strife at 44 for 3.
But KL Rahul was still there and in fine touch, unfurling some gorgeous drives and clips off the pads. On a surface giving the spinners extravagant help, he was even confident enough to reverse-sweep Nathan Lyon for four. But beneath the surface, trouble awaited. After dancing down the pitch to thump O'Keefe back over his head for six, Rahul doubled up in pain, clutching his left shoulder. The significance of that would become apparent later.
Photos: 'Unique' world records held by Indian cricketers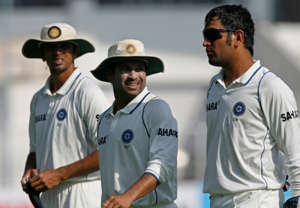 At the other end, Ajinkya Rahane was far less assured. He might have gone without scoring, but the inside edge on to the pad off Lyon just evaded the short-leg fielder. Smith alternated Starc and Hazlewood in short bursts, and the spinners gave him control from one end. At lunch, India had eased to 70 for 3, from 25 overs, with little hint of the carnage to come.
After the interval, Rahul eased to his half-century off 84 balls. In the very next over, he twice slashed at Starc and was fortunate to see the ball evade the fielders on its way to the rope. And that high-risk approach was his undoing as he charged O'Keefe and saw the ball skew off the outside edge to David Warner at long-on. By the time the catch was taken, Rahul was on his knees, writhing in pain. Again, it was the left shoulder.
After that, it was O'Keefe's left arm that dominated proceedings. Rahane looked to work one on the leg side, and Handscomb brilliantly took the leading edge at second slip. Two balls later, Wriddhiman Saha had a tentative poke at one. Wade couldn't hold on, but Smith at slip made no mistake with the ricochet.
Then, Lyon, who started the series as the side's frontline spinner, had his moment in the sun, taking out his opposite number. Ashwin defended one on to the toe of his shoe, and there was Handscomb again, diving forward to take it an inch from the ground.
O'Keefe had Jayant Yadav stumped, reaching forward to try and smother the spin, Ravindra Jadeja holed out in the deep, and Umesh Yadav's attempt to slog over the sightscreen flew off the edge to Smith at slip. In a little over half an hour, the 33-year-old O'Keefe had the third-best figures for a left-arm spinner in India – after Hedley Verity (7 for 49 in 1934) and Michael Clarke (6 for 9 in 2004).
---
---
Australia's batsmen then came out blazing. Warner reverse-swept and swept Ashwin for fours before one that didn't turn pinned him in front of the stumps. A facsimile of that delivery did for Shaun Marsh as well, as his 21-ball vigil realised no runs. But Smith used his feet to drive through the covers, and swept as well, and India's frustration grew in the minutes before tea as Vijay failed to hold on after he had tried to paddle Ashwin fine. Smith was on 23 at the time. 

It was Ashwin again that broke through after the interval. Handscomb had started the session with two lovely shots, a clip over midwicket and a cover-drive, but an attempt to work a shorter one through the leg side ended up in Vijay's hands at leg gully.
Renshaw was given out on one after he missed a sweep against Ashwin, but when he reviewed, replays showed that the ball was clearing the stumps. A reverse-swept four off Jadeja got him going, but a short delivery from Umesh that didn't bounce as expected then left him wincing.
Renshaw, though, is made of stern stuff. Having had the sore arm seen to, he proceeded to flick Ashwin through midwicket and then clout him over mid-on for back-to-back fours.
Smith meanwhile was enjoying plenty of fortune. Abhinav Mukund, substituting for Rahul, failed to get across from mid-on when he lofted one off Jadeja. He was on 29 then, and eight runs later, the same fielder grassed a chance at short leg, this time off a sullen Ashwin.
The poor catching was infectious. Renshaw had moved to 25 when he miscued a reverse-sweep off Jayant. The ball was heading to Rahane at first slip, Vijay stuck his arm out and the ball deflected all the way to the rope.
Smith clipped Yadav off his pads to bring up a half-century in 93 balls – his 21st – but then watched Renshaw fall trying one shot too many. The big heave off Jayant only went as far as Ishant Sharma at long-off.
But India's miserable day wasn't yet complete. In the space of two Jayant overs, they lost both their reviews, opting to risk them on two extremely optimistic leg-before shouts against Mitchell Marsh. Marsh the younger rubbed it in with a fierce cover-drive off Ishant, a bullet straight past Jayant and a smear over midwicket that went into the stands.
By then, India were well and truly down for the count.