Obstructing the field – the spirit and the law

Wisden India
28-11-2016
Sir Leonard Hutton made just 0 and 1 on his Test debut, at Lord's in June 1937 against New Zealand, an inauspicious start to a glorious international career that netted him 6,971 runs in 79 games at an astonishing 56.67, with 19 hundreds thrown in.
When he bid adieu to first-class cricket in 1955 after a 21-year-long career, he signed off with upwards of 40,000 runs, an average of 55.51, and a whopping 129 centuries. He is universally regarded as one of the greatest batsmen of all time, but he also holds the dubious distinction of being the only man dismissed obstructing the field in Test cricket, against South Africa at The Oval in 1951.
There are but a handful of such dismissals in international cricket, mostly in the 50-over format. The last of those was the high-profile fall of Ben Stokes in a One-Day International against Australia in September 2015, against old foes Australia at Lord's.
Stokes and England almost catapulted M Vijay into the same league as Hutton at the PCA Stadium in Mohali on Sunday (November 27). Only commonsense and a strict adherence to both the letter and the spirit of the law prevented that eventuality, umpires Marais Erasmus and Chris Gaffaney finding no merit in their appeal against Vijay early in England's first innings on the second day of the third Test.
Scoreless for 10 deliveries, Vijay got his innings underway with an imperious pull off the fifth delivery of the third over, annoying James Anderson no end. Vijay harmlessly pushed the next ball back down the pitch, only for Anderson to pick it up and hurl it towards the stumps.
Vijay watched on as the ball thudded into his pad, and England went up in concerted appeal. The appeal was neither prolonged nor acrimonious, and England were well within their rights to do so under Law 37. The appeal necessitated the umpires to meet by the side of the pitch and weigh the pros and cons before negating it, allowing Vijay to get on with it and for the game to move forward without any unpleasantness.
In some quarters, dismissal via obstructing the field is considered as sneaky a way of getting rid of a batsman as is running someone out at the non-striker's end for backing up too far. That is a tinted, coloured way of looking at things because the laws allow for both eventualities. You can invoke the spirit of the game all you like, but you can't impose spirit of the game on anyone else but yourself. That is the bottom line, even if we all have trouble reconciling to it.
Were England justified in appealing? They thought they were. Was Vijay trying to prevent the passage of the ball to the stumps? Not so, on the basis of what unfolded in front of one's eyes, what television footage confirmed and, most crucially, what the umpires believed. Obstructing the field is pretty much a deliberate, wilful act even if Law 37 has a provision for 'accidental obstruction'. Vijay's was more accidental than deliberate, if at all there was any obstruction in the first place, even if it might be argued that he was marginally out of his ground and making no effort to regain his crease when the ball smashed into his pad.
© AP Photo

Law 37 pertaining to Out Obstructing the field states:
Either batsman is out Obstructing the field if he wilfully attempts to obstruct or distract the fielding side by word or action. In particular, but not solely, it shall be regarded as obstruction and either batsman will be out Obstructing the field if while the ball is in play and after the striker has completed the act of playing the ball, he wilfully strikes the ball with
(i) a hand not holding the bat, unless this is in order to avoid injury.
(ii) any other part of his person or with his bat.
Accidental obstruction
It is for either umpire to decide whether any obstruction or distraction is wilful or not. He shall consult the other umpire if he has any doubt.
An amendment to this Law, which came into force this September, adds:
For the avoidance of doubt, if an umpire feels that a batsman, in running between the wickets, has significantly changed his direction without probable cause and thereby obstructed a fielder's attempt to effect a run out, the batsman should, on appeal, be given out, obstructing the field. It shall not be relevant whether a run out would have occurred or not.
In Vijay's case, he was neither running between the wickets, nor was he deliberately attempting to obstruct or distract the fielding side by action. In the larger scheme of things, it might appear a non-event, but England claiming a dismissal by this means after having pleaded at tea time with Mahendra Singh Dhoni to withdraw the run-out appeal against Ian Bell at Trent Bridge in 2011 can leave itself open to being construed as somewhat rich.
Slideshow: 25 most controversial cricketers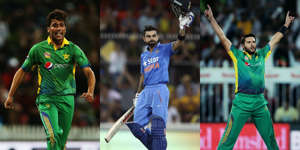 Oh, and for good measure, Vijay provided a touch of grace and class to the proceedings upon being nicked off by Ben Stokes for another low score. Gaffaney was just in the process of negating the appeal when Vijay turned away and walked off. Had he not, then England would certainly have reviewed the decision, and got it overturned had Stokes not overstepped – which he didn't, by the way. Vijay could have hung around just for the sake of it and taken his chance with the no-ball – many might insist he ought to have – but he knew he had edged and been taken, so off he went. Walking may no longer be a virtue in this DRS era, but the stark difference between the two incidents could not be missed.

Much, much later in the Indian innings, with Cheteshwar Pujara and Virat Kohli in the middle of a third-wicket stand of 75, the former responded a little late to his partner's call for a single, and made a mad dash for safety. Pujara held his line and dived into the crease, receiving a ping on his body for his exertions as Adil Rashid from square-leg let rip. Jonny Bairstow instinctively went up in appeal, then quickly indicated to the match officials that he didn't really mean it or intend to pursue it. Nicely done, Jonny.
Watch: 'ICC needs to make clear rules on ball tampering'