Oh for another India-Pakistan Test!

Wisden India
19-08-2016
An India-Pakistan Test match got me my first job. I'd been doing the rounds of newspaper offices for a while. The standard response, once they figured out my lack of relevant qualifications, was "**** off" or politer versions of the same. Last Chance Saloon was a south Mumbai newspaper that had seen better days. And an editor who didn't tell me to get lost as soon as I'd explained my situation to him.

The Chennai Test, the first between the two countries since 1989, was to start the following day. "I want you to do a preview that takes in the history and politics of the rivalry," he told me. "I have no interest in who's batting at No. 3, or who will open the bowling. Tell me what this means to both countries. Set the stage for our readers. You have two hours."
I can think of few more nerve-wracking auditions. Thanks to a family that did little more than discuss politics when it got together – a source of some irritation in my teens – I stumbled through. Few changes were made to my original draft, and I left later that afternoon with a job to come back to the following morning.
Slideshow: Most controversial statements by cricketers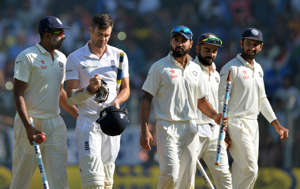 Less than a fortnight later, I had the Sunday off. As wicket after wicket started falling to Anil Kumble at the Feroz Shah Kotla, my phone rang. "Are you any good with cricket history?" he asked. "You know about [Jim] Laker and all that?" When I told him I was a cricket tragic, I was asked to drop everything and leg it to office so that I could write a front-page feature on the Perfect Ten.
I didn't actually cover an India-Pakistan Test till March 2004, in Multan. That was the first of 12 the two sides would play in less than four years. I was at each one, sharing rooms and plenty of laughs with outstanding writers like Osman Samiuddin and Rahul Bhattacharya. By the end of the Bangalore Test in December 2007, we were talking of saturation and overkill. We didn't know then that we were tempting fate.

There hasn't been a Test match since, with bilateral ties especially frosty after the relative bonhomie of the mid-2000s. This week, India and Pakistan took up the first two positions in the ICC rankings. The Future Tours Programme [FTP] has had various niches for this special rivalry, but starting with India's proposed tour of Pakistan in January-February 2009, each of them has been a no-go zone.

Soon, you will have a generation of cricket fans that has never seen an India-Pakistan Test. Just as I once listened with wonder to writers like Rajan Bala and Suresh Menon describing their experiences on tours of Pakistan, the time will soon come when my memories of Virender Sehwag baiting Shoaib Akhtar in Multan and Mohammad Asif cutting [literally] his way through a famed middle order in Karachi acquire a sepia-tinted hue.
This is not the space to get into the politics of it all, but the one thing we can say is that both sets of fans have missed out. For a previous generation of players, journalists and fans, this was south Asia's answer to the Ashes, played with an intensity difficult to explain to outsiders. Sunil Gavaskar played nearly a fifth of his 125 Tests (24) against Pakistan, while Imran Khan made as many as 23 of his 88 appearances against India.
Gavaskar scored five of his 34 centuries against Pakistan, while averaging 56.45. Imran's 94 wickets cost just 24 apiece. It's safe to say honours were more or less even in that rivalry. It was a very different story for their successors. Sachin Tendulkar played 18 Tests against Pakistan, while Wasim Akram turned out 12 times against India, but for a decade after 1989, when both reached the pinnacle of their crafts, there was no engagement.
Misbah-ul-Haq is 42, and likely to retire this year. The three Tests in 2007 were the only ones he has played against India. Virat Kohli made his debut more than five years ago. He has never played Pakistan. Of the current Indian squad, only Ishant Sharma, who took five wickets in Bangalore in 2007, knows what it's like to experience the Radcliffe-Line rivalry.
The first India-Pakistan series I followed closely, in 1987, nearly put me off the game for life. After three fairly mundane Tests in Chennai, Kolkata and Jaipur – where Imran got Gavaskar first ball, watched by General Zia – the nadir was reached in Ahmedabad, where Pakistan crawled to 130 for 4 on the opening day. Others might recall that match for Gavaskar's 10,000th run. I just remember the sheer agony of having to sit through two sessions of tuk-tuk batting from Rameez Raja and Younis Ahmed, recalled at the age of 39.
The Test that followed certainly shaped my views about underprepared pitches. After four matches where we hadn't come close to a result, Bangalore saw 12 wickets fall on the opening day. Dodgy pitch or not, I remember so many little details from the four days of play. And a generation on, I have yet to see a better bad-wicket knock than Gavaskar's epic 96 in what would turn out to be his last Test innings.
Maninder Singh's bowling on the opening day, Dilip Vengsarkar's 50, the wiles of Iqbal Qasim and Tauseef Ahmed, and an unbeaten 41 from Saleem Yousuf that was to prove absolutely crucial. After four boring draws, this was India-Pakistan cricket at its niggly, cat-and-mouse best. I loved it. It's just a shame I haven't been able to see more of it.