Onus on Williamson & Co to get New Zealand out of the rut

Wisden India
20-10-2016
"A luxury of the five-match series is that there are four more matches up for grabs."
There's no denying this from Trent Boult on Wednesday (October 19), the eve of the second One-Day International between India and New Zealand at Feroz Shah Kotla in New Delhi. But there's only been one team from when the Tests got underway that's been doing the grabbing, be it opportunities, key moments or matches.
One expected the visiting side to be more competitive in the ODIs than it was in the Tests, especially with India fielding a young and slightly inexperienced side and Suresh Raina still unavailable due to illness. But the first match in Dharamsala was as lopsided as it could get, with New Zealand making a meagre 190 and India racing to the target in 33.1 overs with six wickets to spare.
From the Indian bowling perspective, it's a chance for Hardik Pandya to continue the good work, having snared 3 for 31 on ODI debut. Anil Kumble, the India coach, reiterated that Hardik would be sharing the new ball with Umesh Yadav for now. "That's a strategy that MS (Dhoni) wanted Hardik to try," explained Kumble. "It's really heartening that he came up with a Man of the Match performance in his first game. That should give him confidence. He's someone who gives us the right balance because he can bowl and at a pretty decent pace as well. Allrounders who can run in quick and bat are certainly an asset.
"He's someone we'll closely monitor and see how he progresses. He's shown his potential in the limited opportunities that he's got, be it Twenty20 Internationals or ODIs. That (giving him the new ball) is something we'll continue to do with Hardik. With him giving us seven-eight or ten overs, it gives us a better balance."
But the flip side of knocking over New Zealand quickly is that the batsmen didn't really get a workout. All India required in the chase was a little under five an over. Manish Pandey spent 34 minutes at the crease and Kedar Jadhav only 17. With India looking at Jadhav and Hardik, who didn't get to bat, as all-round options, they need to get chances to strut their stuff.
Photos: 27 'unique' cricket world records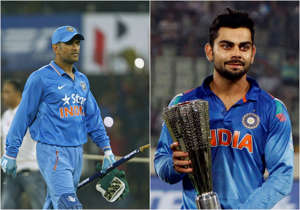 It's something Dhoni had even lamented ahead of the series, and unless bat India first or New Zealand's batsmen put up a vastly-improved show, the two will have to be patient.
While that is the extent of India's worries, New Zealand's cup of woes has runneth over. Aside from Tom Latham, who has been hitting fifties like clockwork on this tour, the batting of the rest of the line-up has left a lot to be desired. Martin Guptill, Ross Taylor, and Kane Williamson have not been able to get themselves out the funk they are in, though it's certainly not for lack of trying; all three had long sessions batting at the nets.
New Zealand may not have pointed any fingers and called on the players as a collective to lift their game, but the trio must be aware that batting in the top four, it has to be them that lead the way out of the hole New Zealand are in.
What could also be hampering New Zealand is the fact that they have had only eight ODI outings this year, counting Dharamsala – seven technically, as one match ended in a no result. That's less than Afghanistan even, with only Bangladesh and Zimbabwe having played fewer games than them.
Now their ninth ODI this year on Thursday will see them return to a place that won't bring back quite happy memories. It was here at the Kotla that they kissed their World T20 2016 campaign goodbye, losing to England in a one-sided semifinal. India will hope to add to that unhappy memory bank, while Williamson's men look to clear the cobwebs in what should be a happy surface for batsmen.
Teams (from)
India: Mahendra Singh Dhoni (capt, wk), Virat Kohli, Ajinkya Rahane, Rohit Sharma, Manish Pandey, Jayant Yadav, Axar Patel, Jasprit Bumrah, Kedar Jadhav, Mandeep Singh, Amit Mishra, Dhawal Kulkarni, Umesh Yadav, Hardik Pandya.
New Zealand: Kane Williamson (capt), Corey Anderson, Trent Boult, Doug Bracewell, Anton Devcich, Martin Guptill, Tom Latham, Matt Henry, Jimmy Neesham, Luke Ronchi (wk), Mitchell Santner, Ish Sodhi, Ross Taylor, BJ Watling, Tim Southee.
Watch: Best helicopter shots in cricket history