Oscar Pistorius sentenced to six years in jail for Reeva Steenkamp murder

The Guardian
06-07-2016
Oscar Pistorius, the South African Olympic and Paralympic athlete, has been sentenced to six years in jail for the murder of his girlfriend, Reeva Steenkamp, who he shot dead with four bullets fired through a closed toilet door.
In what could be the final chapter in a story that has attracted intense worldwide attention, Judge Thokozile Masipa delivered the sentence at a court hearing in Pretoria, saying there were compelling reasons not to give Pistorius a minimum 15 years for murder.
She said there was a "misperception" that Pistorius had intended to kill Steenkamp and it was the duty of the court to correct that view. 
Pistorius, 29, who found global fame when he reached the semi-finals of the 200-metre sprint at the 2012 Olympics in London, was initially convicted of culpable homicide and sentenced to five years in prison. After an appeal by state prosecutors, he was convicted of murder, which carries a mandatory sentence of 15 years.
In explaining her sentencing, Masipa said a lesser sentence could be imposed in cases where a court felt a longer mandatory sentence would be an injustice.
She said there were "substantial and compelling circumstances" for reducing the 15-year minimum sentence and aggravating factors in the case were outweighed by mitigating circumstances, including Pistorius's vulnerability when he was on his stumps.
She said furthermore that there was a public misperception that Pistorius had intended to kill Steenkamp.
"Public opinion may be loud and persistent but it can play no role in the decision of this court," she said. "Our courts are courts of law, not courts of public opinion."
The former athlete has always denied deliberately shooting Steenkamp, a model and law graduate, in February 2003, claiming that he believed a burglar was hiding in the toilet in his home.
In a television interview broadcast last month, Pistorius said that if he "was afforded the opportunity of redemption, [he] would like to help the less fortunate".
On the third and final day of the sentencing hearing last month, Pistorius, sobbing, hobbled on his stumps across the courtroom to demonstrate his physical vulnerability as his lawyers argued he should not return to jail on account of post-traumatic stress disorder and depression.
The day before, Barry Steenkamp, 73, father of the victim, tearfully called for Pistorius to "pay for his crime".
Slideshow: Oscar Pistorius sentenced to six years in prison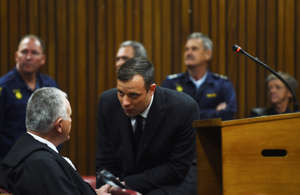 Watch: Oscar Pistorius handed six-year sentence for murder