Pandya, red-hot Kohli propel India

Wisden India
16-10-2016
When you are in a rut, nothing can seem to go your way, but the alternate is also true. India and New Zealand exemplified this principle in the first One-Day International at the HPCA Stadium on Sunday (October 16) as the bowlers set up an emphatic six-wicket win with nearly 17 overs to spare for the home side.
For New Zealand, it's not just one or two batsmen who are in a slump — as evident by the six batsmen who were out for single-digit scores — but almost the entire team. The first bad omen would have been the side losing the toss for the fourth consecutive time on tour. India immediately opted to bowl, keeping the dew factor in mind and wanting to exploit the early seam movement. The plan worked even better than they would have expected as they bowled out New Zealand for a measly 190.
Hardik Pandya grabbed 3 for 31 on debut and Amit Mishra took 3 for 49, but there was nothing too hot to handle from the bowlers. After a 3-0 mauling in the Test series, New Zealand's batsmen were simply thrice bitten, four times shy. It was a fact that India quickly cottoned onto and with Virat Kohli (85 not out off 81 balls) on auto-pilot mode in the chase hitting nine fours and one six, the match was only going to end one way.
Injuries to India's regular opening batsmen forced Ajinkya Rahane to open the innings, but instead of allowing Rohit Sharma to take the lead, he took it upon himself to set the tone of the chase. Swatting two sixes off Doug Bracewell, Rahane immediately put New Zealand on notice.
Full scorecard: India vs New Zealand, 1st ODI
Bracewell got Rohit out early lbw for 14, but that only brought Kohli to the crease and with that entry came an unspoken warning that if the visitors didn't get him out soon, the match would be over in a jiffy.
Rahane was chugging along nicely, but the one moment of hesitancy did him in as he poked the bat out against Jimmy Neesham and edged behind to be dismissed for a 34-ball 33. But, this being a small total to overhaul, the platform was set. Kohli, with Manish Pandey in tow, only had to go at a little at over three runs an over, but the duo instead put the foot on the pedal and went at a little over six.
When Pandey fell for 17, chipping Ish Sodhi to midwicket, the crowd roared to greet Mahendra Singh Dhoni, coming in at No. 5. He thumped a six toward the fine-leg boundary, but his role in the game was mostly limited to running quick singles and twos with Kohli, before he was eventually run out for 21. There were more than enough overs in the game that India didn't need to bother with haring between the wickets, but this has been the feature of Kohli's game for so long that he wasn't about to be merciful now.
Photos: 27 'unique' cricket world records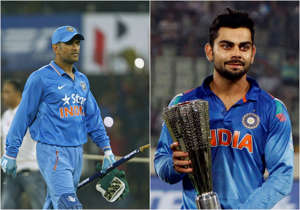 Tim Southee, having been a beneficiary of some generosity from the Indian fielders earlier in the game, repaid the favour, dropping a catch off his own bowling when Kohli was on 60. It hardly would have made much of a difference had the catch been taken, with India needing 33 runs from 22.3 overs and enough wickets in hand, but the crowd would have been pleased nonetheless to be treated to more silken strokes from Kohli. He didn't disappoint, finishing the game off in style, belting a six over the bowler's head to take India to 194 for 4.
The end, swift though it was, might have come even faster for New Zealand had it not been for fifties from Tom Latham (79 not out off 98 balls) and Southee (55 off 45 balls), the two men at either end of the batting line-up. Latham, the only visiting batsman to hit a fifty in each of the three Tests that preceded the ODIs, became the first player from his country to carry his bat, hitting seven fours and one six.
In between those two knocks, however, was a bit of a train wreck.
Pandya started off conceding three fours to Martin Guptill in his first five deliveries. The sixth ball, however, took the outside edge and was safely gobbled up by Rohit at second slip to leave Guptill trudging back for 12.
From there, New Zealand's innings unravelled at a rapid pace. First, Kane Williamson (3), looking to punish a wide delivery from Umesh Yadav, slashed the ball to third-man. Next, Ross Taylor was out for a first-ball duck, a faint edge off Umesh snapped up by Dhoni behind the stumps.
Corey Anderson appeared leaden-footed and tentative and the moment he tried to break the shackles against Pandya, his Mumbai Indians teammate, a brilliant diving catch by Umesh put him out of his misery for a 14-ball 4. Pandya then nabbed Luke Ronchi for a duck as the visitors plummeted to 49 for 5 in the 13th over. Latham, holding up one end as his teammates departed one after the other, might as well have been strapped to a chair against his will — such was the torturous view at the other end. 

The lower-order batsmen couldn't salvage the situation even when Kedar Jadhav came on to bowl his part-time offspin for the first time in international cricket. To his merriment, he ended up getting two wickets off consecutive balls to dismiss Neesham and Mitchell Santner.
What worked well for India was that the bowlers were disciplined without getting carried away by the pace and bounce off the pitch and the fielders offered excellent support, at least in the first 20 overs.
That they couldn't maintain that fielding standard led to Southee being dropped on 2, and he showed that it was possible to get runs, and lots of them, as he walloped three sixes, one landing on the roof of the media box with a big thud, and six fours. The 71-run ninth-wicket stand with Latham came to an end when he finally holed out off Mishra soon after hitting his maiden fifty, and the legspinner took the final wicket too as New Zealand were bowled out in 43.5 overs.
Watch: Virat Kohli's debut ODI innings