Perth hundred lifted me, I started recognising myself: Tendulkar

Wisden India
09-02-2017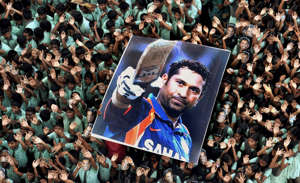 In the last week of January 1992, India's weary cricketers crossed the Nullabor Plain from Adelaide to Perth for the final Test of a five-match series, in an Australian summer that had also seen a triangular series involving West Indies. Defeat in Adelaide left them 3-0 down. Both there and in Sydney, India had had their chances to win. But as on their previous tour in 1985-86, they hadn't been able to take them. In the face of such an unflattering scoreline, consolation was provided by the batting of Ravi Shastri and Sachin Tendulkar in Sydney, and a sparkling century from Mohammad Azharuddin in Adelaide. Kapil Dev bowled beautifully, dismissing Allan Border four times on his way to 25 wickets in the series. 
But it was Tendulkar that captured the imagination of young and old alike. Graeme Pollock had been a month short of his 20th birthday when he made a century at the SCG in January 1964. Tendulkar was more than a year younger when he made his captivating 148. 
But the biggest challenge remained. In those days, the WACA in Perth was famed for its snaking cracks and trampoline bounce. For most visiting batsmen, especially those raised in the subcontinent, it presented the ultimate test of skill and resolve. When Tendulkar walked out to bat on February 2, India were 69 for 2 in response to Australia's 346. "India's bedrock was a captivating 114 from Tendulkar from 161 balls with 16 fours, the bulk of them square cuts," the Wisden Almanack would say later. "He came in at 69 for two and was ninth out at 240, after 228 minutes, and a record ninth-wicket stand for India against Australia, of 81, with More. On the third morning [February 3], as he ran out of partners, he scored his second 50 from 55 balls."
That night, Merv Hughes, not a man renowned for his diplomacy, told Border: "This little prick's going to get more runs than you, AB." And he did too. In a career that spanned nearly a quarter century, Tendulkar would make 1809 runs and six centuries in Australia alone. But for many, the pick of his 51 Test hundreds was that 114 in Perth, a boy-on-burning deck effort that remains fresh in the memory, and on YouTube for those not fortunate enough to see it live. In an exclusive chat with Wisden India, 25 years after that magnum opus, Tendulkar opened up on what it was like, and an Australian affair that spanned two decades.
When you went to Australia, you were fairly established as an Indian cricketer. You had made a hundred in England as a 17-year-old. What expectations did you have when you went out to Australia?
You know, I had actually grown up watching all those ODI matches and that picture was there in front of me. I knew that it was going to be a challenging series but I was prepared for that. I was just excited to be there. And I felt that if I could get runs and come back having done something nice, it would lay a solid foundation. Because everyone knew that if one performed well in England, West Indies and Australia, at that time, then the whole world stood up and took notice of your performance.
The confidence was there that I could go out and score a Test hundred. I felt it was a big moment, because how many 18-year-olds get to play in Australia at such a competitive level? They had a phenomenal bowling attack in that series – [Craig] McDermott, Merv Hughes, Bruce Reid, Paul Reiffel and Mike Whitney. [Shane] Warne and Peter Taylor were the spinners, and in between, Mark Waugh and Steve Waugh also bowled. Tom Moody would bowl a little bit. Allan Border also rolled his arm over a couple of times. The kind of surfaces we played on were pretty lively, and it was a learning experience for me to play some quality fast bowling, attacking and aggressive.
Watch: Sachin the leg spinner, off spinner or medium pacer?
You just focused on those surfaces. One of the things people talk about when you go to Australia is how you have to adjust to the extra bounce. Before you went out there, had you prepared to combat that? Were your preparations different in any way?
Ah, not so much to be honest. I practised with a rubber ball here, but I was used to playing with that. When I was not playing with the seasoned ball, with friends I would go and play with a rubber ball. And that continued even after I played for India. The rubber ball obviously bounces quite a bit, and I would use that as my practice session. I would ask the guys to bowl from 17 yards, so they were fast. And we'd wet the pitch and play – monsoons and all that.
Nothing basically stopped us from playing cricket. All 12 months, if there was no seasoned-ball cricket, there was constantly rubber-ball cricket. So I got to adjust to playing on different surfaces in different conditions. My back-foot play, I figured out over there [in Australia] because being not so tall, I had to get up on my toes and attack. The rubber ball was ideal practice for me because the ball would bounce if I had to play the back-foot punch. But I had to literally jump to get on top of the ball and hit a back-foot cover-drive. That Australian tour, I would say, was the beginning of my back-foot punches. Before that, I played some but Australian tour onwards, I gained more confidence and got into better positions to attack.
Did you pick the brains of any Indian players who had toured Australia before?
No, not much, because I was batting well. There were players around but generally, I was in good space. If at all, as and when I felt like, then I would be talking to either Ravi [Shastri] or [Sunil] Gavaskar. But on that tour, not much to be honest.
Speaking of Ravi, that partnership in Sydney … making your first hundred in Australia. Obviously, it's a ground with such massive history – Victor Trumper, Don Bradman and all those great players who played there. What did that mean to you?
---
---
Scoring a hundred in Sydney was special, and it has stayed with me. Every time I walked out to bat in Sydney, it felt different. It felt wonderful. I have always maintained that Sydney, outside of India, is my favourite ground and the numbers backed it up even more. You know, there are certain grounds in the world where you walk out to the middle and you feel: 'I'm going to score runs, I cannot fail here.' Sydney was one of those grounds where I felt if I went out, I would score runs.
Coming to Perth itself, you went there 3-0 down the series. You had a good chance to win the Test match in Sydney. It didn't quite happen again in Adelaide, tough run chase and India fell just 39 short. I'm guessing morale must have been quite low by the time you get to Perth. How did you lift yourself up for that performance?
For me, for an 18-year-old, I was charged up. It didn't matter how many matches were lost, I was always pumped up for the next game. There were much, much bigger names than me at that time in the Indian team. And the guys who were double my age had more responsibility. See, every player has a different role to play. At that stage, being the youngest member of the squad, there were many other guys who were taking all the decisions and had more responsibility than me. I was only focused on giving my best. I didn't need anything to motivate me. I mean I was motivated enough, and sometimes overcharged [laughs]. I had to kind of relax and hold back myself a little bit. The Australian tour provided that platform because there were so many matches that we played.
We played a five-Test series, and we played a tri-series against West Indies – again, a solid bowling attack there. Curtly Ambrose, [Malcolm] Marshall and all these guys were there. For an 18-year-old, it was a real test in Australian conditions to play against the top-class teams in the world. If you look at the scorecards, the conditions were different, the way cricket was played. I remember against West Indies, we scored 120 or 130 runs [126] in the Perth ODI, and we tied that game. Now, how many times would that happen? Australia also, we played against them and got them out early. In Perth, we batted first, we scored runs and we got them for some 120 runs [101].
The surfaces we played on were completely different; they assisted fast bowlers much more. And there were two new balls that we played with, so there were no high-scoring ODI matches that time. The bowlers would look to attack the batsmen up front and have slips and all that. We don't get to see that for long in today's cricket.
It's interesting you mentioned that Perth ODI against West Indies. Did bowling that last over in the tie give you any special confidence when you went back for the Test match?
No, it had nothing to do with that, absolutely nothing. I was batting well. Even if you see the ODIs, I batted reasonably well and that confidence was there. The pitch had pace and bounce, and there was also a reasonable amount of grass on the surface which allowed the bowlers to extract some movement off the surface throughout. It really didn't matter where I was, I was feeling good about myself and I was in that space where the surface didn't matter.
Australia made 346, and you were batting at No. 4 in that game and came out at 69 for 2. What you remember of the initial passage of play because as you said, it was a very strong pace bowling attack?
To be honest, I don't remember much. I just remember focusing hard on the ball and watching it at closely as possible. I remember one incident where I played a back-foot defence and the ball was around the crease. Allan Border was, I think, standing at gully and I tried to pick up the ball to pass it to him and he shouted at me saying: 'Don't touch the ball, just go and bat'. I said: 'Okay, never again I'm going to do that'. That was new to me.
As a batsman, what were the major adjustments you had to make in Perth compared to the other venues?
I think one has to respect the bounce, so to pick the length early was the key factor. I was focusing on that. Australian batsmen, if you notice, play differently in Perth. They leave the ball on length. For us, to suddenly go there and start leaving the ball is difficult, because in India there is not as much bounce and we are used to picking line. In Australia, if the length is not full enough, then the ball is surely going to go over the stumps.
They would play on the length more than the line, and that was something new which I had not experienced anywhere else. We were looking to pick the line, so there were certain deliveries that one could have let go, but we ended up playing them because of the line. So, those are the adjustments one needed to make.
Have you ever watched footage from that innings?
I have. There was a standard routine, where I would come back home after the tour and sit together with my brother [Ajit] and watch, and see what were the areas where I could get better and what were the areas where I did well, so I could replicate it.
Are there any shots that you remember from that innings?
There were quite a few back-foot punches but to get to the hundred, I played an on-drive to Mike Whitney [time plays tricks. It was actually Craig McDermott]. It went between the bowler and the mid-on for a boundary. If I have to pick one shot, then it would be that.
On commentary that day, after you played that shot, Richie Benaud said this was an innings that deserved to be watched by 100,000 people. Now this is not a man known for such [hyperbolic] statements. After that innings, how did you feel about where you were as a Test batsman?
That was one of the important innings of my life, and I'm not just saying in that period, but of my entire career. After that innings, I started thinking differently. You know, if you can go on and score a 100 in Perth against a world-class bowling attack, then you can basically prepare to go to any part of the world and tackle any attack. I felt that way. It lifted me. Within myself, I started recognising myself differently. The opposition recognises you as one of the key members to get out, but it becomes even more important for yourself to understand where you are in life and where you are as a cricketer.
I started believing that I could go and score runs against any bowling attack in any conditions. I think, of the first 18-19 Test matches I played, only one was in India. I played four in Pakistan, three in New Zealand, then three in England which was ten [in all]. Five in Australia, which was 15, and four in SA, which was 19 matches. I played only one Test against Sri Lanka in Chandigarh but other than that, my first Test match in India was only in 1993 against England. So, almost three years I had played outside India, which developed me as a cricketer.
At the age of 16-17, I was travelling everywhere and playing in those conditions where I have no exposure at all, so it was a challenging period for me and it felt like I had completed a circle there – Pakistan, New Zealand, England, Australia. Then, South Africa got into international cricket and after Australia, we went there that same year. That's why the Perth 100 was really important, for me to believe that I could go out and play anywhere in the world.
It's interesting that you talk about Perth giving you that sense of belonging and feeling that you had completed a circle. Another prominent batsman I spoke to, Virat Kohli, told me about the innings that he played there in 2012, when he made 75. He didn't make a century, but he said the words that you said to him at teatime, to keep on going and that he was playing really well, was the moment where he felt that he really belonged. Do you remember that at all?
I would normally go and talk to all the batsmen about what I felt, what they should do, what they should be careful of. I would just go and share my views with them. Then, it was up to them whether to take it or leave it. But that is how I have played my cricket, and it really didn't matter whether you were the senior most guy or a junior, I would go and give my opinion. I like to talk cricket. I think when we are batting in the middle is the time to discuss and let your non-striker know where you are going wrong and what are the things you are doing correctly. That's what I did. While he was batting, it was important to tell him, not when he got out. I have always done that, that quality I think started from school cricket with Achrekar Sir telling me that you need to communicate with each other. But that innings in Perth, and after that he made a 100 in Adelaide, did it give you a sense that this boy could on to much greater things? Yes, he was hungry and one could see that. When someone is hungry, determined and focused, then results follow. It cannot happen the other way around. You have to show discipline, dedication and application, and then results follow.