Present perfect, future promising for exciting Pant

Wisden India
18-10-2016
"Rishabh Pant ne pant utar di. 308, brilliant innings against Maharashtra," tweeted Virender Sehwag. Pant's 326-ball knock included 42 fours and nine sixes, and took Delhi to the brink of a first-innings lead on the final day of the Ranji Trophy match at the Wankhede Stadium in Mumbai on Sunday (October 16).
Delhi could not go past Maharashtra's 635, built on Swapnil Gugale's 351 not out and his record unbroken partnership of 594 with Ankit Bawne. Pant's dismissal triggered a collapse as they lost their last four wickets for 13 runs to be dismissed for 590. Pant was obviously disappointed, but it was the kind of day where the focus was inevitably on his records.
"I wanted to bat with Viru bhaiyya, but never got the time. To be congratulated by him is a nice thing. He was my favourite player. Unfortunately, he left for Haryana when I made my first-class debut last season," Pant, the third youngest Indian to score a triple-century, said. "We met during the IPL. I told him I wanted to bat with him, he said no problem bat like me."
Bat like Sehwag, Pant definitely did. He came in at 135 for 3 just after lunch on the third day and never looked back. He had century stands with Dhruv Shorey and Milind Kumar, but Milind got out off the last ball of the penultimate day. Overnight 155, Pant lost Manan Sharma early on the final morning, as Delhi slipped to 377 for 6. Just when it looked as if the game was meandering towards a drab draw, Pant lit up the atmosphere with his explosive play.
His 182-run stand with Varun Sood for the seventh wicket gave Delhi a real chance of claiming three points. While Pant went about playing his strokes, Sood, who batted for 228 minutes for his 32, focussed on crease-occupation.
"The only thought was to take it as long as possible because once the tail came in, the approach changed as I had to make most of the runs from my end. You can't take much risk with the tail and there was a lot of time left," Pant elaborated. "I missed many runs but I didn't think much about them. After I was dismissed, I thought I should have taken the 10-15 runs I let go. But at that point, it was important to play as per the situation.
"With Varun, the plan was that he doesn't try anything extra. I told him to play for time, and that I would take care of the scoring."
Photos: Cricketers — Then and now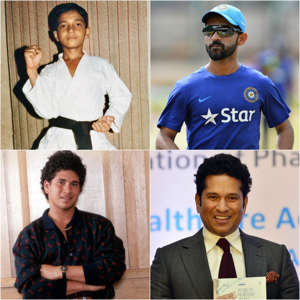 Satyajeet Bachhav had Pant stumped after 514 minutes of sheer dominance. The remaining batsmen could not keep their end of the bargain, leaving Pant with mixed emotions. 
"Since I was batting, it was my responsibility to take the innings forward. I missed the ball, I was trying to control myself. Anyone can get out. I am feeling sad," he said. "The main thing was not about making runs, the main thing was to give Delhi three points at any cost. That sadness will stay."
The remarkable aspect about the innings was his stamina as he batted for close to 110 overs after keeping wicket for 173 overs. Pant, who had never played such a long innings at this level, said he was not tired.
"I got a good experience of what a long day is like in Ranji Trophy. This is my fourth match. I am not feeling tired right now. I will feel the exhaustion but it's not like I can't do anything," he said. "It was good. It was for the first time that I was batting for this long. I had always wanted to play a long innings, I did it but I could have done more. I had thought about 400."
The audacity is remarkable, as is the hunger. That he took his helmet off for the first time at this level to celebrate a milestone speaks a lot about where he has his eyes set.
"Jab tak 200 nahi hoga, helmet nahi utrega (I will not take out the helmet to celebrate till I get 200). Even when I got 100 (in the last game), I did not remove the helmet. I had kept this target at the Under-19 level also," he revealed. "I kept setting myself targets, and it feels good to remove the helmet after so long. Small targets don't benefit me. The more you push, the better you get. Everyone gets 100. 200 mein alag feel aata hai . Ab kuch alag sochna padega (There is a different feel in a 200, now I have to think about something else)."
Pant earned the praise of Gugale as the pair became the second in the history of first-class cricket to score triple-centuries in the same game, and the first from two opposing sides.
"When we were batting, I had a partner and we were scoring equally. In this innings, he was taking all the initiative on his own. From the other end, he was not getting any support," Gugale said, comparing Pant's knock to his own, and referring to his stand with Bawne. "He was timing the ball so well, it was good to watch. We were just taking chances and waiting for him to make a mistake and get out. On this wicket, if you don't make a mistake, then there is very little chance of you getting out. We were just giving him more half-volleys and trying to flight the ball more and wait for him to make the mistake. I was just hoping, but it was not happening."
Like Sehwag, Pant is witty. During the Under-19 World Cup in Bangladesh earlier this year, he left reporters in splits even while displaying a sense of awareness. There. he had recorded the fastest half-century in the history of Youth Cricket, but had chosen to speak about a missed chance to break AB de Villiers's record of the fastest century in limited-overs cricket. He had also chosen to keep the focus away from the Indian Premier League auction, but after being bought for Rs 1.9 crore by Delhi Daredevils, he became the second youngest to score a fifty. 

With the Indian team always on the lookout for hard hitters, such performances cannot go unnoticed for long. But Pant chose his words carefully when asked where he saw himself in the larger scheme of things.
"(The) main aim is to play for India, but now the focus is to do well in the Ranji Trophy. It is up to the selectors to decide when they want to make me play. Till then, whatever platform I have, I will keep doing well let, it be Ranji or IPL," he said. "That's for you (journalists) to tell (whether I am ready for big cricket or not). Mere muh se mein kuch bol nahi sakta (I can't speak for myself)."
Right now, Pant's focus is on doing well on the field, and posing with fans for selfies off it. "Yesterday, I gave a lot (autographs and selfies) when I was sitting before my batting."
Outside of the Pant magic, this game will be used as an example to measure the feasibility of neutral venues as a total of 1283 runs were scored for the loss of only 12 wickets. Shrikant Kalyani, Maharashtra's coach, played it diplomatic but it was not difficult to decipher what he meant.
"As it is a neutral ground, we have very little choice. It was a good wicket to bat on. It is a very dicey question," Kalyani said when asked about the pitch. "If we comment on this, then it comes in the papers. A similar case happened with Kedar Jadhav. You are not allowed to comment on the wicket; he did and the BCCI took action against him. It is not good on your part (to not get an answer), but it is very difficult for me to answer."
Watch: When Sehwag scored a century on Test debut