Previews, predictions, 5 must-watch matches for Manic Monday

theScore
10-07-2017
It's Middle Sunday, the first week of Wimbledon is in the books, and we're hours away from the most exciting day on the annual tennis calendar. Weather permitting, Manic Monday will romp through the entire Round of 16 over the course of a few dizzying hours.
Complete coverage: Wimbledon 2017
The men's lineup looks a bit underwhelming at first blush, but a day that sees each member of the Big Four in action is nothing to sneeze at. The real draw here, though, is the women's slate, which is absolutely jam-packed with potential barnburners that could have championship implications.
You won't be able to watch everything, and it'll be pretty tough to go wrong, but here are five Monday matches you won't want to miss:
Victoria Azarenka vs. No. 2 Simona Halep
Azarenka has rounded into form faster than anyone could've reasonably anticipated, navigating a tricky first week and scratching out a pair of three-set wins in just her second tournament back from maternity leave.
Halep, meanwhile, has rebounded beautifully from her crushing French Open final loss last month, playing a more aggressive brand of tennis and blowing through the first week without dropping a set. She's two wins away from a semifinal berth that would put her in the driver's seat in the race for the No. 1 ranking.
Photos: Tennis records that may never be broken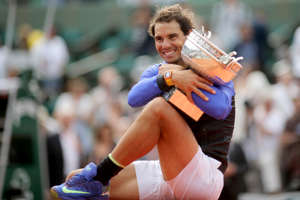 As far as the head-to-head goes, there aren't many data points to go on. Even though they're around the same age, and weren't too far apart in their rise to prominence, the timing has never quite lined up for a rivalry to develop, and they've played each other just three times.
That said, their most recent meeting - in the quarterfinals of the 2015 US Open - was a three-set epic of sky-high quality. If both women carry over their first-week form, Monday's match should be more of the same; a showcase in footwork, tactics, and clean ball-striking. The victor will likely emerge from this match as the tournament favorite.
The pick: Halep in 3 sets 
No. 13 Grigor Dimitrov vs. No. 3 Roger Federer
Dimitrov's "Baby Fed" label has largely been dropped as the shine has come off his early-career promise, and Grown-Man Fed has schooled him in each of their five head-to-head matches, winning 12 of 13 sets. But the 26-year-old Bulgarian looked fantastic in the first week at the All England Club, recalling the early-season form that saw him win two of his first three tournaments and come within a whisker of the Aussie Open final.
That may not be enough to topple Federer - who has been his typically imperious self on grass, smacking 105 winners to 29 unforced errors and dropping just 45 total service points through three matches - but it should be enough to make him uncomfortable.
Both men's games play up on this surface, both have amped up their one-handed backhands this season, and both thrive on aggressive, first-strike tennis. It may lack for extended rallies, but this match will produce no shortage of awe-inspiring shot-making.
The pick: Federer in 4 sets
No. 13 Jelena Ostapenko vs. No. 4 Elina Svitolina
In making it to the second week at Wimbledon, Ostapenko has already backed up her stunning French Open breakthrough, continuing to prove that she can not only harness her extraordinary power, but elevate her game when the pressure is highest.
Of Ostapenko's 10 straight Grand Slam match wins, seven have gone the distance, and she's dropped the first set in five of them. Even in her comparatively breezy, straight-sets win over Camila Giorgi in the third round, she had to come back from 3-5 down in both sets. If it wasn't already plain, the 20-year-old wunderkind is as unflappable as she is talented.
Svitolina will put that resolve to the test. A nimble mover and dangerous counter-puncher, she can make Ostapenko pay for her go-for-broke ethos. Grass isn't traditionally her surface (this is already further than she's ever made it at Wimbledon), but she's looked confident moving around on it, and it's suited the more offense-oriented game plan she's adopted this season.
Ostapenko can take the racket out of her hand (as she did to Halep, a similar player, at Roland Garros), but Svitolina has a bit more variety than Halep, and more ways to throw the young Latvian off her rhythm.
The pick: Ostapenko in 3 sets 
No. 14 Garbine Muguruza vs. No. 1 Angelique Kerber
Since combining to win three of the four Slams last year, both women have slumped badly in 2017, with just one tournament final and nary a title between them.
But both have shown signs of regaining the form and confidence that made them this tournament's last two runners-up, and you get the sense the outcome of this match could be massive for whoever wins it; a potential springboard to a second-half resurgence.
Muguruza has gotten the better of Kerber the past four times they've played, and while those wins were far from routine - and the grass surface tips the scales ever so slightly in Kerber's direction - the Spaniard's dominant first week points to her extending her head-to-head winning streak.
The pick: Muguruza in 2 sets
No. 27 Ana Konjuh vs. No. 10 Venus Williams
When Venus played Wimbledon for the first time in 1997, Konjuh was still in the womb, six months away from being born. Twenty years later, she's ridden a Venus-like power-baselining game into the second week at the All England Club.
This will be the first meeting between the 37-year-old and the 19-year-old, and it should come with plenty of fireworks. Konjuh is one of the rare players capable of matching (if not one-upping) Venus' power off the ground. She's been particularly lethal with her backhand in this tournament, and ripped an incredible 22 winners off that wing in her three-set, third-round upset of Dominika Cibulkova.
Venus still has the edge on serve, but Konjuh has steadily improved in that department. In this battle pitting youth against experience, consistency and patience will make the difference. In a toss-up like this, the veteran gets the slight nod.
The pick: Williams in 3 sets
Best of the rest
No. 10 Alexander Zverev vs. No. 6 Milos Raonic
Though you might look at these two and see a pair of servebots, their games are actually strikingly different. Zverev attacks with his backhand, and Raonic with the forehand. Zverev excels from the back of the court, while Raonic is best when can get to the net. There won't be many service breaks, but that doesn't mean the match won't be compelling. Zverev in 5.
No. 24 CoCo Vandeweghe vs. No. 5 Caroline Wozniacki
In a classic clash of styles, Vandeweghe will try to bludgeon her way past Wozniacki's stalwart defenses. On grass, there's a good chance she'll succeed. Vandeweghe in 2.
No. 11 Tomas Berdych vs. No. 8 Dominic Thiem
Thiem is finally starting to look comfortable on grass, but Berdych has a long history of success at Wimbledon, and his consistently flat groundstrokes figure to give the Austrian trouble. Berdych in 4.
No. 9 Aga Radwanska vs. No. 7 Svetlana Kuznetsova
This one will be all about craftiness and variety. Kuznetsova has owned Radwanska, amassing a 13-4 head-to-head record. But they've only played twice on grass (splitting the two matches), and not since 2008. Kuznetsova in 3.
Still worth watching
No. 21 Caroline Garcia vs. No. 6 Jo Konta (Konta in 2)
No. 18 Roberto Bautista Agut vs. No. 7 Marin Cilic (Cilic in 4)
Benoit Paire vs. No. 1 Andy Murray (Murray in 3)
Gilles Muller vs. No. 4 Rafael Nadal (Nadal in 4)
Magdalena Rybarikova vs. Petra Martic (Rybarikova in 2)
Adrian Mannarino vs. No. 2 Novak Djokovic (Djokovic in 3)
Kevin Anderson vs. No. 24 Sam Querrey (Querrey in 4)