Prithvi Shaw a talented player but long way to go: Rahul Dravid

The Indian Express
02-02-2017
"The only people who have called and asked me about their players have been the Bombay guys. I have been in this job for last 18 months now, and as a former India player and a coach now, you would think a lot of associations would call and ask about their players but I have only had conversations with Mumbai cricket association."
That statement from Rahul Dravid, who is the India A and India U-19 coach, says a lot about the prevalent attitude in Indian cricket. As ever, his tone was measured, there was no anger or angst in the voice but the words said it all. "In a sense, it tells us why Mumbai cricket has been so successful," he said.
The question was about his recommendation to Mumbai selectors to play Prithvi Shaw in Ranji Trophy–and he responded with a hundred in the Ranji final, and Dravid turned it around to look at the bigger picture. He is in Mumbai for the five-match ODI series against England and he gave a glimpse at how he is monitoring the young cricketing talent in the country. The focus of Dravid and the junior selection committee led by Venkatesh Prasad is just not to prepare a team of 15 or so for age-group tournaments but to widen the pool of kids playing cricket and give as much exposure as possible to as many young Indian players as possible at this level.
Photos: 'Unique' world records held by Indian cricketers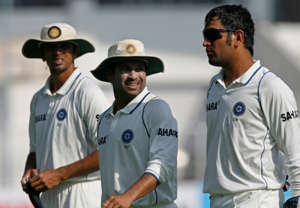 The intent to create a bigger pool of players came to Dravid, he says, after his interactions with India A players where he saw many players who weren't really stars at the U-19 level. "Lot of time I find that— based on my experience with conversations with India A recently-a lot of them weren't stars at U-19. Like Karun Nair or Shreyas Iyer. They weren't stars but in the fringes. Which actually means you have to broaden that group out."
The idea is quite simple: Identify as many talent as possible at this level, give as much exposure as it's practically feasible to this bigger pool, give them constructive feedback, areas to work and improve, chalk out just not a skill-set map but also a fitness plan for them and see at end of a year how much they have improved.
It's a comprehensive plan, and requires heads like Dravid to lead it for it to really work. "I just want to influence a slightly larger group. Because you can never really predict that this is the team of boys who are going to make it from this level. It's too young a stage. It's hard to predict who is going to make it. So you have to broaden the pool. Especially in a country like India, so many cricketers playing, if we can get a wider pool..it's all finding a balance, mix and match, play different kids, see them play and take it from there."
Watch: 'Selection Committee deserves credit for picking a good squad'
Mission next U-19 World Cup
The immediate goal for this U-19 team, who are playing the ODI series against England, is the next year's youth World Cup in New Zealand. Dravid says the tournament itself is not worth hyping about but it's the entire journey till that tournament that would help the young talent to grow as cricketers. "Here you identify things, keep constantly in touch with them, and I tell them, "It doesn't matter what stage (of game ) you are in right now, it matters what stage are you at the end of this cycle and move on. Irrespective of whether you are playing world cup or not, if you have improved in a year's time, it's great."
The ODI team playing England is actually a U-18 team, says Dravid, and a process that helps them identify as many players beyond the usual names that feature at U-19. "In the ODI scheme of things these boys are Under-18 team to be honest. We are preparing younger boys who are all eligible for the youth world cup. We played Asia cup, take the squad around, it's really a question of identifying and building a team. It's a process that we started in December. This is just a continuation of that. Lot of people have not even played U-19 for their states. They are not regulars in the state team as there is a group of players who are senior to them."
Dravid has also been keen on trying to provide the team with conditions that offer pace and bounce. Just not because of the fact that youth world cup will be in New Zealand but to improve the skill sets. In the first game in Wankhede pitch, Indian colts lost – quite a few were bounced out and Dravid sees it as a part of learning curve for the youngsters.
---
---
"At this stage, you are looking at everything – skills and temperament. We are looking at the things that might be pitfalls for them when they go higher up in cricket. Where they need to improve. Someone could be really good at one area, but if he doesn't improve in another area, it could affect him. You make him aware of that, and give practise to develop. Obviously, playing short and fast bowling is an area that we don't get exposed to much. So we are trying to do that here, give them conditions and see how it goes." 

As for Prithvi, though a question wasn't asked to Dravid about the hype and pressure that has already been piled on the kid, he himself ventured to answer. "He is a good player but has a long way to go. None of them are finished products. Last year Mumbai cricket asked a lot about Armaan Jaffer. Or any of the others. You got to give them opportunities – there would be ups and downs and even if they fail, as long as they can reflect on it and realise these are the areas they have to work on, its good. That's our job to tell them as well to make them better players. There is is no magic really. I cant give them a formula," he said.
India thrash England
Spinner Anukul Roy led India U-19 bowlers' splendid show as they drubbed England U-19 by 129 runs in the second one-dayer to level the five-match series 1-1.
Brief Scores: India 287/8 (Desai 75, Rana 58, Fisher 4-44), beat England 158 (Rawlins 46, Roy 3-34) by 129 runs.