Privileged to play with Virender Sehwag: Rahul Dravid

India Today
04-12-2015
Former India captain Rahul Dravid heaped praises on the recently retired Virender Sehwag and said the opener, who was once feared by new ball bowlers around the world, brought plenty of spark and energy to cricket.
Sehwag called time on his career last month after being left out in the cold for over two years. He failed to stage a comeback into the Indian team after being dropped during the Test series against Australia at home in 2013.
On Thursday, minutes before India's fourth and final Test against South Africa got underway, Sehwag was felicitated by the Board of Control for Cricket in India (BCCI) at his homeground Feroz Shah Kotla in Delhi.
Dravid, who as India's No.3, shared several key stands with Sehwag, recorded a special message for his former teammate and said he should be very proud of what he has done for Indian cricket.
"It's a privilege to play international cricket with you (Sehwag). You brought so much joy and happiness to so many people with the way you played the game, not only to the fans, but all the players who have played with you will agree you brought a spark, you brought an energy to cricket, into the dressing-room," Dravid said in a video message.

"You can be very proud and your family can be very very proud of what you have done for Indian cricket," Dravid said after Sehwag's felicitation ceremony.
Sehwag had earlier thanked Dravid, Sourav Ganguly and Sachin Tendulkar for shaping his career. However, there was no mention of Mahendra Singh Dhoni under whose leadership Sehwag began to lose form gradually.
Sehwag is the only Indian batsman with triple hundreds to his name in Test cricket. He achieved the feat twice (309 against Pakistan and 319 against South Africa).
He came close once again but fell for 294 against Sri Lanka in Mumbai. Viru, as he was affectionately called by his teammates, finished with 8586 runs from 104 Tests and 8273 runs from 251 one-day internationals.
Slideshow: Many moods of Virender Sehwag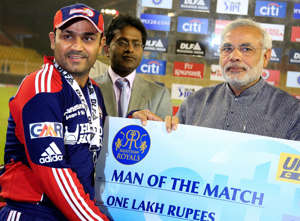 Many moods of Virender Sehwag
More from India Today

India Today