Pujara, Rahane nose India ahead

Wisden India
06-03-2017
An unbroken 93-run partnership between Cheteshwar Pujara (79) and Ajinkya Rahane (40) inspired a spirited Indian fightback on the third afternoon of the second Test at the Chinnaswamy Stadium on Monday (March 6). The impetus had been provided by a classy half-century from KL Rahul, and despite another low score for Virat Kohli, the captain, India ended the day on 213 for 4, a lead of 126.
Full scorecard: India vs Australia, 2nd Test
On a pitch that still played plenty of tricks, Pujara and Rahane accounted for the highest partnership of the series, adding 91 in the final session to frustrate the Australians. Josh Hazlewood was the pick of the bowlers with 3 for 57, with Nathan Lyon, the first-innings destroyer, bowling 27 overs without reward. All of this after Ravindra Jadeja's 6 for 63, despite bowling fewer overs than the other three specialists, had bowled Australia out for 276 and given India a route back into the contest.
To make a match of it after conceding an 87-run deficit, and rebound from three batting debacles, India needed a positive start. Rahul provided it, glancing Mitchell Starc for four and then playing a gorgeous straight drive off Hazlewood. Abhinav Mukund avoided a pair by working a couple of runs through midwicket, and then clipped Starc through the same region with more conviction for four.
Lyon, on a hat-trick, was on as early as the sixth over, but the highlight in the minutes before lunch, which India took at 38 for 0, was a bizarre miscued pull from Mukund off Starc that flew over the keeper's head for six. There was to be no happy ending to his Test comeback though as Hazlewood, coming round the wicket, bowled him off the pad with the fourth ball after the interval.
Australia's position would have been even stronger but for two squandered opportunities soon after Pujara arrived at the crease. He was on three when Matthew Wade got only his pads to a thick outside edge off Lyon. Moments later, off the same bowler, with Pujara having moved to four, another edge was grassed by Steven Smith to his left at first slip.
Rahul turned the strike over expertly, keeping Pujara away from Lyon's end as much as possible, and with both men taking fours off Hazlewood, the crowd started to find its voice. Rahul summoned up a cracking cover-drive off Starc as well as he reached a fluent 82-ball half-century.
Photos: Cricketers — Then and now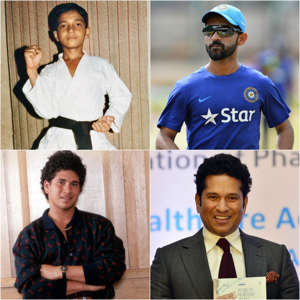 Again, though, a break in play proved a batsman's undoing. The second ball after drinks, from Steve O'Keefe, Rahul drove well away from his body and then looked back in dismay as Smith flung himself to his right to pouch a stunning reflex catch.
Kohli came in and India kept turning the strike over, getting past 100 without Australia bowling a single maiden over. When Hazlewood pitched on the stumps, Kohli wristed him through midwicket for four. Then came the controversy. A ball from Hazlewood kept low, and Nigel Llong's finger was up almost before Hazlewood had finished his half-hearted appeal.
Kohli's decision to review was instantaneous, and the third umpire took an age to scan the replays. At the end of it, with no conclusive proof that the ball had struck bat before pad, the leg-before was upheld. Ball-tracking showed impact as 'Umpire's call' and Kohli walked off in a rage with his team effectively 25 for 3.
In an effort to disrupt Lyon's rhythm, India sent in Jadeja at No. 5, but it wasn't a gambit that worked. Hazlewood nipped one back a touch off the seam to crash into the stumps after Jadeja attempted an expansive drive.
---
---
At 120 for 4, a lead of 33, the question was whether the match would even go into a fourth day. But in Pujara and Rahane, India found the grit and application that had gone missing in Pune and the first innings here. The key was their refusal to allow the bowlers to dictate terms. With boundaries hard to come, the emphasis was on singles and twos, and Australia ended up bowling just two maidens in the first 50 overs. 

The first ball after tea, from Lyon, shot through for four byes, and Pujara then stepped out to drive the next for four. Rahane had made just three when he popped one up off Lyon, but David Warner at leg-slip couldn't leap high enough to hold on. With fortune on their side – the shooters were straight at the stumps – the batsmen grew in confidence, and Pujara tucked one off his hips to bring up a 125-ball 50, one of the better ones he'll ever make.
Into the final hour, and India started to take charge, with Pujara cutting Hazlewood for four, and Rahane sweeping Lyon powerfully to the square-leg fence. Having raised India's best partnership of the series, both men focused on playing the turning ball as late as possible. Pujara tucked Lyon past leg-slip for four, and Rahane worked O'Keefe through square-leg as Australian shoulders started to slump a little.
They had started the day prohibitive favourites. Ishant Sharma started with a maiden, but the primary threat was R Ashwin, bowling into the rough outside the left-hand batsmen's off-stump. But with Starc and Wade not unduly bothered, Kohli turned to Jadeja in the ninth over of the day.
The initial signs were not promising, with Wade stepping out to play a lovely off-drive. And India's mood didn't improve with the score on 267 for 6 when Starc was given out caught behind off Ashwin, only for the decision to be overturned on review.
It wouldn't be a costly miss though. Two runs later, Starc (26 off 52 balls) looked to heave Ashwin over midwicket. Jadeja sprinted around from long-on to take an excellent catch and end a 49-run partnership that had pushed Australia well in front.
After that, it was dominoes. Wade was leg-before to Jadeja, a ball that darted back past his defensive push, and Lyon missed a sweep to be trapped plumb in front. Both men reviewed, to no avail, and then Jadeja wrapped things up when Hazlewood skied one to long-on. In 4.4 overs in the morning, Jadeja had taken 4 for 14 and given the No.1-ranked side a glimmer of hope. Pujara, his Saurashtra teammate, and Rahane would build on that as the day wore on. With two days left, a thriller of a finish awaits.