R Ashwin can't be tied down: India batting coach Sanjay Bangar

India Today
25-12-2016
India's batting coach Sanjay Bangar has heaped praise on star off-spinner Ravichandran Ashwin for his valuable contribution and his consistency with the bat at No.6.

Ashwin, who is the world No.1 Test bowler and the No.1 all-rounder, capped off a wonderful year with 72 wickets and 612 runs at an average of 43.71 as India wrapped up their Test journey in 2016 with a 4-0 rout of England in the five-match series.
"He's a clever cricketer, always eager to better his technique. He has a cool head, his technique is superb, and he allows the ball to come to him. And you can't tie Ashwin down. He has the cut, he will drive you down the wicket, and even against spinners he's a very busy player," Bangar told the Mumbai Mirror.
"Credit to Virat and the team management for putting him at No.6. With his experience he could control the innings there considering Wriddhiman Saha was relatively new, just settling in Tests," he added.
Apart from captain Virat Kohli, nobody has been more important to India's Test success on home soil than the lanky tweaker from Tamil Nadu.
Ashwin recorded eight five-wicket hauls this year and also proved his batting prowess with a couple of hundreds and four half-centuries. This year, Ashwin was also adjudged Man of the Series twice out of a possible three series. Overall, he has won the award seven times, which is the most by any Indian player.
© AP Photo

Ashwin also bagged the International Cricket Council (ICC) Test Cricketer of the Year and is the only Indian in the ICC Team Team of the Year.
The former India all-rounder also revealed that India's lower-order, which has been one of team's most formidable areas in terms of contributions with the bat, receives the same amount of practice as the frontline batsmen.
India's lower-order has been prolific in recent times with Ashwin, Ravindra Jadeja and Jayant Yadav performing extremely well in the series against England.
Ashwin scored 306 runs against England, while Jadeja made 224 and Jayant amassed 221 runs. Overall in 2016, India's batsmen at these positions scored 1321 runs in 12 matches, second only to England's 2334 in 17 matches.
"I believe the only way to polish your skills is to train in a correct manner with a lot of quantity and a clear plan. Your body must get into right positions such that you are able to execute all the shots you want to. So you are always in control of yourself. From that perspective we ensured that our lowerorder got the same amount of batting practice as our frontline batsmen," Bangar said.
"Then there's a clear plan if a number seven or eight batsmen is batting with the tail. We strategise what he needs to do. Is he comfortable giving the number 11 only fewer balls in the earlier part of the innings? Or go for the boundaries if the field is brought in on the fifth and sixth balls. These are things they have worked out in their minds pretty well," he added.
Slideshow: 25 world records held by Indians in Test cricket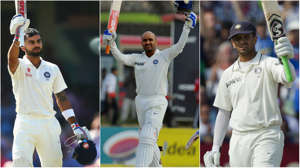 Watch: 'India now have a reliable all-rounder in Ashwin'
More from India Today

India Today