Rahane or Nair? India ponder combinations

Wisden India
08-02-2017
It's customary for most top-notch cricket teams, India included, to hold their cards as close to the chest as possible when it comes to team compositions. 'Don't announce it till you have to' is the unwritten motto, which is typically at the time of the toss.
But Anil Kumble, though not breaking from tradition, gave quite a few hints to the way the XI might look come Thursday, when India take on Bangladesh in their one-off Test match at the Rajiv Gandhi International Stadium in Uppal. And the most interesting thought, if what we are reading between the Indian coach's lines is correct, is that Karun Nair, who scored 303 not out in the last Test match India played against England in Chennai last month, might have to sit out to accommodate Ajinkya Rahane.
A finger injury sustained during the third Test against England, in Mohali, had ruled Rahane out of the remainder of that series and Nair, who had made his debut in the third Test, stayed on in the XI. Not just that, he scored a rapid 381-ball triple century to help India to an innings-and-75-run win and take home the Man of the Match award.
When India play their next Test, Nair might be water boy again.
"We still haven't thought about the combination but it's nice that Karun took his opportunity and did what he did in Chennai," said Kumble on Tuesday (February 7). "It's fantastic for a young cricketer to come in and score a triple hundred. But we know what Ajinkya has done for this team. Ajinkya's performances have been phenomenal across conditions.
Photos: 'Unique' world records held by Indian cricketers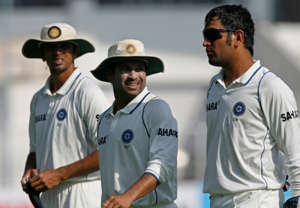 "It's nice that somebody who has come in to replace Ajinkya because of the injury in Mumbai, then in just three or four innings he was able to score a triple century. So it's nice to have to have that kind of contribution and that kind of ability from the youngsters."
Just a hint. Nothing more. Who knows how things will pan out in the day and a half between now and that toss? India might even revert to the six-batsman plan if they choose to.
But if Nair is dropped, it's going to be a massive decision, and only the second time in the long and storied history of Test cricket that a player has been missed a Test immediately after the one in which he got a triple. Andy Sandham, the English batsman, scored 325 and 50 against West Indies in Kingston back in 1930. It was the last of his 14 Tests and an ankle injury meant he only played a few first-class matches after that. He was 40 at the time of scoring the triple – the first in Test history.
There was also the suggestion from Kumble that Abhinav Mukund wouldn't be making a long-awaited return to Test cricket on Thursday.
With M Vijay back in harness and KL Rahul rolling along smoothly enough, Abhinav's chances of earning a recall were scant anyway. But Kumble was certain that Abhinav's presence, keeping in mind his experience and excellent recent first-class form, could only help the team even if he was going to be "a back-up".
---
---
"Vijay and KL have played wonderfully well in the last series. It's just that you need a back-up. As far as we are concerned, the openers have had issues (injuries) in the West Indies and in the home series as well. It's just a concern, and always nice to … Abhinav brings in not just the experience of playing at the international level but also lots of runs in the domestic season gone by. So he is in good form. And it's a reward for what he has been able to achieve in the domestic circuit," said Kumble. 

That suggests a top five along expected lines, with Vijay, Rahul, Cheteshwar Pujara, Virat Kohli and Rahane filling the slots. What then? Well, even if Bangladesh are not Australia or England or South Africa, it's not yet time to blood Hardik Pandya.
"We certainly want to keep Hardik in the mix. He is someone who has the ability to become a good allrounder even in the longer format. It's rare that you have someone who can run in and bowl at close to 140 and bat in the lower middle order," explained Kumble. "He hasn't been tested in the longer format. But we believe that if he is part of this mix, when the opportunity comes, if we can try him out, then in the future, whenever we travel outside India, he will be someone we will probably look at."
Then come Wriddhiman Saha, the wicketkeeper-batsman, the allrounders, and the bowlers.
The attack will most certainly be led by R Ashwin, with Ravindra Jadeja as his able lieutenant bar any drastic change in circumstances.
"It doesn't really matter what the pitch is. We will put in a combination that we believe can go out there and win the match. They (Ashwin and Jadeja) are proven match-winners and have the ability to not really bother about conditions. I think the conditions were really challenging against New Zealand and also against England. Also the time factor was a major one when we played England. When you take all those factors into consideration, build pressure on the opposition and pick up wickets …" pointed out Kumble.
"I was extremely pleased with Jadeja's performance in Chennai where he varied his pace, bowled slower than he is used to, and picked up wickets (3-106 and 7-48) on a very good surface. Ashwin is a proven world-class bowler and to support him and also as a combination, these two have really done well. Not to forget Jayant (Yadav), who did exceptionally well before he got injured."
The injury to Amit Mishra facilitated a maiden Test team call-up for Kuldeep Yadav, but he is all but certain to do what Pandya has been doing – soaking it all in. Unless Kumble and Kohli choose to go completely left-field.