Rahul Dravid: Virat Kohli will want MS Dhoni to succeed in new role

International Business Times
06-01-2017
Rahul Dravid is someone who knows what it is like to play under someone after giving up captaincy. Indeed, the batting legend did just that under MS Dhoni, who will now embark on a new phase of his career when he dons the India blues as just a wicketkeeper-batsman.
With Dhoni deciding to relinquish his role as the limited-overs captain of the India team, Dravid believes the country's most successful skipper made the right decision, because it gives Virat Kohli the time to bed in before the 2019 World Cup, while also giving him one series – the one against England – to prepare for the ICC Champions Trophy.
"Dhoni's decision was probably not that much of a surprise, in the sense that he probably knew that the time was sooner rather than later," Dravid, the current head coach of the India junior teams, told ESPNCricinfo. "There was talk of him continuing till the Champions Trophy with only one one-day series before that.
Slideshow: MS Dhoni — Life in pictures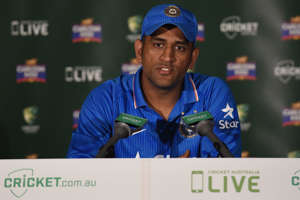 "But I think, from his perspective, if he didn't see himself continuing till the next World Cup, he got the timing really right because if he doesn't see himself as a long-term prospect as captain then I think it is a good time to let Virat Kohli take over and have enough time to be able to build a one-day team to his liking for the next World Cup."
What Kohli will also like, according to the former captain and one of India's greatest ever batsmen, is for Dhoni to stay in form as a batsman. While some experienced players can make it difficult for a younger star to assert his authority, you feel Dhoni will have the opposite effect. And the longer Kohli has Dhoni's sense of calm around him, the better it will be for India cricket.
"If you're Virat Kohli, you'll be hoping that MS Dhoni does really well and is able to hold on to his place," Dravid, who played 35 Tests, 17 ODIs and one T20 under Dhoni, added. "Because you would like that kind of experience performing well in the team. Just that knowledge would be priceless for Virat Kohli to have.
---
---
"There is no doubt that someone of MS Dhoni's experience and ability, when playing well, is invaluable to the side. That's the kind of experience and knowledge and ability, under pressure especially. It is not easy to find and not easy to get." 

What was also not easy was the success that India had under Dhoni's stewardship. With Dhoni as captain, India pretty much won every single major title that was there to win and having played under the man from Jharkhand, Dravid has little doubt over how history will judge Dhoni.
"What else was there for him to achieve? Most number of Test wins for India, number 1 ranking in Test cricket, T20 World Cup, Champions Trophy, the World Cup, most number of wins as one-day captain," Dravid said. "I'm not great at stats but he must be at the top of every statistical list on what an Indian captain has achieved.
"History will remember him as India's most successful captain. And someone who really, in his time as an Indian captain, took the team and the game forward in this country."