Rahul sets new benchmarks for India

Wisden India
13-06-2016
Following nearly three months of the Twenty20 variety, it was back to semi old-school cricket for both Indian players and Indian cricket followers, with the ODI series in Zimbabwe.
MS Dhoni made a trip to Zimbabwe after 10 long years, leading a young side in the twilight of his career.
Interestingly, Dhoni was appearing in his 276th ODI match, while the next most experienced player in the side was Ambati Rayudu with just 32 games. Also the sum total of matches played by the remaining 10 players was just 83 games – a difference of 193 games!
Although, India may not face any shocks, there could be a few surprises as Zimbabwe have known to deliver in recent times.
The win by nine wickets in the first ODI at Harare on Saturday (June 11) may seem an easy one, but it did have some tense moments. Given below are some of the match highlights in numbers.
— Three Indian players (Karun Nair, KL Rahul and Yuzvendra Chahal) made their ODI debuts in this match.
The last occasion three Indians made their respective debuts in an ODI match was June 5, 2010 also against Zimbabwe at Harare, when Naman Ojha, R Ashwin and Pankaj Singh were the debutants.
— This was only the third occasion when both openers were making their debuts in ODIs for India.
It was the second occasion when two Karnataka batsmen opened the Indian batting in an ODI match.
Two players from the same state – Robin Uthappa and Rahul Dravid opened twice for India in 2006, while putting on 166 (v England at Indore) and 25 (v Pakistan at Abu Dhabi) for the opening wicket. Incidentally, the Indore game was Uthappa's debut match.
KL Rahul became the first Indian and the 11th overall to make a three-figure score on ODI debut. By doing so in his very first innings, he became the quickest Indian to hit a century in ODIs.
Slideshow: Unseen images of cricketers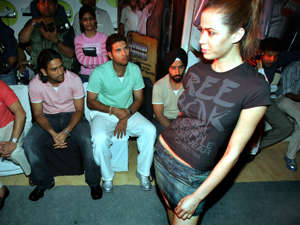 Never seen before pictures of cricketers