Ravi Ashwin: The record breaker of 2016

India Today
22-12-2016
Ravichandran Ashwin is the world 's No.1 bowler and the No.1 Test all-rounder, and time and again he has justified his position at the helm.
Ashwin capped off a wonderful year with 72 wickets and 612 runs as India wrapped up their Test journey in 2016 with a 4-0 rout of England in the five-match series.
Ashwin recorded eight five-wicket hauls this year and also proved his batting prowess with a couple of hundreds and four half-centuries. This year, Ashwin was also adjudged Man of the Series twice out of a possible three series. Overall, he has won the award seven times, which is the most by any Indian player.
It is worth mentioning that no other Indian has been feted and awarded so often for his all round brilliance. Not only has he stood out with most wickets in India's series wins, Ashwin has also played crucial roles with the bat to bail the team out of tricky situations.
The Tamil Nadu tweaker's tremendous efforts on the pitch have made India a force to reckon with.
Bangladesh's Shakib Al Hasan currently holds the second position, England's Ben Stokes is third, Ravindra Jadeja is fourth and England's Moeen Ali is fifth in the all-rounder's charts.
Ashwin though faces a tough competition but nudges others with his ability to win matches with both bat and ball.
Moeen had a great 2016 with the bat scoring 1,078 runs with the help of four hundreds and five fifties but picked up only 37 wickets. Stokes also enjoyed a tremendous year with 33 wickets and 904 runs including two centuries. Shakib played only two Tests and picked up 12 wickets and scored 106 runs.
ASHWIN'S PERFORMANCE IN 2016: SERIES WISE
WEST INDIES VS INDIA, JULY-AUGUST 2016
India 2-0 West Indies
Virat Kohli became the first Indian captain ever to win in West Indies by a margin of 2-0. Ashwin was rightly named the Player of the Series as he bagged 17 wickets and scored 235 runs at 58.75. He continued with his love-affair with West Indies as he smashed two hundreds that proved to be instrumental in India's historic series triumph.
INDIA VS NEW ZEALAND, SEPTEMBER-OCTOBER 2016
India 3-0 New Zealand
India's home Tests started in September when they hosted New Zealand in a three-match series. As expected, an in-form India whitewashed New Zealand and it was Ashwin who proved to be the shining star for the home team.
While Ashwin had a quiet series with the bat, he did not compromise on what he does best. The offie was merciless in his approach against the Black Caps and finished the series with 27 wickets, including three five-wicket hauls in an innings and two 10-wicket match hauls.
Once again, he was named the best player of the series, which was his seventh.
World record: During the series against New Zealand, Ashwin completed 200 wickets with the least number of balls bowled in Test cricket. While, Ashwin accomplished the milestone in 10291 deliveries, Australian Stuart MacGill took 10511 balls to arrive at the feat – meaning Ashwin got there by delivering almost 37 overs less than MacGill.
INDIA VS ENGLAND, NOVEMBER-DECEMBER 2016
India 4-0 England
England were expected to be tougher opponents than New Zealand but they succumbed to the might of India's spinners to suffer a 4-0 Test series defeat against India. England started off well in Rajkot and came close to even winning the match. However, India regrouped and bounced back hard and played tough cricket in the remaining matches to win comprehensively despite injuries to key players.
India's bench strength was tested and it passed with flying colours. But more importantly, Ashwin, Kohli, Cheteshwar Pujara and Ravindra Jadeja continued with their rich vein of form and backed each other on and off the pitch.
Ashwin once again stepped up and led the bowling department from the front to pocket 28 wickets with the help of three five-wicket hauls and a 10-for.
Not only that, the 30-year-old also scored 306 runs in the series, including four half-centuries. He became only the fifth cricketer to complete 300-plus runs and take more than 25 wickets in a Test series.
He also became the first Indian to achieve the milestone.
World record: When Ashwin picked six wickets in England's second innings in Mumbai, it was his 15 five-wicket haul since January 2015 — the highest tally by any bowler in two successive calendar years. Muttiah Muralitharan had bagged 14 five-wicket hauls in consecutive years twice – between 2000 & 2001 and 2006 & 2007.
Photos: World records held by Indians in Test cricket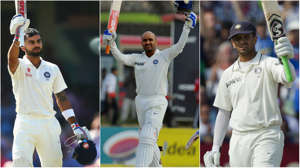 Watch: This is a new Indian team under Kohli — Gavaskar
---
---
More from India Today

India Today